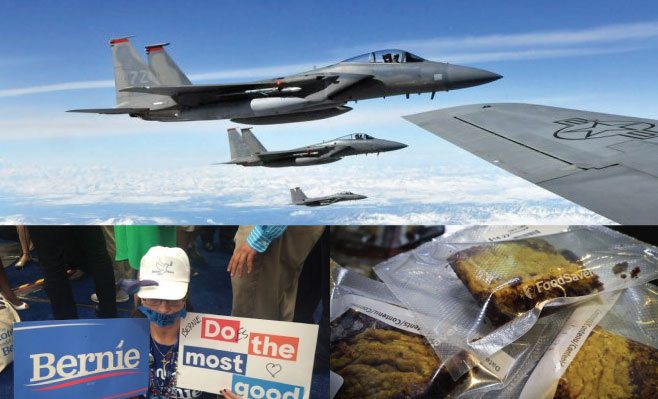 News
ICYMI: Best of the Week
By
|
Last week's top stories on Law Street included North Korea possibly declaring war on the U.S., Sanders supporters taking over the DNC media tent to protest Clinton's nomination, and a recent study showing a rise in cases of children ingesting edibles since Colorado legalized marijuana. ICYMI–Check out the top stories from Law Street below!
1. Did North Korea Just Declare War on the U.S.?
The annual joint military exercises between the United States and South Korea usually elicit ominous threats of retaliation from North Korea. But in an interview on Thursday with the Associated Press, Han Song Ryol, the North's only diplomatic tether to the United States, effectively declared war, referencing sanctions targeting Kim Jong Un as crossing "the red line." Read the full article here.
2. Sanders Supporters Take Over DNC Media Tent to Protest Clinton's Nomination
Here at the DNC, there's a cushy little area for the press. Giant tents, creature comforts like snacks and water, and (most importantly) enough charging stations for our phones/laptops/tablets/obscene amount of technology we lug around. The DNC media tent is, for many, a peaceful workspace, and a quiet respite from the complete and utter craziness that is the Democratic National Convention. Tonight it was a little less peaceful. Sanders supporters walked out of the convention in protest after Hillary Clinton became the official Democratic nominee, and ended up staging a sit in inside and around the media tent. Read the full article here.
3. Since Legalizing Marijuana, More Colorado Children Are Ingesting Edibles
A new study shows a link between recreational marijuana legalization in Colorado and the incidence of children who need medical treatment for ingesting the drug. The study, released Monday by pediatricians at Children's Hospital Colorado (CHC) in Aurora, retroactively reviewed 163 cases involving marijuana treatment in toddlers ages zero to nine. The cases spanned between 2009 and 2015. Recreational marijuana was legalized in Colorado in 2014. Read the full article here.