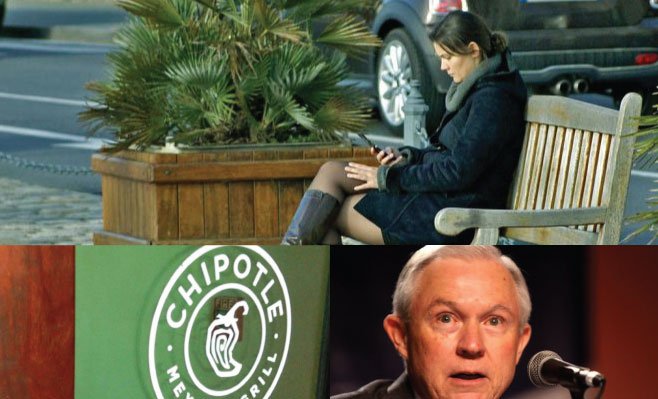 News
ICYMI: Best of the Week
By
|
ICYMI, last week we taught you how to fight revenge porn, a woman sued Chipotle after the company used her photo, and Sen. Jeff Sessions faced a pro-marijuana group during his confirmation hearing. Learn more about these trending stories below!
Online sexual harassment and revenge porn have become relatively commonplace. Here at Law Street, we've written a number of articles on the topic in the last couple of weeks alone. From the lawyer fighting revenge porn to the online harassment of journalist Lauren Duca, there are concerns that this kind of behavior has become the norm in America. In fact, in September, President-elect Donald Trump was accused of something revenge-porn-like himself, when he encouraged his Twitter followers to look for Alicia Machado's sex tape. This is clearly something that we're going to have to deal with in coming years. But what exactly is revenge porn? And what do you do if it happens to you?
A California woman is suing the popular fast-casual burrito chain Chipotle, alleging that the company used a photo of her in its advertisements, but that she never gave it permission to do so. Leah Caldwell, the plaintiff, is asking for over $2 billion, specifically $2,237,633,000, arguing that the company has made that much money off of the use of her photo that was taken in 2006.
Senator Jeff Sessions (R-AL), President-elect Donald Trump's nominee for attorney general, will face the Senate in a confirmation hearing on Tuesday. In an effort spearheaded by the National Organization for the Reform of Marijuana Laws (NORML), pro-marijuana groups are asking supporters to call their senators on Monday, and let them know that they will not stand for any aggressive enforcement actions taken by Sessions, who once said "good people don't smoke marijuana."