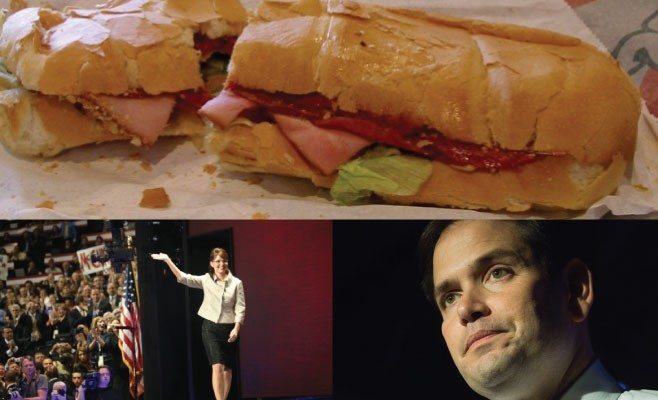 News
ICYMI: Best of the Week
By
|
ICYMI, check out Law Street's best stories of the week. This week's top picks include a lawsuit against Subway for the size of its sandwiches, a look at the use of music in political campaigns, and the Sun Sentinel's scathing op-ed against presidential contender Marco Rubio.
1. Size Does Matter: Subway is Settling Small Sandwich Suit
The jingle is as memorable as it is incredibly annoying. Beginning in 2008, Subway franchises began offering $5 Footlongs, accompanied by a national advertising campaign. The idea that Subway offers foot-long sandwiches is central to the fast food purveyors' marketing campaigns and reputation. But some discerning consumers noticed that the sandwiches were a little smaller than they expected–and sued Subway over this clearly debilitating issue. The case was originally filed in 2013, but Subway just announced a proposed settlement that will involve it measuring the sandwiches it gives to consumers in order to guarantee that they're receiving all the food they're paying for. Read full story here.
2. Campaign Music and Fair Use: What are the Rules?
Securing the appropriate legal permissions to use particular songs on the campaign trail is not always enough. Copyright law and fair use are only part of the equation when it comes to a politician's right to use music. Many states provide protections for famous artists in regards to their image and false endorsement. In fact, it is possible for a politician to legally possess the minimum permissions to use a song and still face a lawsuit from the artist. Click here to learn about the history of music in campaigns and the legal questions that come up time and time again on the campaign trail.
3. Florida Newspaper to Marco Rubio: "Do Your Job or Resign it"
A Florida newspaper is really pissed with Senator Marco Rubio. In a scorching op-ed published Tuesday evening, the Sun Sentinel's Editorial Board accused Rubio of "ripping off voters" with his constant absences in Congress. Rubio, who is currently seeking the Republican presidential nomination, has missed more votes than any other senator this year. Read the full article here.