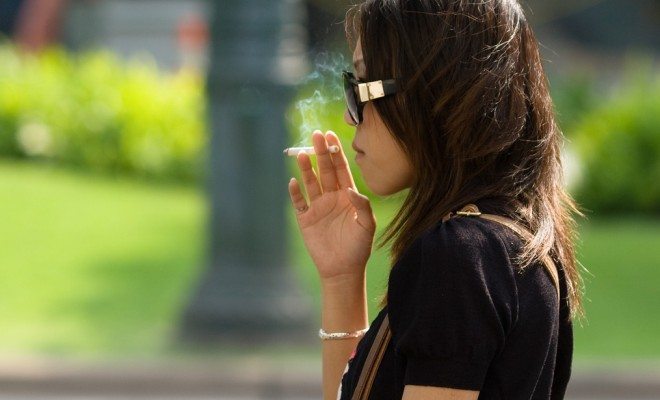 Image courtesy of [Kanaka Menehune via Flickr]
News
Hawaii May Raise the Legal Smoking Age to 21
By
|
When it comes to smoking cigarettes, public support for the known cancer-causers has consistently dwindled in recent decades thanks mainly to national "quit smoking" campaigns. In an attempt to help further curtail tobacco consumption, one state is poised to take further action by changing its minimum legal smoking age.
Last Friday, the Hawaii legislature passed a bill, that if signed into law by Governor David Ige, will make it the first state in the nation to raise its minimum legal smoking age from 18 to 21. The bill would ban individuals under the age of 21 from buying tobacco products, including e-cigarettes.
Some communities, counties, and cities, including New York City, have already approved initiatives to raise the smoking age. But if this bill is signed into law, it will make Hawaii the first state to entirely do so.
However, when it comes to enforcing the new legal smoking age, the punishment for underage violators is almost laughable. According to the Associated Press, first-time offenders will be fined a measly $10, which is roughly 50 cents more than the cost of a pack of cigarettes in the state. Any later violations would lead to a $50 fine or mandatory community service.
In a statement from the Campaign for Tobacco-Free Kids commending the bill's passage, the nonprofit asserts that currently more than 10 percent of Hawaii's high school students smoke, and tobacco use overall in the state claims 1,400 lives and costs $526 million in health care bills each year. Therefore supporters of the measure say that raising the legal smoking age will help reduce smoking among young people who will probably use tobacco products as adults.
Democratic state Senator Rosalyn Baker who introduced the bill told the AP:
Today we have the opportunity to change the paradigm…

While the industry is not allowed to directly market to children, it is still developing packaging and advertising products in ways that appeal to children,
Some of the advertising she's referring to are candy flavored e-cigarettes that are increasingly gaining popularity with youths. According to Baker, the favorite flavors among teens who use electronic cigarettes are sweet tart and "unicorn puke", which has been described by some as a combination of every flavor of Skittle in one.
Interestingly enough, the AP also reports that projections for raising the minimum smoking age to 21, from a report conducted by the Institute of Medicine, predict smoking prevalence would fall an estimated 12 percent.
If signed into law, the new minimum age probably won't be welcomed by all. Critics may use the old argument that "if you're old enough to enlist you should be old enough to smoke." But given that lung cancer is the leading cause of cancer deaths in America, laws like this may become more common.