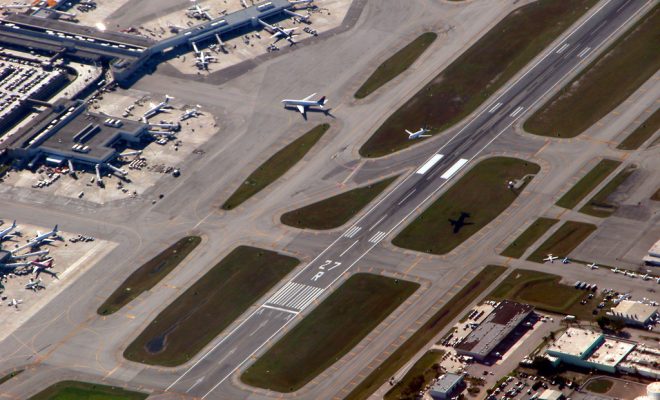 "KFLL" courtesy of Art N.; license: (CC BY 2.0)
News
At Least Five People Dead After Gunman Opens Fire at Fort Lauderdale Airport
By
|
At least five people were killed and at least eight were injured when a gunman opened fire inside the Fort Lauderdale International Airport in Florida on Friday afternoon, the Broward Sheriff's Office confirmed via Twitter.
Update: 5 ppl dead; 8 injured were taken to an area hospital.

— Broward Sheriff (@browardsheriff) January 6, 2017
The office said it got the initial 911 call around 12:55 p.m., and around 2 p.m., it tweeted that a suspect was taken into custody. But even after that, closer to 3 p.m., additional shots were heard inside the airport and the search for more perpetrators was ongoing.
Active search: Unconfirmed reports of addt'l shots fired on airport property.

— Broward Sheriff (@browardsheriff) January 6, 2017
Everyone evacuated off neighboring plane after reported shooting in baggage. We're sitting on tarmac. Florida! pic.twitter.com/4h5kRTECso

— Stephen Falk (@stephenfalk) January 6, 2017
Photos and videos shared on social media showed injured people bleeding and general confusion about what was going on.
Shots fired at FLL airport. Guy is bleeding profusely. Supposedly others are shot on the lower level at Delta Term 2. pic.twitter.com/UcL73Y8yGx

— Maxwill Solutions (@MxWllSolutions) January 6, 2017
People started running across the tarmac as CNN tried to figure out what the current situation was.
JUST IN: Passengers at Fort Lauderdale airport seen running across the tarmac https://t.co/mSBYzuRvC5 https://t.co/UsnVix6kjc

— CNN (@CNN) January 6, 2017
Former White House Press Secretary Ari Fleischer was there during the shooting and reported via Twitter that no one was let out of the airport.
All seems calm now but the police aren't letting anyone out of the airport – at least not the area where I am.

— Ari Fleischer (@AriFleischer) January 6, 2017
Andrea Ruiz is the daughter of an airport worker and told Buzzfeed News that her mother didn't know what was going on and it seemed like the situation was not safe yet. "SWAT and police ran into parking garage in front of Terminal 2. My mother and coworkers are back in office hiding. No one knows what is happening…something else has happened," she said.
According to CNN, the FBI and ATF are at the scene. MSNBC reported that the shooter in custody had been identified as Esteban Santiago, a man born in 1990 with a U.S. military ID. It is unclear whether the ID is genuine.
Senator Bill Nelson on MSNBC right now. Says shooter has been identified as Esteban Santiago – carrying a military ID #FortLauderdale

— Stewart Moore (@Stewartmoore) January 6, 2017
Additional threat? After suspect arrested, police now running w weapons drawn & another terminal at Ft Lauderdale airport being evacuated.

— Lisa Fletcher (@lisa_fletch) January 6, 2017
As of Friday afternoon, the situation is still ongoing and the story is developing.