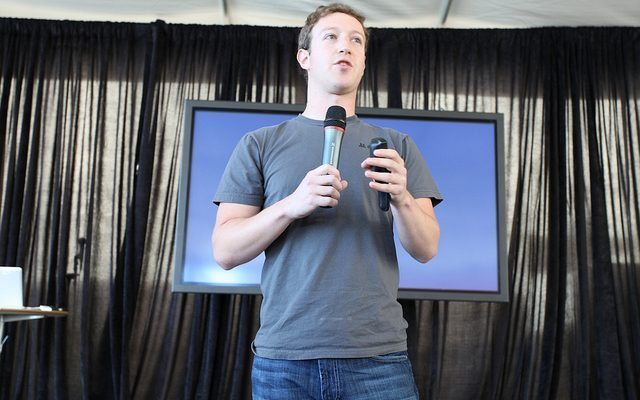 "Facebook Press Conference" Courtesy of [Robert Scoble via Flickr]
News
Facebook Accused of Supporting Hamas in $1 Billion Lawsuit
By
|
Facebook is being accused of providing "material support and resources" to Hamas in a new $1 billion lawsuit. Lawyers allege that the popular social network was used to plot attacks by the militant Palestinian group that killed four Americans and wounded one in Israel, the West Bank, and Jerusalem.
The lawsuit, which was filed on July 10 in the U.S. District Court for the Southern District of New York states:
Hamas has recognized the tremendous utility and value of Facebook as a tool to facilitate this terrorist group's ability to communicate, recruit members, plan and carry out attacks, and strike fear in its enemies. For years, Hamas, its leaders, spokesmen, and members have openly maintained and used official Facebook accounts with little or no interference.
Shurat Hadin, an Israeli legal advocacy group, filed the lawsuit on behalf of families whose relatives were killed in terror attacks. That same group is behind another lawsuit that is currently seeking an injunction to require prompt removal of posted content that may incite violence.
Plaintiffs in the most recent lawsuit include Stuart and Robbi Force, the parents of 29-year-old U.S. Army veteran and Vanderbilt University graduate student Taylor Force who was fatally stabbed in a Hamas attack while visiting Israel on a school trip. They are joined by the parents of 16-year-old Yaakov Naftali Fraenkel, who was kidnapped and murdered in the West Bank in June 2014; the parents of three-month-old Chaya Zissel Braun, who was killed in Jerusalem during a vehicular terrorist attack in October 2014; the son of 76-year-old Richard Lakin, who was killed in a shooting and stabbing attack in Jerusalem in October 2015; and Menachem Mendel Rivkin, who was seriously injured in a January 2016 stabbing attack in Jerusalem.
These families hope to prove that Facebook was being used as a tool for terrorism and operated in direct violation of the Antiterrorism Act, which bars U.S. businesses from providing support or resources to a foreign terrorist organization. However, many experts believe Facebook will be legally protected under the  Communications Decency Act, which protects websites from content posted by third-party users.
Facebook responded to Bloomberg's request for comment with a statement saying,
[We want] people to feel safe when using Facebook. There is no place for content encouraging violence, direct threats, terrorism or hate speech on Facebook. We have a set of Community Standards to help people understand what is allowed on Facebook, and we urge people to use our reporting tools if they find content that they believe violates our standards so we can investigate and take swift action.
It's unclear if the lawsuit will succeed in holding Facebook legally responsible because anti-terrorism efforts and freedom of speech are both at play. It will be interesting to see how the case moves forward.