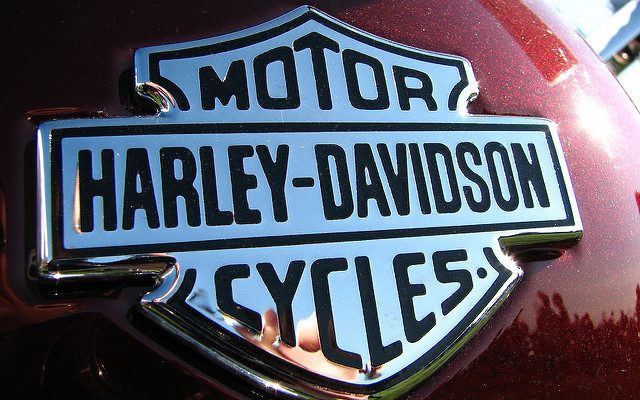 "Harley Davidson" courtesy of [Matt McGee via Flilckr]
News
DOJ Sues, Then Settles With Harley-Davidson Over EPA Violations
By
|
The U.S. Department of Justice and the U.S. Environmental Protection Agency announced a settlement with Harley-Davidson Thursday, after filing a lawsuit the same day accusing the motorcycle giant of violating the Clean Air Act.
Harley-Davidson to Stop Sales of Illegal Devices that Increased Air Pollution from the Company's Motorcycles https://t.co/NFiGtwfJ87

— Justice Department (@TheJusticeDept) August 18, 2016
Harley-Davidson has been ordered to immediately stop selling illegal devices known as "super tuners," that once installed, cause motorcycles to emit higher amounts of certain air pollutants than what the company certified to EPA. According to the complaint, Harley-Davidson manufactured and sold approximately 340,000 of these illegal devices.
Harley's Screamin' Eagle Super Tuner Kit looks like this:
Harley-Davidson Screamin Eagle Super Tuner Pro 321098 1098 2011 fxdwg https://t.co/c6wCMBesgP pic.twitter.com/WBK7wVmrcJ

— exclusive item (@isunzabertrand) August 14, 2016
It currently retails for $459.95 on the Harley-Davidson website and promises to make Electronic Fuel Injection (EFI) tuning faster and easier.
Aside from stopping the sales of the item, Harley-Davidson has been ordered buy back and destroy illegal devices, and "will also pay a $12 million civil penalty and spend $3 million to mitigate air pollution through a project to replace conventional wood stoves with cleaner-burning stoves in local communities," according to the DOJ.
"Given Harley-Davidson's prominence in the industry, this is a very significant step toward our goal of stopping the sale of illegal aftermarket defeat devices that cause harmful pollution on our roads and in our communities," said Assistant Attorney General John C. Cruden, head of the Justice Department's Environment and Natural Resources Division. "Anyone else who manufactures, sells, or installs these types of illegal products should take heed of Harley-Davidson's corrective actions and immediately stop violating the law."
The complaint also claims that Harley made and sold more than 12,000 motorcycles from model years 2006, 2007, and 2008 that did not comply with proper EPA certifications for clean air standards. Instead of recalling the vehicles, Harley-Davidson agreed to ensure that all of its future motorcycle models sold in the U.S. are fully certified by EPA.