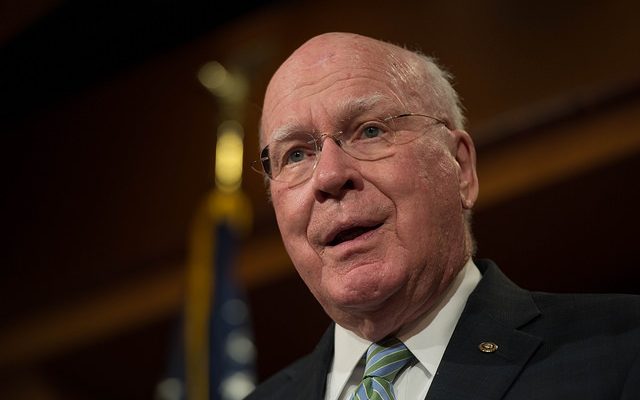 Image Courtesy of Senate Democrats: License (CC BY 2.0)
Cannabis in America
Senate Committee Approves Medical Marijuana Protections
By
|
The Senate Appropriations Committee approved an amendment Thursday that would block the Department of Justice from using any funds to undermine state medical marijuana legislation.
The effort, led by Senator Patrick Leahy (D-VT),  specifically prohibits the Justice Department from using federal funds to prevent certain states "from implementing their own State laws that authorize the use, distribution, possession or cultivation of medical marijuana."
"The Senate is sending a clear message to Jeff Sessions–keep your hands off states that have reformed their marijuana laws," said Michael Collins, Deputy Director of the Drug Policy Alliance's Office of National Affairs. "Today's vote is a huge win for the marijuana reform movement, because in the face of real pressure from the Department of Justice, the Senate has opted to block Jeff Sessions from interfering with any medical marijuana law."
Congress has added the amendment, also known as Rohrabacher-Farr, to federal budgets every year since 2014. In May, Attorney General Jeff Sessions sent a letter to Congressional leadership, personally requesting that Congressional leaders exclude the amendment, signaling a possible federal crackdown on marijuana.
Sessions, who oversees the Drug Enforcement Agency, defended the request, writing in the letter:
I believe it would be unwise for Congress to restrict the discretion of the Department to fund particular prosecutions, particularly in the midst of an historic drug epidemic and potentially long-term uptick in violent crime. The Department must be in a position to use all laws available to combat the transnational drug organizations and dangerous drug traffickers who threaten American lives.
Twenty-nine states and the District of Columbia have passed laws legalizing various forms of medical marijuana, and there are currently over 2 million registered patients.
Last August, the Ninth Circuit Court of Appeals unanimously ruled that the amendment's language prevents the federal government from prosecuting state-authorized medical marijuana users, if no state laws have been broken.
The Senate Committee still has to approve the amendment for the final appropriations budget. But Thursday's vote is a clear rebuke of Sessions, who is expected to unveil a DOJ task force report soon linking marijuana to violent crime.