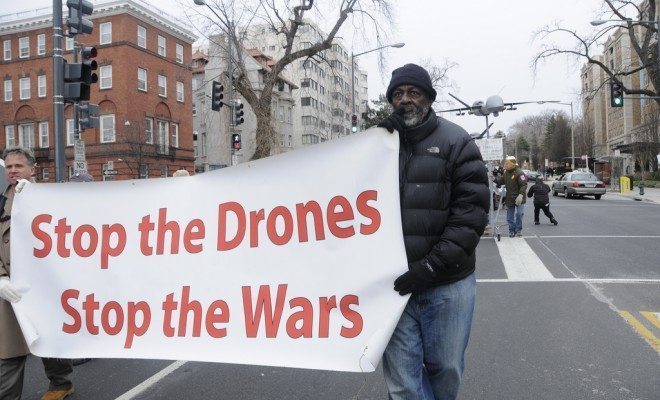 News
Reexamination of AUMF: Potential End to the War on Terror
By
|
Statements by Senate Majority Leader Harry Reid (D-NV) this week may reignite a debate over a law called the Authorization for Use of Military Force Against Terrorists (AUMF).
Three days after the horrifying terror attacks of September 11, 2001, AUMF was passed by Congress. It was signed just four days later, on September 18, by President Bush. The law itself was simple enough in concept and was actually only 60-words long–an impressive feat in an era of long and frequently amended legislation. It states: "that the President is authorized to use all necessary and appropriate force against those nations, organizations, or persons he determines planned, authorized, committed, or aided the terrorist attacks that occurred on September 11, 2001, or harbored such organizations or persons in order to prevent any future act of international terrorism against the United States by such nations, organizations, or persons." Essentially, it allowed the President the ability to use whatever force necessary against those believed to be terrorists, harbored terrorists, or involved with terrorism in anyway. It sounds broad, but it was an understandably reactionary law to the shocking atrocities the nation had just witnessed.
That law has remained in place since then, and has been used as legal justification for a number of broad actions in the "War Against Terror." For example, AUMF has been used as the reasoning behind expansive drone strikes and raids like the one used to capture Osama Bin Ladin in 2011.
But in the almost thirteen years since AUMF has passed, both the views of our nation, as well as our technical abilities have changed drastically. When AUMF was passed barely a week after 9/11, the concept of the "War on Terror" had just been barely introduced. And in the coming months, it of course received high support–a Gallup poll in November of 2001 put approval of sending troops to Afghanistan, partly under AUMF's guises, at 89 percent. The same question today garners just 49 percent approval.
Other recent events, including realizations about drone capabilities and the extent of NSA spying have lessened Americans' support for the kind of broad and vague actions that AUMF allows.
Discontent with AUMF has been simmering for a while. Various special interest lobby groups have been calling for repeal for years, and Senators and other lawmakers have at various points called for a repeal. Obama has supported, and even pushed for an end to the law and by extension, a sort of de facto end to the official "War on Terror." Senator Tim Kaine (D-VA) has been one of the leading voices in calling for AUMF changes. Last Wednesday he said, "we are still operating in a war declared on Sept. 14, 2001. And both the Bush and Obama administrations have determined that that war can be carried out against members of al-Qaeda, against anyone who associates with affiliates or associates of al-Qaeda, no matter when those associates pop up … so long as the al-Qaeda or affiliated organizations have violent intentions against the U.S. or coalition partners. That's sort of a vague phrase."
And most recently, one of the nation's top lawmakers has stated that he also thinks that changes are warranted to AUMF. Senate Majority Leader Harry Reid is supporting changes to AUMF.
In the interview with Buzzfeed earlier this week, he stated in regards to AUMF, "I definitely think its something we should definitely take a look at. I think 9/11 [was] a long time ago, and it's something that needs to be looked at again. I have no problem with that."
However, Reid didn't go into details about what changes exactly he thinks are warranted to AUMF but just that they need to be considered. From the language he used, it seems as though he's relatively confident that a change needs to be made to limit the power of AUMF.
With Reid weighing in, public opinion turning, and other politicians getting involved in the it certainly seems like the issue of changes to AUMF will be firmly on the national stage in the upcoming 2014 midterm elections.
—
Anneliese Mahoney (@AMahoney8672) is Lead Editor at Law Street and a Connecticut transplant to Washington D.C. She has a Bachelor's degree in International Affairs from the George Washington University, and a passion for law, politics, and social issues. Contact Anneliese at amahoney@LawStreetMedia.com.
Feature image courtesy of [Debra Sweet via Flickr]