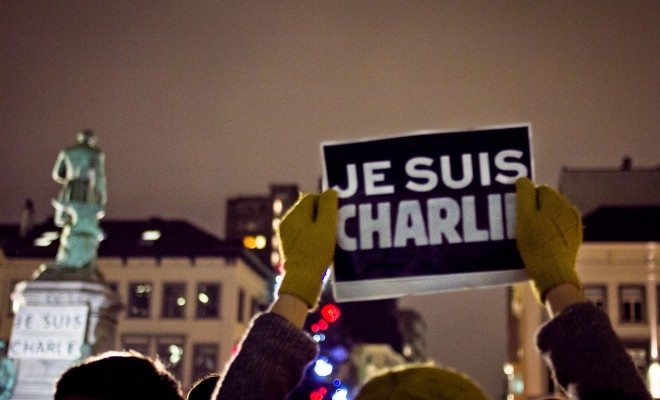 Image courtesy of [Valentina Calà via Flickr]
News
Day Two: Manhunt for Shooters in Charlie Hebdo Tragedy
By
|
Just over 24 hours after the attack on French satirical magazine Charlie Hebdo, the search for the attackers wages on. The two main suspects are brothers Cherif and Said Kouachi, both in their early thirties. They are French citizens who visited Syria this summer, although whether they had any connections to terrorist groups while there is unclear.
UPDATE: Two Charlie Hebdo Suspects Last Seen In Northern French Town #ParisShootings – http://t.co/sE6VO1lIQV pic.twitter.com/tXl0ulo6ZA

— MV Ortega (@MVOrtega1) January 8, 2015
Cherif Kouachi has had legal problems before; he was convicted of helping funnel fighters to Iraq.  There was originally thought to be a third man, an 18 year old, working with them, but he has since turned himself in, and reports say that he's the brother-in-law of one of the main suspects. French media is now questioning his involvement.
After fleeing Paris, the Kouachi brothers are believed to have held up a gas station, stealing food and fuel. They may have also shot a police officer in a Parisian suburb, but that's unconfirmed at this point. 
The manhunt has now turned to the areas north of Paris. A town called Crépy-en-Valois, to the northeast of Paris, has become the focus, as reports speculate that the Kouachi brothers are holed up in some sort of home or other building. While it appears that police are narrowing in, the search is by no means over. 
Meanwhile, acts of support and defiance have been seen all over the city, the country, and the world at large. Other journalists, cartoonists, and members of the media reacted in solidarity yesterday, for example: 
Cartoonists draw in solidarity with #CharlieHebdo: http://t.co/uWJgT9BUQG pic.twitter.com/EXixSDAHnx — CBS This Morning (@CBSThisMorning) January 8, 2015
RT @Beltrew: A few of the best cartoons drawn & shared in solidarity with #CharlieHebdo after yesterday's massacre pic.twitter.com/4Dq68GL9mT — Anton La Guardia (@AntonLaGuardia) January 8, 2015
12 powerful political cartoons responding to the Charlie Hebdo attack http://t.co/neUlubZmW9pic.twitter.com/Pb8fErXv5t

— Vox (@voxdotcom) January 8, 2015
Amazingly, Charlie Hebdo has announced that it is going to go to print next week as planned, according to one of its columnists, Dr. Patrick Pelloux. Despite the fact that eight of the staff members were killed, including editor-in-chief Stephane Charbonnier, those who survived plan to honor their memory by showing that those who attacked did not win.
And not only will the publication print, it will print even more than usual. The normal Charlie Hebdo circulation is around 60,000–it plans on printing one million copies for this issue. It will, however, be half the length of a regular issue.
Google and French newspaper publishers are donating money to help print the issue. The distributors are not planning on charging Charlie Hebdo for their services. Pelloux said the following about the decision to move forward:
It's very hard. We are all suffering, with grief, with fear, but we will do it anyway because stupidity will not win.
These acts of bravery, of solidarity, and of support prove that.