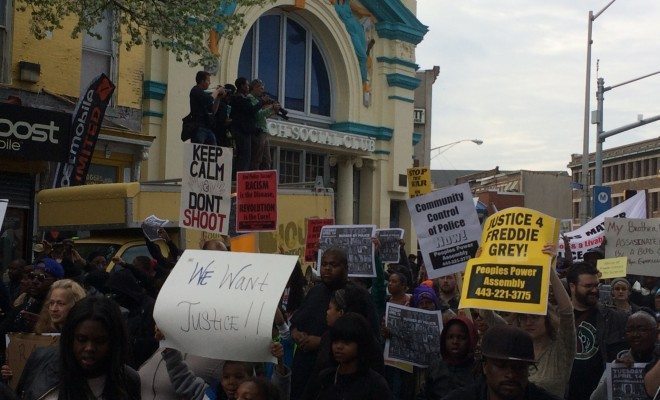 Image courtesy of [Vision Planet Media via Flickr]
News
Crips and Bloods: Unlikely Allies in Baltimore Riots
By
|
Continuing protests over the death of Freddie Gray erupted into Ferguson-like riots yesterday evening following his funeral in Baltimore, Maryland, where cries of "black lives matter" have echoed since last year. But this time it was the city's most notoriously violent groups who aligned for peace while groups of rioting Baltimoreans burned and looted the city against the Gray family's wishes, even injuring officers and other protesters.
Incredibly powerful photos from the Baltimore riots http://t.co/Uex0La5QiY pic.twitter.com/x896Ubutme

— BuzzFeed News (@BuzzFeedNews) April 28, 2015
Violent gang rivals the Crips and the Bloods–known for violent crime, drug dealing, and their murderous feud–issued a cease fire yesterday to form an unlikely alliance, condemning the violence that was sweeping through their community. According to CNN, Baltimore Sun reporter Justin Fenton wrote on his confirmed Twitter account that he witnessed gang members' disapproval, writing:
The guys who pulled me aside are self-identifying as Crips and say they don't approve of whats happening. "This is our community" — Justin Fenton (@justin_fenton) April 27, 2015
Gray sustained a deadly spinal cord injury sometime after being taken into police custody by Baltimore officers. An illegal switchblade knife was found on him after he reportedly "fled unprovoked." Police have admitted that Gray should have received medical treatment immediately, but didn't. Witnesses claim police had him "folded up like origami" on the street, but investigators are still in the process of recreating the events that led to Gray's death.
According to CNN, members from both gangs joined community leaders and Gray's family for a news conference Monday night on the stage at New Shiloh Baptist Church, which had held Gray's funeral. At the news conference Reverend Jamal Bryant mentioned that the gangs had signed a peace treaty. Activists from the Nation of Islam claimed responsibility for the alliance, sharing approval for the demonstration of unity and telling reporters that they brokered a deal between the two enemies.
However, some members of the police force believe the gang partnership signaled ulterior motives. The Daily Beast is reporting that it obtained information from the Baltimore Police Department that  it had received a "credible threat" that gangs had formed the partnership "to take out law enforcement officers."
While conflicting reports have the members being painted as either thugs or heroes, leaders from both gangs are currently reaching out to media outlets to share their reactions to the peace treaty and the riots. One photo has even surfaced showing several Crips members wearing blue bandannas over their faces posing next to a red-bandanna wearing Blood member while both groups throw up their respective gang signs.
It says a lot when things have gotten so bad in the city of Baltimore that rival gangs have allegedly laid down arms to support one another and their community. Additionally, many others have gotten involved in the calls for peace–including the creator of the violent Baltimore based gang drama "The Wire," David Simon. Maryland's Governor Larry Hogan has issued a state of emergency and a curfew has been issued in the city by Mayor Stephanie Rawlings-Blake in an effort to regain order in the city. But as the dust begins to settle in the streets of Baltimore, its citizens are left to clean up the wreckage.