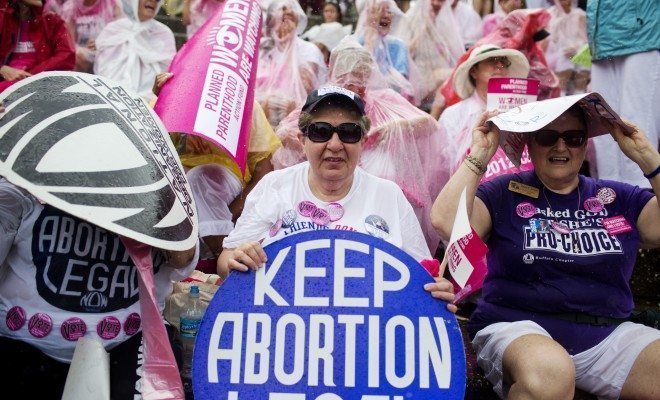 Image Courtesy of [PBS NewsHour via Flickr]
News
Bill To Revoke Licenses of Doctors Performing Abortions Passes Oklahoma Legislature
By
|
Doctors who perform abortions may be about to have their licenses revoked in Oklahoma if Republican Governor Mary Fallin signs off on SB 1552.
The bill passed through both houses of the legislature last week in a vote of 59-9 with 33 abstentions, and is now awaiting the governor's approval. Fallin has not indicated, however, if she will sign it or not.
Doctors who perform abortions would be barred from obtaining or renewing their medical licenses. However, this bill does make exceptions in the cases of saving the mother's life–but leaves out cases of rape and incest.
"Oklahoma politicians have made it their mission year after year to restrict women's access vital health care services, yet this total ban on abortion is a new low," Amanda Allen, Senior State Legislative Counsel at the Center for Reproductive Rights, which advocates for abortion rights, said in a statement on the organization's website.
Democratic Representative Emily Virgin, who opposed the bill, was concerned with the effect this bill would have on the number of physicians in the state. "We already have a severe physician shortage in Oklahoma, so are you at all concerned about physicians leaving Oklahoma if this bill becomes law?" she asked the bill's co-sponsor, Republican Representative David Brumbaugh. He responded, saying, "There's no way that this will impact the medical community, and we've checked through that."
He was later challenged on the idea that the passage of this bill could lead to legal issues. In fact, the bill itself actually has a clause at the end discussing what would happen in the event that the Constitutionality of this law is challenged:
In the event that any provision of this act is challenged in court in any action alleging a violation of either the Constitution of the United States of America or the State of Oklahoma, the Office of the Attorney General shall determine the amount of state or local funds expended to defend such action. Such determination shall include the number of hours of time spent by any public employee in such defense multiplied by the rate of compensation paid to such employee, as well as the costs of any outside counsel paid for such purpose, and shall include both direct and indirect costs. The Office of the Attorney General shall report such amounts for each calendar quarter to all members of the Legislature.
"Do we make laws because they're moral and right, or do we make them based on what an unelected judicial occupant might question or want to overturn," Brumbaugh asked. "The last time I looked, that's why I thought we had a separation of power."
The bill also makes it a felony to perform an abortion:
No person shall perform or induce an abortion upon a pregnant woman unless that person is a physician licensed to practice medicine in the State of Oklahoma. Any person violating this section shall be guilty of a felony punishable by imprisonment for not less than one (1) year nor more than three (3) years in the State Penitentiary.
Planned Parenthood responded on Twitter:
Not content with intruding in your personal decisions, OK gynoticians now want to revoke med licenses of doctors. https://t.co/8oRoRsBQfg

— Planned Parenthood (@PPact) April 23, 2016
Brumbaugh also added during the debate, "If we take care of the morality, God will take care of the economy." We'll have to see if the rest of Oklahoma, particularly Governor Fallin, is swayed by that argument.