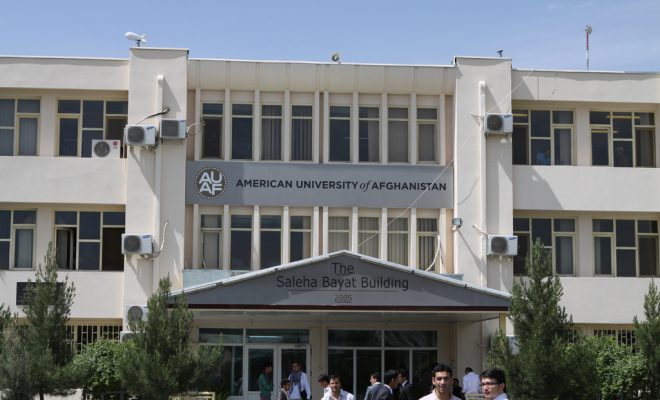 Image courtesy of [USAID Afghanistan via Flickr]
News
Armed Men With Explosives Attack American University in Kabul
By
|
Armed men attacked the American University of Afghanistan in Kabul on Wednesday, while trapped students tweeted for help from inside the school. Gunshots and explosions were heard as hundreds of students and foreign staff members were trapped inside the campus.
According to Reuters, 12 people, of which seven were students, were killed in the attack. An additional 44 people were wounded. So far, no organization has taken responsibility for the attack.
One man who managed to escape the violence told the New York Times that the sound of gunfire made many students rush out through the emergency exits. Shortly after that, they heard an explosion. Two of his friends were injured and hospitalized; one jumped from a window, and one was shot in his back.
Ambulances and security forces quickly arrived at the university, and a team of police officers entered. Gunfire started again shortly after that and two attackers were killed. Even though the attack happened at night, many were still on campus taking evening classes after work.
Police officer Ahmad Jawad told the New York Times that someone detonated a car bomb outside of the school for the blind, which is adjacent to the American University. The attackers seem to have entered that school and then start shooting at the university.
In the early moments of the attack, students as well as relatives and friends on the outside desperately called for help on social media. A pillar of smoke was seen above the university during the attack. This picture from war correspondent Mustafa Kazemi shows the view from a distance.
Photo attributed to the attack on American University of Afghanistan in Kabul pic.twitter.com/EVunzOpyd3

— KAZEMI, Mustafa (@CombatJourno) August 24, 2016
Reporter: Fires on American University campus in Kabul; witnesses hear blast, gunfire. https://t.co/UBfOhQUFFapic.twitter.com/2lYGeLDL5x

— CNN Breaking News (@cnnbrk) August 24, 2016
Pulitzer Prize winner and AP photographer Massoud Hossaini was among the people on campus when the shooting started but escaped with minor injuries.
Afghanistan's 24-hours news network TOLOnews posted updates about the situation.
#AUAF UPDATE – Relatives of wounded students donate blood at the Kabul Emergency Hospital

— TOLOnews (@TOLOnews) August 24, 2016
The American University in Afghanistan has been open since 2006 and has been an important symbol of partnership between Afghanistan and the United States. The U.S. funds many scholarships for Afghans to study there, including many for women.
On August 7, two professors, one American and one Australian, at the American University were kidnapped by a criminal group according to ministry spokesman Sediq Sediqqi. It remains unknown whether there is a connection between that kidnapping and the recent attack.