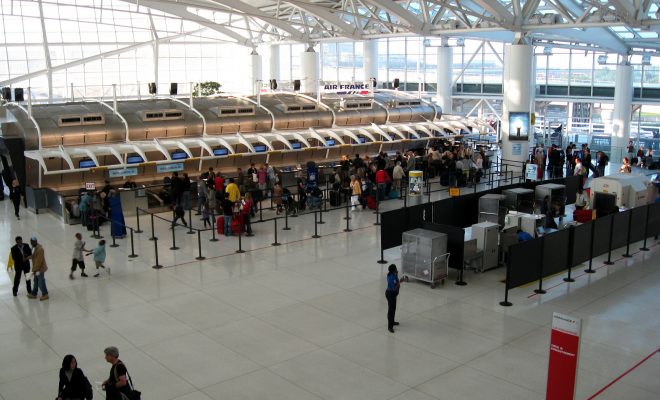 "JFK AIRPORT TERMINAL 1" courtesy of ERIC SALARD; license: (CC BY-SA 2.0)
News
Airports Recover From Chaos After Customs Computer System Outage
By
|
Thousands of travelers were stranded at airports during delays and subsequent chaos on Monday evening as the computer system for customs screenings went down in several cities. The system was only out of service for a few hours, from about 5 to 9 p.m., but since it was one of the busiest travel days of the year, the impact was profound. As the computer system for screening people was down, U.S. Customs and Border Protection officers used "alternative procedures" to vet international travelers. The agency's spokesman Daniel Hetlage said that officers had access to national security databases the whole time and that they screened all travelers properly according to safety standards.
Passengers on more than 30 flights that arrived at Miami International Airport were affected. In Atlanta, the outage "only" lasted for an hour and a half. In Salt Lake City, airport staff didn't know where to put all the people to wait. "Delta had us all line up after we landed and it took a while before customs was even able to find us a place where we could wait because the airport is so small," said passenger Jennifer Powers-Johnson to CNN.
The problems also hit San Francisco, Boston, Fort Lauderdale, Chicago, Los Angeles, Houston and New York's JFK Airport. As people were coming back home from the holiday weekend and preparing to go back to school and work the day after, this was not a welcome surprise  and many travelers took to Twitter to express their frustration.
US Customs is down and this is the back of the line Atlanta #atl pic.twitter.com/RHcB8Fh4HF

— Darrellkc (@hamptonsunset) January 2, 2017
One passenger wrote on Twitter that two people had passed out because of the heat and humidity in the Miami airport.
@AmericanAir feeling a warm welcome here in Miami. Standstill at the passport control, and we've barely moved for half an hour. Please help! pic.twitter.com/gmKqPdWCDU

— Carlos Rico (@carlosrico011) January 2, 2017
According to the New York Daily News, a spokeswoman from the CBP, who remained anonymous, didn't explain what could have caused the computer glitch, but she said, "CBP officers continue to process international travelers using alternative procedures until systems are back online." She added that they were "working to process travelers as quickly as possible while maintaining the highest levels of security." The CBP then sent out a tweet around 10:30 p.m., saying that the system was back online. But by then, most passengers already had been informed, and were delayed or had missed connecting flights.
All airports are back on line after a temporary outage of #CBP's processing systems. No indication the disruption was malicious in nature.

— CBP (@CustomsBorder) January 3, 2017
Roger Dow, CEO of the U.S. Travel Association, did not think the incident came as a surprise. He said:
What happened at Customs airport checkpoints yesterday is disturbing, but unfortunately it is not surprising. Technology at these facilities is too outdated to cope with existing travel volume, let alone the increased traffic we hope and expect to see at our gateway airports in years to come.
Maybe we all have to prepare for more complicated and lengthy travel procedures in the coming years.