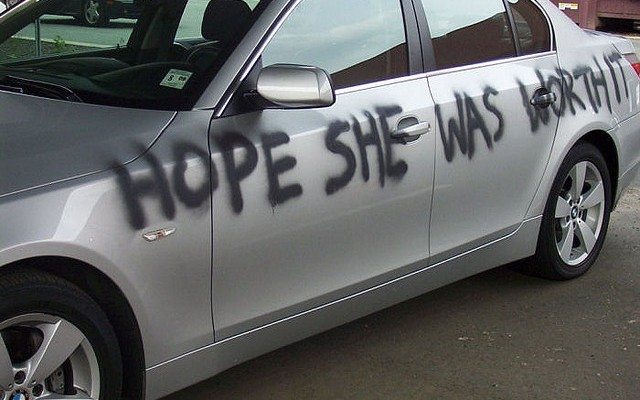 News
Adultery in the US: Do You Know the Laws?
By
|
In my search for a news story today, I came across what looked like an interesting topic. A trial is set to begin in Fort Hood, TX, regarding a prostitution ring that was supposedly set up by a Fort Hood sergeant who has yet to be charged. On trial is Master Sergeant Brad Grimes, a veteran of Iraq and Afghanistan. He is accused of participating in the prostitution ring.
Conspiring to pay for sex is without a doubt a crime, and if Grimes did so, he deserves to be punished as the court sees fit. But what sparked my interest, and a bit of surprise, was that Grimes was also charged with adultery.
That got me thinking: am I woefully ignorant of current laws, or do I just not see adultery charges that often?
So, I looked it up, and what I found was an incredibly wide-ranging set of laws, and a number of strange cases. Let's start with the most extreme derivations. In Idaho, Massachusetts, Michigan, Oklahoma, and Wisconsin, adultery is a felony. Technically speaking, in Michigan, you could be sentenced to life in prison for cheating on your spouse, as Judge William Murphy in the Michigan Court of Appeals noted in 2007.
Then there are states that are not nearly as harsh. Of the 23 states that still have adultery laws on the books (Colorado abolished theirs earlier this year), most classify it as some type of misdemeanor. This means that in most of these states, an adultery conviction would result in a fine.
A slim majority of states don't have any adultery laws on the books at all. And it's important to note that in those that do, actual trials or charges rarely develop. In Massachusetts, one of the states that does classify adultery as a felony, no one has been convicted of it since 1983. Even in that case, the punishment was only two $50 fines, one for the woman who committing adultery and one for the man with whom she was sleeping. If anything, adultery comes up during custody or divorce battles.
In the military, adultery laws are taken more seriously. The Uniform Code of Military Justice does not specifically contain adultery as a crime, but does have Article 134, which "prohibits conduct which is of a nature to bring discredit upon the armed forces, or conduct which is prejudicial to good order and discipline". The Manual for Court Martial expands Article 134 to include examples of specific offenses, and does contain adultery. The penalty for adultery can include up to a year in confinement, and/or dishonorable discharge.
According to this Slate article, standalone charges for adultery are rare. They're usually piled on with other misconduct charges, such as lying to a superior. That doesn't mean that it can't be damaging—in 1997, Lt. Kelly Flynn made headlines when she was dishonorably discharged after lying about sleeping with the husband of one of her coworkers.
That brings us back to Grimes. He was charged with adultery in conjunction with other charges, and really, my point here is not to diminish the conspiracy to pay for sex charges he is also facing. My point is that I was shocked to see an adultery charge listed at all. Off the top of my head, I don't think I can think of a popular prime-time drama in which adultery does not incur. In fact, there have been entire shows that pretty much revolve around it—Desperate Housewives, anyone? Maybe I'm just cynical, but I've always seen adultery as a personal act in which a decent proportion of our population engages—not a potential felony. Now I'm not trying to say that adultery is an ok thing to do, or morally acceptable. But the truth of the matter is that it happens. The percentage of married women reporting affairs in the last two decades was around 15% in 2013, for men it was around 21%. Grimes probably deserves the sentence he will receive. But our archaic adultery laws also deserve a look.
—
Anneliese Mahoney (@AMahoney8672) is Lead Editor at Law Street and a Connecticut transplant to Washington D.C. She has a Bachelor's degree in International Affairs from the George Washington University, and a passion for law, politics, and social issues. Contact Anneliese at amahoney@LawStreetMedia.com.
Featured image courtesy of [Harsh Agrawal/www.chromoz.com via Flickr]