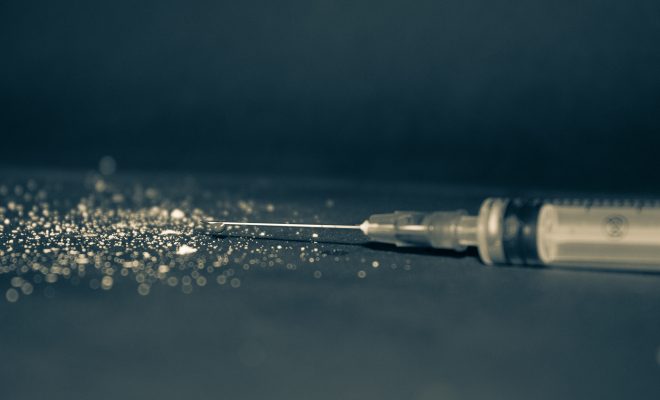 "Drug" courtesy of [Cristian C via Flickr]
News
19 Dead In Michigan From Mixing Drugs With Elephant Tranquilizer
By
|
More and more people are now mixing heroin and other street drugs with an extremely potent drug normally used for tranquilizing elephants. The drug, carfentanil, is reportedly 10,000 times stronger than morphine and 100 times stronger than fentanyl. At least 19 deaths have been linked to this lethal cocktail in the Detroit area only since July, according to the Michigan Department of Health and Human Services. What's even worse is that the drug has no antidote. District Judge Linda B. Davis told the Detroit Free Press to Detroit Free Press:
This is really scary. We know there have been some instances in Port Huron and New Haven where this has been suspected […] It makes it more deadly than heroin already is… This is really deadly. It is devastating communities.
Carfentanil was first created in 1974 for veterinary use and has not been approved for human use. As it is sometimes sold in pill form, users face great risk of accidental overdose. And the effects start only minutes after taking it–disorientation, coughing, sedation, respiratory distress, or cardiac arrest and death. "This stuff is so deadly, you could die before you can get high," said Lloyd Jackson, spokesman for the Wayne County medical examiner's office.
The Associated Press found that it is particularly easy to buy carfentanil online from producers in China, even though the U.S. government is urging the country to blacklist the drug. Over there, it is legal and out in the open, though its qualities have been compared to nerve gas. A Chinese worker at a lab that makes carfentanil told the AP that she thinks it should be controlled in China, but that there are so many labs and so much of the product, that she doesn't know how the government could ever control it.
Apart from tranquilizing animals, it has also been studied for use as a chemical weapon by the U.S., U.K., Russia, China, and a few other countries. The drug's potency can be demonstrated by the time when Chechen rebels held over 800 people hostage at a theater in Moscow in 2002. Russian forces used a related drug, fentanyl, to get the rebels to surrender by spraying it into the theater. It worked–but the effects also killed 120 of the hostages.
"Countries that we are concerned about were interested in using it for offensive purposes. We are also concerned that groups like ISIS could order it commercially," said Andrew Weber, former assistant secretary of defense for nuclear, chemical and biological defense programs, to the AP.
According to the U.S. Customs and Border Protection, the amount of fentanyl seized by authorities has increased from 8.1 pounds in 2014 to 295 pounds only from July 2016 until today. But DEA officials have said that they have experienced an unexpectedly high level of cooperation rate from Chinese officials in their efforts to stop the production and smuggling of carfentanil, noting that both countries are looking at it very closely.
"Shining sunlight on this black market activity should encourage Chinese authorities to shut it down," Weber told the AP.