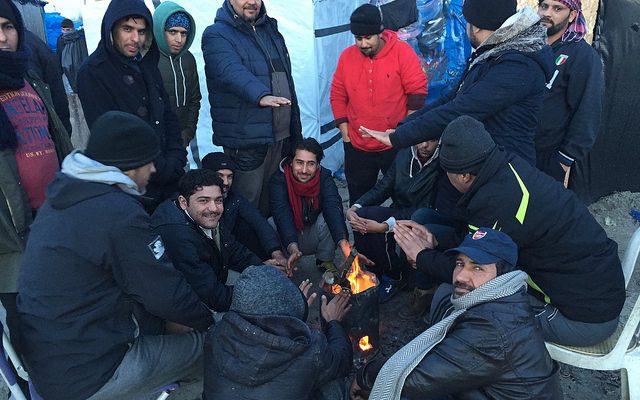 Image Courtesy of [malachybrowne via Flickr]
World
The "Great Wall of Calais": The UK's Controversial Plan to Stop Migrants
By
|
Politicians threatening to build extravagant walls as a means to prevent refugees from entering the country are not exclusive to the likes of Donald Trump in the United States. Last week British Immigration Minister Robert Goodwill announced that the United Kingdom and France plan to erect an "anti intrusion" barrier in the northern French city of Calais. Projected to span half a mile, stand more than 13 feet tall, and cost over $2.6 million, the purported "Great Wall of Calais" will be funded by the British government to hinder would-be immigrants from illegally crossing the English Channel. The development signifies only a fraction of a $22.7 million collaborative Anglo-Franco project designed to heighten security measures between the two nations.
With construction supposedly beginning later this month, read on to learn about the complicated humanitarian crisis currently unfolding in one of Europe's largest refugee settlements.
---
Welcome to the Jungle
On the outskirts of Calais lays a conglomeration of makeshift homes tokened as "The Jungle" due to the dense and oftentimes unpredictable living arrangements. While the French government proclaims the population of this community hovers around 7,000, local activists say the actual number exceeds well over 9,000 and growing daily –with roughly 70 newcomers arriving every day.
Migrants began to move into the area in 1999 with the formation of the original Sangatte refugee camp. Over the years the spot has emerged as a controversial haven for citizens fleeing Northern Africa, the Middle East, and Central Asia. Despite its closure in 2001 and 2002 by former French president Nicolas Sarkozy, migrants intending to someday relocate to England have resiliently (and perhaps strategically) stayed put. Largely attributed to Calais' short distance from Dover, England (less than 30 miles away), the settlement predominantly attracts prospective asylum seekers adamant about making the United Kingdom their new home.
Together these men, women, and children live in highly challenging living conditions with minimal resources, not to mention face the constant threat of expulsion and ridicule from the local populace. Ironically enough, the decision to create a buffer between England and France comes after the British government was approached to accept 400 parentless refugee children. Specifically, some children living within the tent city were previously separated from their families, some of whom now reside in England.
In an attempt to solicit a stronger humanitarian response from the United Kingdom, the Archbishop of Canterbury has proven to be one of the most vocal advocates for reuniting these family units, urging Parliament to expedite the process more efficiently. Today the encampment is experiencing dire food shortages and children prone to malnutrition. Currently the Refugee Community Kitchen says that there isn't enough donated food remaining to feed all of the residents, meaning some people are being turned away.
---
How Could England Justify a Wall?
Many migrants in Calais are hesitant to formally register as refugees in France due to their intentions to someday relocate to England–leaving them in "legal limbo" according to a Washington Post article. Since the growing settlement is situated directly across from a major highway, historically it has been plausible for refugees to easily reach the point of crossing over to England. Because of The Jungle's close proximity to the industrial road leading directly to the channel, some refugees clandestinely hide on trucks and ferries to reach their desired destination.
Regardless of the safety hazards presented, this past July it was estimated that up to 2,000 migrants try to illegally cross the English Channel every night. More specific numbers show that prospective migrants try to sneak into the United Kingdom every six seconds with more than 84,000 border arrests made last year–the majority hailing from Calais. In 2015 the migrant crisis made headlines when approximately 235 illegal migrants bombarded a ferry en route to England.
"People are still getting through," said Goodwill, who spearheaded the verdict. "We have done the fences. Now we are doing the wall." 
Logistically speaking, giant slabs of concrete will replace the trajectory of barbed wire already placed along the highway leading to the ferry terminal and underground tunnel to completely cut access. Goodwill rationalized his decision to assemble a wall by claiming it would amplify security in order to dissuade refugees from illegally traveling on England-bound lorries. 
---
The French Perspective
Certain French officials would put an end to the sprawling camp in a heartbeat. Back in February the French government vowed to dismantle a portion of the encampment that serves as a home for more than 1,000 people. Such animosity intensified recently after 100 migrants broke down a fence to reach the Eurotunnel terminal.
Based on a New York Times report, the prefect for Calais' administrative department, Fabienne Buccio, is trying to incentivize migrants to abandon such squalor and move into state-run shelters or other immigration centers situated across France.
"I think that it is time to tell the migrants in Calais, who are still living in conditions that are not dignified and that are not desirable: 'We really have a solution for you, there are no more reasons for you to stay in these conditions,' " said Buccio.
Earlier this summer French truck drivers and residents of Calais protested outside the outpost. A fleet of approximately 40 trucks and a number of farming vehicles marched on the highway leading to the waterway. According to the demonstrators, migrants are resorting to hazardous tactics in their pursuit to cross the English Channel. An Al Jazeera video report featured below also discusses how some migrants slashed truck tires to enter large vehicles and hide within the cargo. The CEO of the Calais port, Jean-Marc Puissesseau, expanded upon this trend saying that refugees place tree trucks, branches, and gas cylinders along the road to halt traffic and sneak into vehicles.
"This wall is going to prevent migrants from invading the highway every night," said Puissesseau. "We can no longer continue to put up with these repeated assaults."
Protesters also demanded that the French government compensate local businesses for the gradual loss of tourism revenue throughout the region. Locals say that the presence of refugees tarnished the city's reputation.
---
Opposition to the Decree
Numerous civil society groups in both England and France have condemned their countries for their unwillingness to provide aid to these individuals forced to flee their homes out of fear of death or persecution. One grassroots organization in England called Worldwide Tribe, for example, aims to fight prejudice against refugees in Calais with compassion.
"We're not politicians, we don't pretend to have all the answers, and we're not charity workers," said Jasmine O'Hara, a member of the Worldwide Tribe in Calais, in 2015 to The Guardian "We're just normal people from Kent who want to help our fellow human beings with their basic needs."
The current circumstances are also soliciting a strong response from certain members of the French Green Party, such as Jean Lambert.
"The decision to build a wall in Calais is the latest wrong move in what is the ongoing scandal of the handling of the plight of refugees in northern France," said Lambert, who serves as a migration spokeswoman for the British Green Party. "The UK government must get its act together."
Surprisingly enough, the mayor of Calais, Natacha Bouchart, is dubious of the upcoming project as well. From her perspective, constructing a wall would be frivolous when the city government is determined to shut down the campsite as soon as possible and supposedly assist refugees in finding alternative housing solutions. Even British truck drivers within the UK's Road Haulage Association disapprove of the recent announcement, calling it a "poor use of taxpayer money." Some say that funneling funds into better security precautions along the roads (specifically) would be a better investment.
---
Conclusion
Doctors Without Borders declared that 35 migrants from The Jungle have died while attempting to cross the English Channel. According to the non-profit organization, this proclaimed wall is likely to increase the death toll in the coming months as refugees will try to find alternative methods in reaching England–endangering their lives more so in the process.
"Further investment from the UK in security measures in the area around Calais, prioritizing deterrence over a safe and humane management of the situation, will only further the suffering of those people who remain in deplorable conditions in squalid camps," said Executive Director of Doctors Without Borders for the British branch, Vickie Hawkins. "So far deterrence measures have not proven that they fulfill their objective, rather they have created a policy-made humanitarian crisis in northern France."
---

Resources
The Local: Everything You Need to Know About the Calais Wall
Al Jazeera: UK Slate Over Planned Anti-Refugee Wall in Calais
CNN: UK to Build 'Big New Wall' in Calais to Stop Migrants
Redice.TV: Massive Concrete Wall Planned for Calais to Keep Migrants Out of Britain
The Washington Post: Britain and France to Construct 'Great Wall of Calais' to Keep Migrants From Port
The New York Times: France to Dismantle Part of Migrant Camp Near Calais
Sputnik News: Building Wall at French Calais Could Cause Humanitarian Crisis in Refugee Camp
The Huffington Post: 'Great Wall of Calais' Refugee Migrant Barrier to be Build in France, Robert Goodwill Confirms
BBC News: Why is There a Crisis in Calais?
Reuters: Food Shortages Hit Calais 'Jungle' Camp as UK urged to Accept 400 Children
The Independent: Britain to Build 13ft High Wall in Calais to Block Refugees From Entering the UK
Editor's Note: The post has been edited to reflect that the French government has vowed to dismantle only a portion of the Calais encampment, rather than all of it.