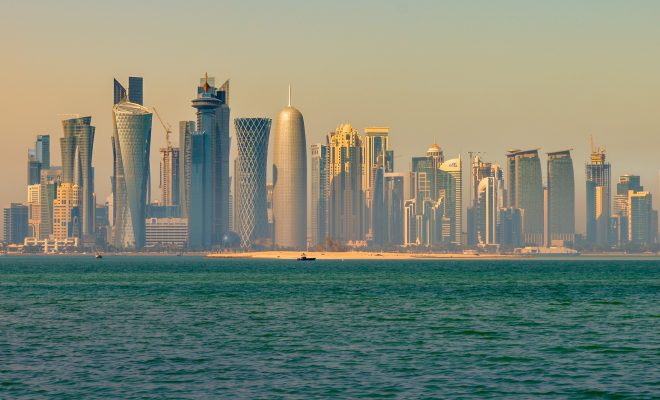 "Doha skyline in the morning" courtesy of Francisco Anzola; License: (CC BY 2.0)
World
Qatar: How the Tiny Peninsula Became the Center of a Regional Proxy War
By
|
On June 5, several Arab nations led by Saudi Arabia announced they were cutting off all relations with Qatar. Although terrorism was used as the main rationale for the fallout, alternative claims abound. Whatever the exact reason, this dissension in the ranks comes at a difficult time in the fight against terror, a fight in which Qatar is a maddeningly prominent player on both sides. It also creates an awkward position for the United States which has an important base in Qatar as well as one in Bahrain–one of the nations that severed ties. Most significantly though, this move may just be one more development in the ongoing proxy war between Saudi Arabia and Iran, whose differing viewpoints of Islam are grappling for preeminence in the Muslim world. Read on further to learn more about the fallout and its various impact on Qatar, the United States, and the region at large.
---
Why the Split?
In total, nine countries have announced that they would cut ties with Qatar, namely Saudi Arabia, Egypt, the United Arab Emirates, Bahrain, the Maldives, Yemen, Libya, Mauritius, and Mauritania. According to these countries, the split is over Qatar's support for terrorist groups and its close relationship with Iran. Specifically, these countries claimed that Qatar has either supported or protected members of ISIS, Al Qaeda, and the Muslim Brotherhood. In response, Qatar has said that these claims have "no basis in fact." Another related issue that may have sparked the fallout is a massive ransom payment that Qatar reportedly paid to recover a member of the royal family. The payment is rumored to be as high as $1 billion and Qatar's neighbors fear that the money amounts to direct funding for terrorist organizations. Finally, the decision also comes shortly after the Qatari News Agency reported on comments allegedly made by the Qatari leader in support of Iran. The report prompted backlash from neighboring countries, but Qatar said that the news outlet was hacked and the report was fabricated.
There is some irony to the split, as Qatar is a Sunni-led, Sunni-majority nation, while Bahrain–one of the countries that cut ties–is actually majority Shia, the Muslim sect championed by Iran. As a result of the decision, Qatari citizens and diplomats will be required to leave many of these countries on very short notice.
The video below describes how the recent dispute unfolded:
---
Impact on Qatar
The Al Thani family has ruled Qatar from the mid-1800s onward. For most of that time, the country was relatively poor and undeveloped. However, with the development of the country's vast natural gas reserves beginning a little more than half a century ago, the nation was transformed and attained the world's highest per capita income in 2007. Despite accruing vast wealth, Qatar has had issues in the past due to its support for revolutionary movements and terrorist organizations, which has caused rifts with many of the countries it is currently clashing with in the past, including Saudi Arabia and Bahrain. (This support may also explain why Qatar was immune from many of the Arab Spring protests experienced by a number of countries in the Middle East.) At one point in 2014, those countries even recalled their ambassadors, but in that case, the differences were ultimately resolved.
In the most recent case, Qatar would benefit from a similarly quick return to good relations. This is true for several reasons. First, because Qatari flights are banned from these countries' airspace, flight paths to and from Qatar need to be modified to take longer routes, which raises costs and could spell trouble for its airlines. Secondly, Qatar is a peninsula with only one land border, which is with Saudi Arabia. By closing this border, Qatar will have to funnel all food and other supply shipments in by air or sea. This is particularly a problem for Qatar because its climate prevents most domestic food production.
In addition, this move could also hamper Qatar's construction industry. Qatar was chosen to host the 2022 Soccer World Cup, but many of the materials needed to build the facilities for the stadium and other projects pass through Saudi Arabia, which will now also need to be transported on a less direct route. This will also have consequences on both Qataris living abroad and citizens of other Gulf nations currently living in Qatar, many of whom have been ordered to return home. The impact of these concerns was felt immediately as Qatar's stock market dropped 7 percent the day after the announcement.
These effects would only pile on the issues Qatar has had to deal with since the price of oil plunged in 2015. Specifically, the country already ran a $8 billion deficit, amounting to 5 percent of its GDP in 2016. To combat these changes, Qatar had already implemented austerity measures such as raising utility rates, levying fines, and scrapping programs, including a proposed national health care system. If this ban is long-lasting, it could have even more deleterious effects on Qatar.
---
Impact on the United States
As with so many other issues, the decision to ostracize Qatar has implications for the United States as well. One, potentially awkward connection between the recent fallout and the United States, is a speech recently given by President Trump in Saudi Arabia. In his speech, President Trump was very critical of Iran, which many feel emboldened Saudi Arabia to act decisively against Qatar, given its unorthodox relationship with Iran.
This also has a more practical impact on the United States. Following the 1991 Gulf War, Qatar and the United States reached an agreement that brought the countries closer militarily. This commitment was confirmed in 2003 when the United States moved its forward command base from Saudi Arabia to Qatar. That base, known as Al-Udeid, is home to more than 10,000 American troops and is the site of U.S. Central Command. Despite the recent diplomatic fallout, the U.S. has reaffirmed its commitment to the fight against terrorism and has pledged to maintain its regular activity at the base. Nevertheless, the dispute puts the United States in an awkward position of being allied with both parties and having a major base in a country that has been ostracized by its neighbors.
---
Impact on the Middle East
As with many issues concerning the Middle East, Qatar and the countries trying to isolate it are also interwoven. While this move is meant to single out Qatar, it will also affect the entire region. This begins with regional organizations. The largest is OPEC, or the Organization of Petroleum Exporting Countries. However, cutting ties with Qatar is less of an issue within this organization given its history of internal conflict. For example, Saudi Arabia's antagonist, Iran, is also a member and the two have been able to coexist. And at certain points in OPEC's history, members of the organization have actually fought wars against one another. The conflict does seem to be affecting the price of oil though, as crude oil prices fell the day after the announcement. Investors cited concerns over whether OPEC members could adhere to their pledge to reduce production to drive up prices.
Qatar is also a member of the Gulf Cooperation Council along with Saudi Arabia, the UAE, Bahrain, Oman, and Kuwait (Oman and Kuwait have maintained diplomatic relations with Qatar). While this alliance is not threatened, some members, namely Kuwait, are calling for a quick resolution to the problem. These sentiments have been echoed by other countries such as Turkey, Russia, and the United States. In fact, although Qatar is the main subject in this situation, the reality, and the likely biggest impact in the Middle East, is to be felt in the ongoing proxy war between Iran and Saudi Arabia.
Specifically, Iran and Saudi Arabia have been engaged in an unofficial proxy war in countries across the Middle East akin to the Cold War. The two nations have taken opposite sides in a number of conflicts such as the ones in Iraq, Syria, and Yemen. They each see themselves as representing the true nature of Islam–the Shiites in Iran and the Sunnis in Saudi Arabia. After the initial decision to cut diplomatic ties was made, Saudi Arabia cited Qatar's support for "terrorist groups aiming to destabilize the region" as the justification. But at the same time, Qatar has also backed groups fighting against forces that are supported or tied to Iran in both Syria and Yemen.
---
Conclusion
As the longstanding proxy war between Iran and Saudi Arabia continues, there are a number of places where conflict has flared up. The most recent example is Qatar, which has complicated ties to both countries. While Qatar certainly seems caught in the middle of something larger than itself, it is not totally blameless. The world's largest liquefied natural gas exporter has supported groups on both sides of the larger conflict.
The recent fallout will have implications for both the region and other prominent actors, notably the United States. Not only is its largest U.S. military base in the Middle East located in Qatar, some point to recent comments from the American president as a possible cause of the decision to shun Qatar. The complexities of the situation may explain why leaders from around the world are calling for a resolution as quickly as possible.
In the meantime, Qatar is caught in a bind. While it attempts to resolve this dispute, it must also remain conscious of its image, especially as it prepares to host the next World Cup in 2022. With all this in mind, and Qatar's proximity to Saudi Arabia, this conflict may need to be resolved sooner rather than later.