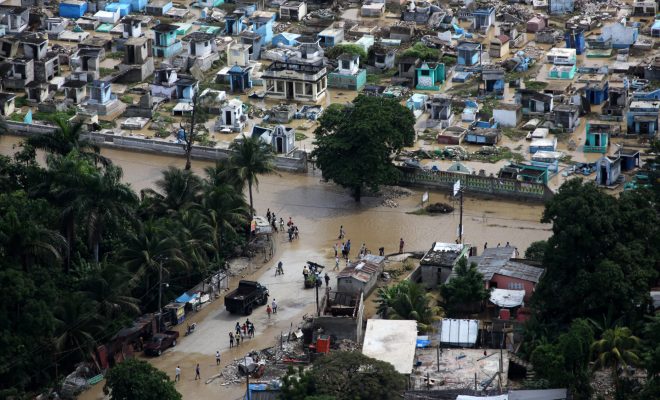 Image Courtesy of DVIDSHUB : License (CC BY 2.0)
World
Haiti's History of Disappointments: Intervention, Exploitation, and NGOs
By
|
Communities in southwestern Haiti were devastated when Hurricane Matthew struck the Tiburon Peninsula on October 4, 2016. Accompanied by rapid winds, heavy rainfall, and subsequent flooding, the Category 4 storm on the Saffir-Simpson scale killed at least 1,000 people, destroyed countless homes, and displaced thousands. Approximately 2.1 million people have been affected, 1.4 million need humanitarian aid, 750,000 need urgent help, and 806,000 are at an extreme level of food insecurity. Haiti, which is roughly the size of South Carolina, was ill-equipped to withstand another natural disaster. For the past six years this Caribbean country has been trying to recuperate from the 2010 earthquake that left more than 200,000 dead (according to Haitian government figures) and wreacked havoc upon a preexisting weak infrastructure. Now history seems to be repeating itself.
Communication networks are down, crops were destroyed, and roads have been blockaded by debris–making it all the more strenuous for citizens to receive the assistance they desperately need. Simultaneously burdened by two catastrophes, once again Haitians are bracing themselves for another cholera outbreak. Yet with limited financial resources and crumbling medical facilities, some hospitals don't even have enough gasoline to put into ambulances or any antibiotics left to ward off the waterborne disease.
"Needs are growing as more affected areas are reached," said UN Secretary General Ban Ki-moon, whose organization recently pledged $120 million for humanitarian aid in Haiti. "Tensions are already mounting as people await help. A massive response is required."
Oftentimes referred to as the "republic of NGOs" (non-governmental organizations), Haiti rarely receives the aid it is promised. Although some would consider the poorest country in the Western Hemisphere to be susceptible to certain ailments (like inclement weather and bad governance), the reality of the situation is that Haitians haven't gotten the necessary support to thrive as a sovereign nation after decades of economic exploitation, American military intervention, and poorly implemented aid projects.
---
Colonial History
Much of Haiti's tumultuous past stems from its colonial predecessors: Spain and France. From 1492 to 1625, the island of Hispaniola (present-day Haiti and the Dominican Republic) was administered by Spain. Originally the native Taíno inhabited the island, but the Arawak group was essentially wiped out after Christopher Columbus and his fellow voyagers brought infectious diseases. During this era, however, a variety of European powers were competing for geopolitical power and resources in the Caribbean. The 1697 Treaty of Ryswick allowed France to inherit Haiti from Spain in order to mitigate conflict between the two colonial powers. The western third of the island became "Saint-Domingue" under French rule, while Spain maintained its sphere of influence in the neighboring Dominican Republic.
Throughout the 1700s, Haiti became the wealthiest colony in the "New World"–making up more than a quarter of France's economy in the process. During the peak of the Transatlantic Slave Trade, however, such wealth was only achieved through brutal means. Thousands of enslaved Africans were brought over to the French territory to perform backbreaking labor on Haiti's many sugarcane plantations. This exploitation continued until 1801 when a successful slave revolt defeated the French army, making Haiti the first black republic in 1804. However, in order to achieve international recognition and persuade French warships to leave Haitian harbors, Haiti was coerced in 1825 into paying their oppressors an "independence debt" worth 150 million gold francs. Valued at approximately $21 billion by today's standards, this large sum of money was meant to compensate French colonists for their lost profits. Although the remaining $36 million of debt was forgiven by the World Bank in 2010, some attribute this initial debt to having predisposed Haiti to immense economic shortcomings. 
The United States has also contributed to Haiti's myriad of problems. Concerned about European rivals in 1914, former President Woodrow Wilson deployed American troops in Haiti to ensure that no other country would try to exert influence in the region. Another reason why the United States interjected was the political instability of Haiti. In fact, between 1888 and 1915 no Haitian president managed to complete their seven-year term due to numerous military coups, assassinations, and deaths of natural causes. American intervention lasted from 1914 to 1934 until President Franklin Roosevelt enacted his "Good Neighbor Policy." Following three decades of American occupation, despotic dictatorships under François "Papa Doc" Duvalier and his son Jean-Claude "Baby Doc" Duvalier plummeted the country into further political and economic turmoil. Democracy was only temporarily restored with the appointment of President Jean-Bertrand Aristide, who was temporarily ousted in a 1991 military coup.
---
American Intervention & Clinton Administration Controversies
In contrast to other American politicians, Bill and Hillary Clinton have made Haiti a focal point of their foreign policy, but that focus hasn't been without controversy. In the early 1990s Bill Clinton won the love and admiration of many Haitians after helping the democratically-elected President Aristide return to office after he was ousted in a 1991 coup. However, this was only accomplished by enforcing another U.S.-led intervention that lasted approximately two years. Ever since then, Washington has played an immense role in dictating Haitian politics and economics. While serving as Secretary of State, for example, Hillary Clinton's administration was accused of threatening to withhold foreign aid to Haiti if the 2010 presidential elections didn't yield the candidate Washington desired. Additionally, the highly anticipated Caracol Industrial Park–a 600-acre textile factory meant to provide much-needed jobs to Haitians–was a Clinton Foundation project. The Clinton Foundation promised it would create 60,000 jobs in five years, but the enterprise only employs approximately 5,000 laborers as of mid-2015.

Other adverse effects of American involvement can be found in Haiti's agriculture and economy. For example, during Bill Clinton's presidency, Haiti became more dependent on international imports. Pressured by the United States, the Haitian government was persuaded to lower tariffs on imported food (including rice) from 50 percent to about three percent–making their main export less valuable in the process. Instead of growing their own rice, Haitians started to rely more heavily on exported rice, therefore becoming less capable of feeding themselves with domestically-grown products. 
The Clintons were also accused of mishandling 14.3 billion dollars of donation money that was intended to go toward relief efforts following the 2010 earthquake. Under Ban Ki-moon's jurisdiction, Bill Clinton became the UN envoy to Haiti tasked with spearheading relief efforts. Based on a report by neoconservative group PJ Media, though, this money allegedly went to "friends of Bill" instead.
---
Effectiveness of Non-Profits
Among the estimated 10,000 non-profits operating out of Haiti, perhaps the most notorious is the American Red Cross. Normally held in high regards, the humanitarian organization pledged to help Haiti rebuild itself after the fatal 2010 earthquake. The charity managed to fundraise approximately $500 million through soliciting donations. The money was supposed to fund the construction of new homes, roads, schools, etc., but after six years it appears as though the Red Cross has not fulfilled its promises. In fact, it's unclear where all the money even went.
This past summer ProPublica and NPR conducted an extensive investigation that revealed a series of fabrications and haphazard estimations among the samaritan group. The joint effort examined an array of confidential memos and emails from administrative higher-ups that show how "the charity has broken promises, squandered donations, and made dubious claims of success."
One of the most garish falsifications involved housing. Apparently, the Red Cross claimed to have built homes for over 130,000 people in the neighborhood of Campeche in Haiti's capital Port-au-Prince, but in reality only six were constructed. Another controversial discovery is the amount of overhead costs that the Red Cross gives to its employees, which more often than not are non-Haitians. For example, a project manager working in Haiti receives an allowance of $140,000 meant to cover housing, food, paid trips home, four vacations a years, and relocation expenses. In contrast, a Haitian senior engineer earns $42,000 a year. Because of such disparities, Haitian non-profits are known for perpetuating inequalities among a small group of wealthy foreign elites–most of whom cannot speak Haitian-Creole, nor French.
---
Conclusion
Despite the UN's current attempts to rejuvenate Haiti, even it isn't immune to scrutiny–especially when it comes to the ongoing health crisis surrounding cholera. The fact of the matter is that Haiti was cholera-free for over a century before UN peacekeepers reintroduced the infectious disease back to the island. Cholera is a fast-spreading infectious disease known for causing severe diarrhea and dehydration. As certain reports have proven, waste generated from UN facilities crept into a river, which in the end contaminated other nearby bodies of water. Since fresh water was scarce in Haiti to begin with, now it is even more difficult to find sanitary water to drink or bathe in.
"The need for a new UN response that both controls and eliminates cholera and compensates the victims who have suffered so much is now more dire than ever," said Beatrice Lindstrom, who serves as a human rights lawyer with the Institute for Justice and Democracy in Haiti.
Haiti will continue to be plagued with problems if the impoverished country is unable to properly recover from disease outbreaks like this, as well as devastating natural disasters. Decades of economic exploitation, flawed aide efforts, and further interference and exploitation from other countries inhibit this country's ability to thrive as a sovereign nation.
---
Resources
Al Jazeera: Ban Ki-moon in Haiti Inspects Matthew's Damage
Al Jazeera: Haiti Death Toll from Hurricane Matthew Passes 1,000
Alternet: How America and the Rest of the World Ruined Haiti
BBC: Haiti Quake Death Toll Rises to 230,000
BBC: The Long History of Troubled Ties Between Haiti and the US
TIME: The World Must Not Abandon Haiti to the Devastation Left by Hurricane Matthew 
The Daily Beast: How Hillary Helped Ruin Haiti
Foreign Policy in Focus: Are Foreign NGOs Rebuilding Haiti or Just Cashing In?
The Guardian: Hollande Promises to Pay 'Moral Debt' to Former Colony Haiti
Miami Herald: In Post-Hurricane Haiti, a Picture of the Human Toll Begins to Emerge
NPR: In Search of the Red Cross' $500 Million in Haiti Relief
Newsweek: Reasons Behind Haiti's Poverty
New York Times: Cholera Deaths in Haiti Could Far Exceed Official Count
PJ Media: Former Haitian Senate President Calls Clintons 'Common Thieves Who Should Be in Jail'
Politico: The King and Queen of Haiti
ProPublica: How the Red Cross Raised Half a Billion Dollars for Haiti and Built Six Homes
Reuters: World Bank Cancels Remaining Haiti Debt
London Review of Books: Who Removed Aristide?: Paul Farmer Reports From Haiti
Editor's Note: This post has been updated to correct the year in which the Treaty of Ryswick was signed.