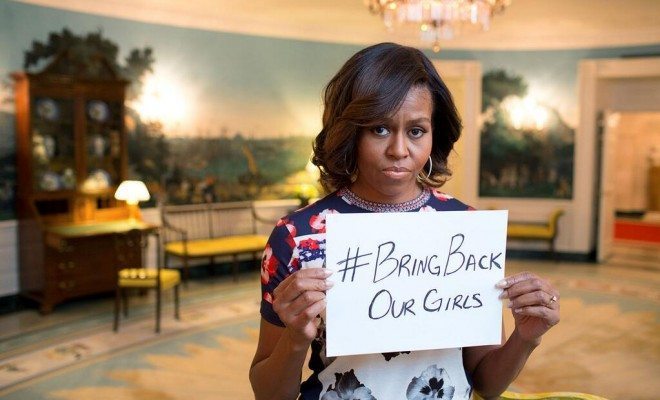 Image courtesy of [Michelle Obama, Office of the First Lady via Wikipedia]
Technology
Hashtag Activism: Is it #Effective?
By
|
In an era engulfed by technology, previous ways of life have undergone a revamping. One aspect is the way in which social movements are conducted. The implementation of social media as a key tool in producing change has created "hashtag activism," a way of protest both hailed and scorned by critics for its influence.
---
What is Hashtag Activism?
Hashtag activism is the act of supporting a cause that is being advocated through social media platforms such as Twitter, Facebook, and other networking websites. Although sometimes criticized for its lack of effectiveness and promotion of lazy activism, it is the implementation of social media as a platform to raise awareness on a multitude of issues.
On September 17, 2011 the #OccupyWallStreet movement began to raise issues of economic and social inequality in the United States. Arguably one of the first major Twitter campaign, the protest mobilized thousands of people almost exclusively through the Internet. Robert Reich, former secretary of Labor under President Clinton, notes that, "Occupy put the issue of the nation's savage inequality on the front pages" and "to that extent, it was a stirring success." Although  with a lack of clear objectives and leadership the movement was unable to sustain long-term economic changes, #OccupyWallStreet created a new method of activism that was adopted in future campaigns.
---
Cases of Hashtag Activism
#Kony2012
War criminal and Ugandan military leader Joseph Kony is known for abducting children and turning them into child soldiers and sex slaves. In an effort to draw attention to his offenses Invisible Children, Inc. released a short documentary titled Kony 2012 in March of 2012, kick starting the "Stop Kony" movement that swept the United States. As of June 1, 2014 the film has over 99.5 million views on YouTube.
Americans helped contribute to the nearly 2.4 million tweets #Kony2012 accumulated in March 2012. Stimulated by the general public and celebrities alike, the United States deployed 100 military advisers to join the force of 5,000 sent by the African Union to suppress the violence in Uganda.
Abou Moussa, the U.N. Central Africa representative said, "We need to take advantage of the high level of interest, goodwill and political commitment to finally put an end to this crime."
However, Joseph Kony remains on Forbes World's Most Wanted Fugitives list as he has yet to be captured by the authorities.
#BringBackOurGirls
Boko Haram, a terrorist group in Nigeria, kidnapped 276 female students from their school on April 15, 2014. Since their abduction, the girls have involuntary converted to Islam and forced into marriages at the bride price of $12 dollars a piece.
Parents and activists were frantic for the government to escalate their involvement to find the missing girls, and their need to spread awareness led them to Twitter. According to BBC Trending's Anne-Marie Tomchack, Ibrahim M Abdullah, a lawyer in Nigeria, was the creator of the hashtag #BringBackOurGirls. The story of the abducted girls did not begin to gather attention until April 23, 2014 when Nigerians adopted the new slogan and began tweeting it.
Perhaps the Nigerian government would be able to ignore regular citizens calling for help, but once First Lady Michelle Obama, Secretary of State John Kerry, and Former Secretary of State Hillary Clinton got involved the issue could no longer be disregarded.
Time's Laura Olin stated, "It's not everything, but it's a start. And the world is now talking about 276 stolen girls in Nigeria when before it wasn't talking about them at all."
Boko Haram has continued to terrorize the people of Nigeria. Since the abduction of the school girls, the militants have kidnapped even more children and murdered people in towns along the way. The Nigerian government has been all over the place with its involvement. Statements banning protests were released, followed by a quick change of heart from the administration claiming it has, "never, ever tried to violate anybody's rights. We believe in human rights, we believe in citizens' rights." Allegedly the military knows where the remaining girls are, but has yet to go in due to the danger of the camp.
#YesAllWomen
On May 23, 2014, Elliot Rodger went on a killing spree near the University of California, Santa Barbara campus in Isla Vista. Six people were fatally wounded and another thirteen were injured before Rodger committed suicide in the midst of a police chase. Before the attacks began, Rodger posted alarming and irate videos to YouTube declaring his disdain of all women since they had been rejecting him throughout his life. In addition to the series of videos, he produced a 137 page autobiographical manifesto written in the same sentiment.
Although it is clear that Rodger was more vicious and vehement than most, the outlines of the prevailing misogynistic American cultural values were evident in his manifesto. Feminists could no longer stand for the perverse ideology and took to social media to let the world know.
Because being alone in a parking garage at night is one of the most terrifying experiences on earth #YesAllWomen

— jackie vasquez (@jvask) May 25, 2014
#YesAllWomen because even a taped confession admitting to raping me wasn't enough to put him in jail.

— Jessi Smiles (@jessismiles__) May 26, 2014
I shouldn't have to hold my car keys in hand like a weapon & check over my shoulder every few seconds when I walk at night #YesAllWomen

— Sophia Bush (@SophiaBush) May 25, 2014
The Twitter campaign #YesAllWomen created a place for women to share their own stories of sexism and brought attention to Rodger's animosity toward women, that stemmed from the outlooks of our society. The New Yorker's Sasha Weiss accurately described the moment as,
"#YesAllWomen is the vibrant revenge of women who have been gagged and silenced."
#YesAllWomen is effective since instead of preaching to the typical feminist choir, it drew in the more mainstream population including men and celebrities. However, not all individuals were able to see the campaign for what it was and swiftly came to the defense of the male gender.
To counter #YesAllWomen, men's rights activists were quick to tweet #NotAllMen. The thread was fashioned to establish that Rodger did not represent the entirety of the male gender; he was one of those terrible guys, not like the rest of them. #NotAllMen contributors felt the burning desire to let the world know they are not the problem and to once again push women's issues to the back burner(if it was intended or not).
The people who tweeted #NotAllMen or believed that feminists were just on another one of their rampages missed what #YesAllWomen was intended to do. The true sentiment #YesAllWomen was expressed by CNN's Emanuella Grinberg who said, "No, not all men channel frustration over romantic rejection into a killing spree. But yes, all women experience harassment, discrimination or worse at some point in their lives."
As on May 26, 2014 the #YesAllWomen hashtag has reached 1.2 million tweets and 1.2 billion impressions.
---
 Arguments for Hashtag Activism
"Hashtag activism is a gateway between politics and popular culture, a platform to educate the ignorant and draw attention to the operation of power in the world," stated Ben Scott in New America's Weekly Wonk. By using a medium that is seen by millions of people daily, hashtag activism has the ability to alter a person's attitude towards a cause by exposing them to others personal experiences and witnessing mass support. As social change is dependent on transformation at an individual level, Twitter makes itself invaluable as a campaign tool.
When victims see that others have endured the same trauma, it directly helps them as they can see that they are not alone in their pain. Even if they do not feel support by those they directly interact with in life, they know that people do care about them.
Along with the cases previously mentioned, computer-based activists also directly impacted the amount of funding for another issue they felt strongly about. Planned Parenthood annually receives $680,000 dollars from the Susan G. Komen Foundation that helps provide exams largely for minority and low income women. In January 2012, Komen announced that it would stop its funding of mammograms and breast exams through Planned Parenthood. The Internet went into an uproar, tweeting hashtags like #standwithpp and #singon. By Friday of that week, Komen had reversed its decision and stated it would continue to support Planned Parenthood.
Cecile Richards, president of Planned Parenthood, told the Los Angeles Times, "I absolutely believe the exposure on Facebook and Twitter really drove a lot of coverage by mainstream media… I've never seen anything catch fire [like this]."
---
 Arguments Against Hashtag Activism
Criticisms of hashtag activism stem from the thought that the generation that uses a social media-driven method of reform are observers, commenters, self-indulgent philanthropists – not true advocates witnessed in previous eras. CNN's Dean Obeidallah stated that the 'Greatest Generation' in the 1940s and '50s were, "doers, not watchers." In the '60s and '70s, the streets were flooded with protests of the Vietnam War and roared with a call for civil rights, forcing the hand of government officials to listen the people's wishes.
Now the most common form of demonstration is retweeting another's thoughts or giving a "like" on Facebook. Sure, online petitions are digitally signed, but the automatic signature lacks the passion displayed by movements that have come before.
Obeidallah relates the tactics of hashtag activists to the revolutionaries in the Arab world. He acknowledges that they did use social media, but their efforts did not stop there. Protesters risked their lives to achieve the change they yearned for, "All the tweets in the world would not have driven the presidents of Egypt or Tunisia from their offices," declared Obeidallah.
Sarah Palin has also voiced her opinion on the inefficiencies of using social media to obtain success. On the former Governors Facebook page she posted a photo of a man with sheets of paper attached to his body, with hashtags scribed on them such as, "#StopLazyInternetActivism" and "#YouAreNotMakingADifference." In regards to the abductions done by Boko Haram and the #BringBackOurGirls campaign that ensued, Palin included personal commentary in a caption:
Diplomacy via Twitter is the lazy, ineffectual, naïve, and insulting way for America's leaders to deal with major national and international issues… If you're going to get involved anyway, Mr. President, learn to understand this and believe it, then announce it: Victory is only brought to you 'courtesy of the red, white and blue.' It's certainly not won by your mere 'unfriending' the bad guys on Facebook. Leading from behind is not the American way.
Evgeny Morozov, the author of "The Net Delusion: The Dark Side of Internet Freedom, said, "My hunch is that people often affiliate with causes online for selfish and narcissistic purposes… Sometimes, it may be as simple as trying to impress their online friends, and once you have fashioned that identity, there is very little reason to actually do anything else."
Many individuals share the impression that hashtags may come and go and they are no match for real world engagement.
---
Conclusion
While it cannot be denied that hashtag activism is an effective method in spreading awareness of a cause, the tangible achievements attained from physical protests perhaps outweigh those on the Internet. The absence of organization and leadership found in many Twitter-based campaigns have some people critical of the realistic capability these movements have in comparison to the street pounding tactics used during the civil rights movements. For a movement to be successful in a technology-driven generation, a combination of both civic engagement and hashtag activism would produce the best results.
---
 Resources
The New York Times: The Manifesto of Elliot Rodger
Washington Post: #BringBackOurGirls, #Kony2012, and the Complete, Divisive History of 'Hashtag Activism'
Reuters: African Union Launches U.S.-Backed Force to Hunt Kony
#BBCtrending: The Creator of #BringBackOurGirls
Time: #BringBackOurGirls: Hashtag Activism Is Cheap – And That's a Good Thing
CNN: Deadly California Rampage: Chilling Video, But No Match for Reality
New Yorker: The Power of #YesAllWomen
Time: Not All Men: A Brief History of Every Dude's Favorite Argument
CNN: Why #YesAllWomen Took Off on Twitter
Hashtags: Social Media Users Respond to Existing Dangers Towards Women with #YesAllWomen
Weekly Wonk: #WhyHashtagActivismMatters
New Zealand Herald: Verity Johnson: Hashtag Activism – #TakeItSeriously
LA Times: Komen Learns Power of Social Media: Facebook, Twitter Fueled Fury
The New York Times: Hashtag Activism, and Its Limits
Christian Science Monitor: Happy Birthday, Occupy!
Forbes: The World's 10 Most Wanted Fugitives
CNN: Boko Haram Blamed for Nigeria Village Attacks; 15 Killed, Chief Kidnapped
Telegraph: Nigeria: Kidnapped Schoolgirls 'S\