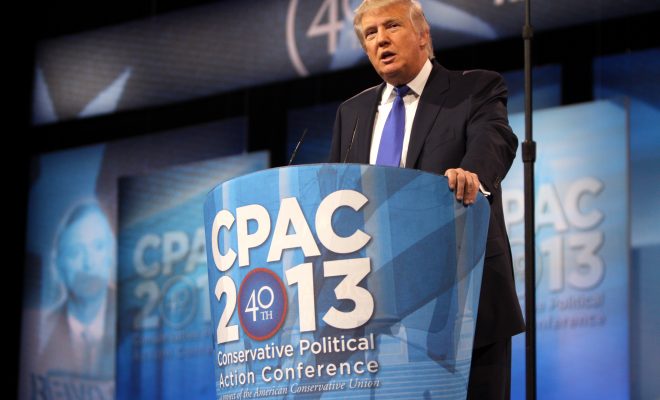 Donald Trump Courtesy of Gage Skidmore : License (CC BY-SA 2.0)
Politics
Will Voice of America Become 'Trump TV'?
By
|
From documenting human rights abuses in China to investigating political corruption scandals in Nigeria, Voice of America (VOA) often serves as the only source of global news in nations with restrictive press freedoms. Aired in more than 100 countries, translated in 61 languages, and seen by over 278 million viewers worldwide, today VOA is the largest provider of multilingual content aimed at promoting democratic interests abroad. However, recent structural changes within the Broadcasting Board of Governors (BBG), the independent agency responsible for overseeing U.S. government information services, may result in VOA becoming more of a household name in 2017.
A new provision in the National Defense Authorization Act for the 2017 fiscal year has replaced the BBG's bipartisan nine-member board with a single CEO selected by the president. The BBG supervises not only VOA, but also Television Martí, Radio Free Europe, Radio Liberty, and Radio Free Asia. Certain political analysts now worry that President Donald Trump could potentially capitalize on the provision and use the BBG's vast network to combine his television background and foreign policy interests. According to Politico, "Trump is finally getting his Trump TV–financed by taxpayers to the tune of $800 million per year."
---
Voice of America's Origins
Originally VOA began as an alternative to Nazi and Japanese wartime propaganda in 1942. However, under the Smith-Mundt Act of 1948, the network was forbidden from broadcasting in the United States until 2013 out of fears that it would inundate Americans with propaganda. Despite the ban being lifted during Obama's presidency, speculations over VOA's autonomy stem from such historic origins.
Nowadays, VOA claims that it functions as "surrogate media" in countries where state-run media supersedes the free press. Former president Gerald Ford tried to honor the agency's editorial independence in 1976 by enacting a VOA public charter. To distance the agency from claims of propaganda, the bill solidified VOA's commitment to promoting freedom of the press and transparent reporting on American foreign policy, according to the VOA website.
Along those lines, the BBG launched in 1994 after the International Broadcasting Act passed. Designed to function as an editorial "firewall" between American policymakers and journalists, the board was founded to prevent the State Department, White House, and other agencies from interfering with the news agency. As previously mentioned, historically the BBG has been comprised of nine members tasked with preserving the "accuracy, balance, comprehensiveness and objectivity" of the United State's transnational media operations. Originally it was part of the U.S. Information Agency, but it became an independent agency in 1999 with the legislation of the Foreign Affairs Reform and Restructuring Act.
---
Criticisms & Legal Changes Threatening Editorial Independence
From allegations of ineffective public diplomacy to a poorly managed $750 million budget of taxpayer dollars, the BBG is no stranger to criticism. In 2012, the board was ranked as one of the most poorly managed federal government agencies to work for due to its "hostile board dynamics," and opponents claim the BBG fails to compete with Russia's RT or Qatar's Al Jazeera. According to one report, the former nine-member council was "incompetent, useless, and perhaps fatally broken" due to unqualified board members not taking the job seriously.
The new provision, which passed by a 92-7 vote in the Senate led by House Foreign Affairs Committee Chairman Ed Royce (R-CA), replaces the board of directors with a presidential-appointed CEO who will serve a three-year term and report directly to the White House. A Washington Post article speculates that checks and balances may be eliminated by placing power into the hands of an individual chosen by the highest authority. With Trump officially in office, the story raises the concern that he could take advantage of the new amendment to elect another representative from the transpiring alt-right movement (or even elect an official with close ties to the Kremlin) to oversee the BBG.
---
Roots for Concern in Trump's Administration.
According to NPR, Trump's "attitude toward the press veers wildly depending on the favorability of the treatment he receives." Trump, who is known for lashing out at mainstream media outlets for critical coverage, set an alarming standard when he selected Steve Bannon as his chief strategist. The appointment left many Americans fearful of what President Trump could accomplish with the spokesman of the alt-right movement as his lead accomplice, according to a New York Times article. Bannon previously served as executive chairman of hyper-conservative Breitbart News, whose columns "reflect abhorrence for so-called mainstream media organizations" such as CNN. Watchdog groups like the Southern Poverty Law Center and Anti-Defamation League condemned Trump's decision based on Bannon's platform of white nationalism and accusations of anti-Semitism.
After choosing Bannon, President Trump is expected to appoint a divergent political figure to represent  U.S. media abroad as the head of the BBG. Whoever Trump ends up appointing as the new CEO will have the ability to hire and fire media personnel at will, in addition to controlling the budget with unparalleled authority. Although the prospective CEO is also expected to choose their own five-member cabinet, they won't have any statutory power. Skeptics from the Washington Post are saying that VOA could someday rival the Kremlin in terms of lack of oversight.
"Congress unwittingly just gave President-elect Trump unchecked control of all U.S. media outlets," said Michael Kempner, a Democratic member of the board who was appointed by President Barack Obama and was a Hillary Clinton donor. "No president, either Democrat or Republican, should have that kind of control. It's a public jewel. Its independence is what makes it so credible."
---
Conclusion
While credible concerns have arisen over VOA's new Trump leadership, "Trump TV" may in fact already be here. Conservative media outlet Right Side Broadcasting Network (RSBN) is often referenced using the moniker after live streaming nearly all of Trump's events and extensively covering his campaign. In December, the new 24-hour network announced it will have access to White House press briefings, raising questions about whether President Trump intends to circumvent traditional media by allowing a non-credentialed reporter to ask questions during briefings. Regardless, Trump still has the BBG and VOA in his pocket. While VOA never managed to fulfill its potential as an American propaganda tool before, it very well could under Trump's presidency.