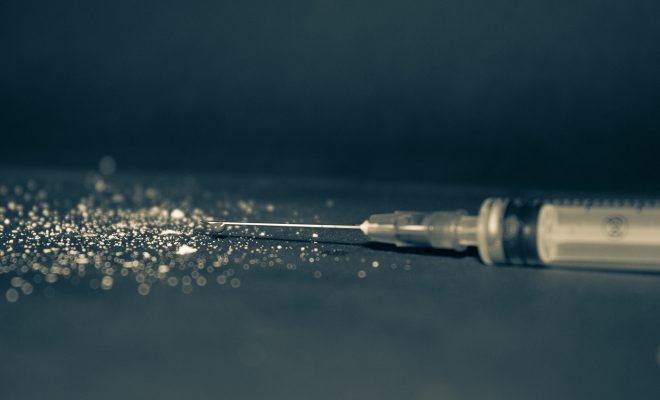 Image courtesy of [Cristian C via Flickr]
Politics
Heroin: The Epidemic Forcing a Top Campaign Issue
By
|
America's addiction to opioids and heroin have reached epidemic levels. Right now, 78 people die per day from use and overdose of such drugs, forcing the conversation of governors and party leaders to address a strategy that involves treatment of addiction in conjunction with punishment for use and possession of illicit drugs.
The shift in focus as it pertains to treatment rather than solely punishment is something that politicians from the likes of Bernie Sanders to Mitch McConnell can get behind–further highlighting the fact that current solutions and implementations are not working. Read on to learn more about the growing epidemic, brainstormed strategies and example case studies, and what the 2016 presidential candidates are saying America can expect in the future.
---
Heroin Growth Across the U.S.
The United States represents 5 percent of the world's population, yet utilizes 80 percent of its opioids, which are known to be the gateway to heroin use. The death toll, reported in 2014, had reached the staggering level of 47,055/year.
No population is immune from the epidemic. Figures show a consistent upward trend from urban and inner-city communities to rural areas in the same fashion. The use and subsequent dependency on legal opioid painkillers has contributed to the growing problem. Workplace accidents and injuries, cyclical familial use, post-surgery procedures, and experimentation with drugs available in the home all serve as contributing factors to the outbreak of heroin use and overdoses in the United States.
---
States and Municipalities Take the Lead
One prevalent public health worry is that some heroin users use in public. You can find examples readily in the news–in Philadelphia, a man on public transportation during rush hour injected heroin into his hand in full view of all other individuals on the bus. A couple traveling from Indiana who had stopped at a Cincinnati McDonald's collapsed in front of their children from an overdose. In Cambridge, Massachusetts, a church closed its public bathrooms after several individuals overdosed in those facilities. Drug users are utilizing parks, restaurant bathrooms, hospitals, libraries, vehicles, city transit, churches, and other public places to shoot up, and in turn, are losing consciousness or dying in those public places.
Due to the increasing display of overdoses coupled with the cheap and extremely accessible nature of heroin, states, local authorities, and local organizations are being forced to take action in an effort to battle the widespread heroin use.
Taking Action: Vermont
Governor Peter Shumlin (D) of Vermont took the first step in admitting that Vermont was not equipped to handle the outbreak and consequences of heroin, stating, "I found we were doing almost everything wrong."
Initially, Vermont began its fight by addressing non-violent offenders, who were provided with an opportunity to enter into a treatment facility instead of serving jail time. Not only did this policy change reduce the number of individuals incarcerated for non-violent drug crimes, but also addressed the need for treatment and long term solutions over punishment. The facilities work with courts and provide the requisite treatment along with ensuring appropriate steps for assimilation back into society and on-going care.
Further, Vermont has taken steps to protect individuals seeking medical assistance from prosecution from possession or intent to sell. Finally, it was the first state to legalize the over-the-counter sale of naloxone–a drug used to "reverse overdoses" and effectively save lives.
However, Schumlin is not naive to believe that the battle will not come with some difficulty. He has already addressed the shortage in supply for doctors and qualified medical personnel and is working diligently to help treat those on waiting lists. Most importantly, Schumlin recognizes the need to more rationally and safely administer prescription drugs, such as OxyContin, which often serve as the gateway to heroin when prescriptions become too difficult to obtain and OxyContin becomes scarce.
Big Steps: Ithaca, New York
While most states share in the challenges faced by Vermont, politicians are taking different approaches to fight the heroin epidemic. Most controversially, the idea of supervised injection facilities has surfaced under the direction of Mayor Svante Myrick of Ithaca, New York. A supervised injection facility would allow an individual to use heroin while monitored by a nurse or caretaker without getting arrested.
This type of facility would, without a doubt, be met with public policy, political, and judicial opposition and doubt, but Myrick stands by his initiative. Abandoned by a drug-addicted father as a young child, Myrick noted, "I have watched for 20 years this system that just doesn't work. We can't wait anymore for the federal government. We have people shooting up in alleys. In bathroom stalls. And too many of them are dying."
Myrick's facility would utilize a holistic approach and view heroin addiction as a public health issue rather than a criminal justice issue. His rationale reflects a growing belief among the younger American generation that the War on Drugs, dubbed as such by President Richard Nixon in 1971, is a drastic failure.
However, critics are wary. They see the strategy as encouraging people to continue using drugs rather than seeking treatment to free themselves from addiction. Myrick does not disagree, but recognizes the need for new solutions and is working with local prosecutors and police to gain support and insight into his proposed solution. Elected District Attorney, Gwen Wilkinson initially opposed the idea, but has seen the possible benefit and stated, "What brought me around was the realization that this wouldn't make it more likely that people will use drugs. What it would do is make it less likely that people will die in restaurant bathrooms."
Myrick's plan is to ask the New York Health Department to declare the heroin epidemic a state crisis, which would allow for him to take certain steps on a local level without the approval of state legislature. Governor Andrew Cuomo has failed to make any statement regarding such a facility, but has supported needle exchange programs and additional funding for treatment and preventative care in the past.
His inspiration was Canada's supervised injection site dubbed "Insite," which opened in Vancouver in 2003. Dr. Patricia Daly, Chief Medical Health Officer at Vancouver Coastal Health operates the facility and has shared that the site has approximately 800 visitors daily, 10-20 of whom overdose each week, but the facility has experienced zero deaths. The number of deaths in the surrounding neighborhoods has dropped by 35 percent and in 2011, Insite gained an unexpected ally in the Canadian Supreme Court who noted the facility's success in saving lives "with no discernable negative impact."
Myrick has other plans as well. Under his direction, low-level drug offenders would be sent to treatment, rather than jail and the creation of a drug policy and youth apprenticeship program would provide alternatives for drugs to young people.
While the answer has shifted away from solely jailing drug abusers, the major concern about such a facility is the lack of consequences for drug abusers and its inability to treat and change behavior. Even those opposed to a supervised injection site usually recognize the need for new solutions.
---
What the 2016 Presidential Candidates Have to Say about the Heroin Epidemic
While many of the 2016 Presidential candidates probably did not expect to be asked questions about the growing heroin epidemic, their presences in places such as New Hampshire, a state hit hard with heroin-related deaths and overdoses, has forced them to take a stance.
Presidential candidate Hillary Clinton unveiled a $10 billion plan to combat and contain substance abuse across the nation. The Democratic candidate is on board to shift focus from pure punishment to treatment, devising federal-state collaboration programs that would allow for states to receive grant money from the federal government in order to boost treatment availability, preventative care, and incarceration alternatives. Tym Rourke, the chair of the New Hampshire Governor's Commission on Alcohol and Drug Abuse Prevention, Treatment and Recovery shared with the Clinton campaign about the lack of adequate resources and infrastructure to tackle the epidemic. Clinton's focus on federal-state partnerships would aim to provide the support and resources that many states, like New Hampshire, are experiencing. She is the first candidate to unveil a comprehensive proposal to fight the epidemic.

(Former) Republican candidate, Chris Christie, ran ads highlighting the importance of life and the need to help addicts on a road to recovery. Additionally, he signed a series of bills into New Jersey law that focused on heroin and opioid abuse, requiring the state to:
Put in place a requirement that substance abuse centers submit performance reports; extended immunity to emergency responders and needle-exchange program employees who administer the anti-opioid drug Narcan; and mandated that state agencies provide mental health and substance abuse services to inmates in state prisons.
Another former candidate, Jeb Bush, recognized the value of input from facilities that provide treatment and care for heroin users and announced he was working with such locations in an effort to develop a plan that would address the real issues faced by treatment centers.
Democratic candidate Bernie Sanders has pushed for a decrease in the cost of naloxone, which can serve to reverse the effects of heroin and is most often used to treat an overdose when possible. The expansion of access to such medicine would allow responders and law enforcement to react more efficiently and effectively when witnessing an overdose.
Presidential candidates are identifying the amount of heroin use and heroin-related deaths as a devastating occurrence in the United States and are taking measures to diminish the number of people affected and the number of overdoses and deaths tied to the drug.
---
Conclusion
It is evident from the local action taking place, as well as the national campaign exposure pertaining to the use of heroin, that leaders within the United States view this problem as an epidemic. The focus of leadership, coupled with the variety of implementations and solutions surfacing into place make one thing starkly clear–a heroin epidemic is taking place in our backyard and the possible solutions are a far cry from additional punishment or prolonged jail time. This time, the ultimate resolution has shifted and it reflects treatment. As the epidemic continues to grow and claim lives, we must wait and see what the election unfolds or work with our communities to put together plausible efforts to minimize the dangers and effects of heroin on our communities. Until then, we depend on state and local leadership and law enforcement to implement actions and procedures that will decrease the number of people dying on a daily basis from heroin overdoses.
---
Resources
Business Insider: One State Has Shaped the National Debate on Heroin Addiction
The New York Times: Heroin Epidemic Increasingly Seeps Into Public View
New York Post: Upstate New York Mayor Wants Place Where Addicts Can Inject Heroin Safely
The New York Times: How the Epidemic of Drug Overdose Deaths Ripples Across America
The Guardian: Hillary Clinton Proposes $10bn Plan to Combat Substance Abuse 'Epidemic'
The Guardian: Heroin Crisis: Presidential Candidates Forced to Confront Issue on Campaign Trail