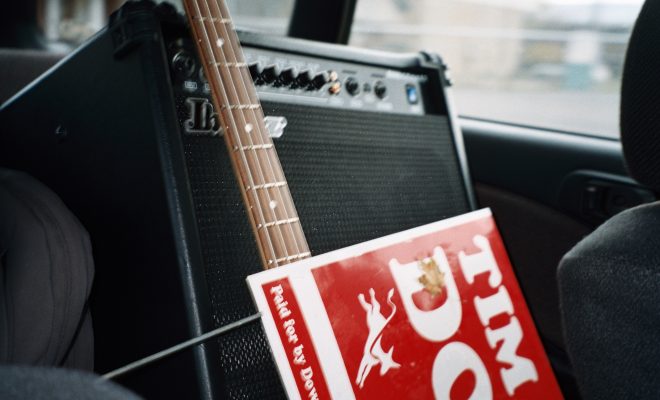 "Election" courtesy of [Kate Brady via Flickr]
Politics
Campaign Music and Fair Use: What are the Rules?
By
|
Earlier this month, Aerosmith lead singer Steven Tyler became the third person this year to hit Republican presidential candidate Donald Trump with a cease-and-desist letter for his use of music on the campaign trail. A month earlier, R.E.M. bassist Mike Mills voiced his displeasure at Trump's use of one of his group's songs and in June Neil Young asked Trump to stop using his music.
American presidential campaigns have a long history of using music to evoke emotions in audiences. It's a practice that dates back to the early 1800s and possibly earlier, all the way back to George Washington. Perhaps the most famous example is Dwight Eisenhower's "They Like Ike" advertisement, which yielded his famous campaign slogan "I like Ike."
Over the past few decades, however, there's been a growing trend among songwriters and artists who have come out against campaigns for using their music. The reasons for artists issuing cease-and-desist letters range from disagreeing political views or presenting an image of false endorsement to simply not wanting music played without their permission.
Securing the appropriate legal permissions to use particular songs on the campaign trail is not always enough. Copyright law and fair use are only part of the equation when it comes to a politician's right to use music. Many states provide protections for famous artists in regards to their image and false endorsement. In fact, it is possible for a politician to legally possess the minimum permissions to use a song and still face a lawsuit from the artist. Read on to learn about the history of music in campaigns and the legal questions that come up time and time again on the campaign trail.
---
A Brief, Recent History of Campaign Music Fights
Reagan and Springsteen (1984)
As Ronald Reagan campaigned for reelection in the summer of 1984, much of the nation, and in turn Reagan's presidential campaign, was swept away by Bruce Springsteen's hit "Born in the USA." Conservative columnist George Will made a claim to "Born in the USA," calling it a patriotic, hardworking man's anthem. Reagan quickly pounced on the opportunity to use the song in his campaign. He was promptly denied the rights to play the song but invoked Springsteen in a speech nonetheless. In a 1994 speech Reagan said,
America's future rests in a thousand dreams inside your hearts. It rests in the message of hope in songs of a man so many young Americans admire: New Jersey's own Bruce Springsteen.
The left responded by saying that Reagan and conservatives had misinterpreted the song, claiming that it was a form of protest against the changes that Reagan brought about. Democratic candidate Walter Mondale even believed that Springsteen supported him. However, the song was intentionally crafted to contain both arguments and to be a conflicting piece of music. Ultimately the piece proved to be about disconnection, not belonging to any side, and as a result, probably not the most appropriate campaign tune.
Bush, Petty, and Hall (2004)
The trend in bands and songwriters protesting the political use of their music greatly increased in the 21st century, particularly within the last several election cycles. In 2004, George W. Bush used the songs "Still the One" and "I Won't Back Down" by John Hall and Tom Petty, respectively. Both artists took offense to the use of their songs for President Bush's campaign. Hall, later elected as a Democratic congressman in New York, publicly noted that neither he nor his music supported Bush's reelection efforts.
McCain, Browne, and Mellencamp (2008)
John McCain received several complaints from artists concerning his use of their music, most notably from John Mellencamp for the use of "Our Country," and  Jackson Browne for "Running on Empty." Browne went so far as to sue the McCain campaign claiming that the usage of the song was not only without permission, but it also suggested that Browne supported the McCain campaign. As a Democrat, Browne naturally objected to supporting the campaign in any way. McCain would eventually settle with Browne and apologize.
Palin and Heart (2008)
Sarah Palin, John McCain's running mate in 2008, faced a backlash from the band Heart for her use of their song "Barracuda." Ann and Nancy Wilson (the band's lead singer and guitarist), asked the campaign to stop using its music, noting, "Sarah Palin's views and values in NO WAY represent us as American women. We ask that our song 'Barracuda' no longer be used to promote her image." Despite their desire to be left out of the campaign, the use of their song continued, most notably at Palin's introduction at the Republican Convention in 2008. After its repeated use, the sisters issued a statement saying,
The song 'Barracuda' was written in the late '70s as a scathing rant against the soulless, corporate nature of the music business, particularly for women. (The 'barracuda' represented the business.) While Heart did not and would not authorize the use of their song at the RNC, there's irony in Republican strategists' choice to make use of it there.
Charlie Crist and The Talking Heads (2010)
During his senate campaign against Republican candidate Marco Rubio, Charlie Crist used the song "Road to Nowhere" by The Talking Heads on his campaign website and in video advertisements. The group responded with a lawsuit that culminated with Crist issuing a formal apology.
Walker and the Dropkick Murphys (2012)
Both Wisconsin governor Scott Walker and Speaker of the State Assembly Jeff Fitzgerald used the Dropkick Murphys cover of "I'm Shipping up to Boston" at tour stops in 2012 for their campaigns. The band responded to Fitzgerald's use of their song at the Wisconsin GOP Convention by comparing it to the use of a gangsta rap by a white supremacist.
In 2011, Scott Walker led a campaign to eliminate collective bargaining rights for most state workers, which led to a massive backlash from pro-union organizations and Democrats. A recall election was held in 2012 in which Walker retained his post. Earlier this year, Walker played the same song prior to his speech at the Iowa Freedom Summit resulting in a backlash from the band. Dropkick Murphys, a notably pro-union band, tweeted their response:
@ScottWalker @GovWalker please stop using our music in any way…we literally hate you !!! Love, Dropkick Murphys

— Dropkick Murphys (@DropkickMurphys) January 25, 2015
Obama, Moore, and Lauper (2008 and 2012)
The Obama campaign faced some backlash from Sam Moore, of the band Sam & Dave, for its use of the song "Hold On! I'm Comin'" at rallies. Moore objected to the use of his song by the Obama campaign because he had not publicly endorsed Obama's election bid, noting that his vote is a private matter. However, Moore did send a letter to Obama proudly noting the historic nature of his campaign.
In 2012, the Obama campaign used Cyndi Lauper's song "True Colors" in an ad criticizing Mitt Romney and his record. While Lauper was not a Romney supporter, she did not agree with the use of her song in a negative advertisement.
---
When Can Campaigns Use Music?
To use music in advertisements (television and internet), a campaign needs to receive legal permission from both the song's publisher and the artist's record label. The use of music at a live campaign event requires a "public performance" license, generally attained from one of the United States' performing rights organizations. These organizations track the use of music and help distribute royalties from such events.
Technically, campaigns do not need to receive explicit permission from the artist to use their work, but it should be noted that even if a politician has all the requisite legal permissions the artist can still sue the campaign. The author(s) could make a claim to their "Right of Publicity," which is a legal protection many states give celebrities and artists. The right of publicity generally protects the use of someone's name and likeness for commercial reasons. However, this right is not yet nationally recognized. On the federal level, the Lanham Act protects an artist's trademark or brand by offering protection against false endorsement in which the use of an artist's work can imply the artist's support. Politicians and their campaigns also need to acquire proper licensing from the publisher, record label, and venue.
What About Fair Use?
One of the most crucial pieces of U.S. copyright law, created to ensure the protection of free speech, is the doctrine of fair use. Fair use is defined as the copying of copyrighted material done for a "limited and 'transformative' purpose," which may legally be done without the artist's or license holder's. However, fair use is loosely defined and limited by various court decisions.
There are two general categories of fair use. The first is commentary, in which a copyrighted work can be used in limited instances to provide examples and clarity–this is most commonly seen in scholarly works. The second category of fair use is parody, in which large sections of an original work may be copied and used in a satirical manner. When fair use claims make it to court, judges employ a four-point test to evaluate how the material was used and what the consequences were. Fair use claims are particularly strong when the use was for educational or informative purposes, or when the original work has been significantly modified to create something new.
When used to set a mood or accompany a politician's platform, the use of music on a political campaign is generally not protected under fair use. The parody of a popular song for a campaign may constitute fair use, but otherwise artists would still be entitled to the protections established above. Although campaigns are not often afforded fair use protections, these claims are looked at on a case-by-case basis. While there may be some cases in which fair use protects campaigns, generally speaking, that is not the case.
---
Conclusion
Musicians' recent outcry against the use of their work for political campaigns is nothing new. However, the number of complaints issued by artists has grown significantly over the past election cycles. These issues may have arisen over the evolution of the fair use and its interpretation in the courts, particularly for music and film. However, it is important to note that political campaigns often do not meet the transformative requirements to constitute fair use when playing music at events or in advertisements. Even if the proper licenses are granted by publishers and record labels, the performing groups themselves may be entitled to protections under the right of publicity and the Lanham Act, meaning their permission is essentially required as well.
In short: if you want to use a song to promote your campaign, talk to the song's artist, and his or her record label first.
---
Resources
ASCAP: Using Music in Political Campaigns: What you Should Know
Daily Kos: When Politicians use Music Without Asking Permission
Jefferson R. Cowie: Stayin' Alive: Book 2, Chapter 8: "Dead Man's Town"
USA Today: Candidates Carry a Tune on Campaign Trail
BBC: Aerosmith Protest over Trump Campaign Using their Hit Dream On
The Guardian: REM blasts Donald Trump for Using their Music in US Presidential Campaign
NY Times: In Choreographed Campaigns, Candidates Stumble over Choice of Music
Time: A Brief History of Campaign Songs
Boston: Wisconsin Recall Battle Finally Goes to Voters
Kevin L. Vick and Jean-Paul Jassy: Why a Federal Right of Publicity Statute is Necessary
Stanford University Libraries: What is Fair Use?
Cornell University Law School: The Lanham Act (15 U.S. Code), Subchapter III, Provision 1125: False Designations of Origin, False Descriptions, and Dilution Forbidden
Battlefield Sources: 1952 Eisenhower Political Ad – I like Ike – Presidential Campaign Ad
HardMusicTV: Bruce Springsteen vs Ronald Reagan
Law12345100: Charlie Crist Official Apology to David Byrne for Copyright Infringement