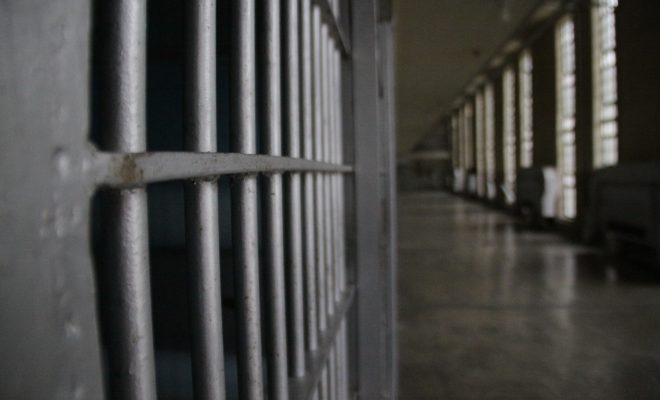 "barring freedom" Courtesy of meesh : License: (CC BY 2.0)
Law
Is the U.S. Slowly Phasing Out Capital Punishment?
By
|
Capital punishment in the United States has long faced public scrutiny. The death penalty is a topic of debate among Americans largely due to concerns about its efficacy in deterring crime, as well as growing rates of botched executions. In 2016, the U.S. saw a record decline in death penalty use and public support. A number of states postponed scheduled executions due to drug shortages and botched executions. While capital punishment remains legal in 32 states, this number could steadily decrease based on the current political climate.
---
Current Death Penalty Trends
The Death Penalty Information Center (DPIC) reported that 30 people were sentenced to death in its 2016 Year End Report–the lowest number of death sentences since states began to re-enact death penalty statutes in 1973. It found that executions also declined more than 25 percent, with only 20 executions carried out in 2016 by just five states.  Public opinion polls show support for the death penalty at a four-decade low. At just 49 percent, support fell below 50 percent for the first time in 45 years, according to a study by the Pew Research Center. This is a seven point drop from the previous year.
The DPIC concluded that the number of people waiting on death row decreased in 2016, as prisoners either passed away in custody, or obtained relief from their convictions. There was also a decline in the number of counties in death penalty states pursuing capital punishment. This past year three states–California, Nebraska, and Oklahoma–overwhelmingly voted to reject propositions that would have eliminated the death penalty. In California there hasn't been an execution since 2006, and yet residents still seem to be in favor of its use, when deemed appropriate. Geography also played a roll in American death penalty trends. Eighty percent of all executions in 2016 were carried out by only two states–Texas and Georgia.
---
Mental Health Issues
Historically, executed prisoners tend to be those who are the most vulnerable, with the poorest legal representation. The DPIC's review found that at least 60 percent of executed prisoners exhibited a combination of mental health issues including: signs of mental illness, brain impairment, and low intellectual functioning.
In Texas, a mentally ill prisoner was executed who exhibited signs of mental illness since infancy and was diagnosed with a variety of mental afflictions by the time he was 18. Georgia also executed an intellectually disabled prisoner, who was black, even though he had an openly racist juror, a trial lawyer who slept through portions of the trial, and significant evidence of an intellectual disability presented in post-conviction proceedings. Additionally, six of the prisoners who were executed in 2016 were 21 or younger at the time of their offenses.
A case argued before the Supreme Court in late 2016 attempted to dispute the constitutionality of executing prisoners with intellectual disabilities. Moore v. Texas questions the "standards that may be used to determine whether a defendant convicted of murder is mentally deficient." Lawyers for the defendant argued that Texas utilizes outdated methods of determining mental capacity, rather than the standards mandated by the Supreme Court. The defendant, Bobby J. Moore, has an average IQ of 70 based on multiple tests. Texas argued that there is no national standard for determining mental capacity; the ruling from the Supreme Court, while still currently unknown, will certainly have a profound effect on other states' death penalty procedures.
---
Botched Executions and Experimental Drugs
The overall decline in the use of the death penalty may also be attributed to recent botched executions. Lethal injection, the most utilized form of execution, has a botched execution rate of 7.12 percent. All manufacturers of FDA-approved drugs that could potentially be used for lethal injections have enforced a strict ban on selling their drugs for that purpose; companies are no longer keen on associating any of their products with capital punishment proceedings.
Problematic lethal injection procedures have been of great concern for the past few years and have occurred all over the country. In Ohio, the prisons' agency is attempting to obtain a drug that could reverse the lethal injection process if needed. If executioners were not confident the first three drugs rendered a prisoner unconscious, they would be able to use the drug to reverse the effects. This request comes after executions have been on hold in the state since January 2014, when a prisoner gasped and snorted during the 26 minutes it took him to die. Arizona's last execution was also in 2014, when a prisoner took two hours to die after receiving an injection of the drug midazolam.
As recently as December 2016, a man executed in Alabama struggled for air, coughed, heaved, and clenched his left fist during the 13 minutes of his execution. Two consciousness checks were performed during the execution. The inmate moved his arm both times after the tests. The first drug used in the three-drug cocktail was midazolam. The Supreme Court ruled in a 5-4 decision in 2015 that the use of midazolam is constitutional, in spite of reports that the drug does not reliably render an inmate unconscious.
Despite its death row population remaining in limbo after the Supreme Court struck down the state's capital sentencing system in January 2016, Florida is poised to start utilizing a new experimental lethal injection drug. Such a move is likely to cause more litigation in the coming future, as anti-death penalty advocates are troubled by the use of experimental procedures in lethal injections.
---
Efficacy in Deterring Crime and Racial Bias
Though capital punishment is employed to deter violent crime, there is little evidence that it actually does so. In a 2008 Death Penalty Information Survey, 88 percent of polled criminologists said they do not believe that capital punishment is an effective deterrent for crime. As recently as 2015, non-death penalty states had a murder rate of 4.13, while death penalty states had a murder rate of  5.15—a 25 percent difference. In every year since 1990, non-death penalty states had a lower murder rate than death penalty states. And in a 2008 poll of 500 police chiefs, the death penalty ranked last in their priorities for reducing crime.
Moreover, the racial bias in the criminal justice system is astounding. Over half of the current death row population since 1976 is non-white. Interracial murders also disproportionately target blacks. Since 1976, 283 black defendants have been executed for the murder of a white victim; this is in stark contrast to the 20 white defendants executed for murdering a black victim. A 2014 study performed by Professor Katherine Beckett of the University of Washington, found that jurors in Washington from 1981-2014 were four and a half times more likely to sentence a black defendant to death than a non-black defendant.
---
Conclusion
The decline in the number of prisoners executed in 2016, as well as the decrease in the number of people sentenced to death, seem to signify a move away from capital punishment in the U.S. Such a drop in executions may be attributed to states putting their executions on hold after extremely troublesome lethal injection proceedings over the past few years, rather than a general shift toward other sentencing alternatives. Regardless of waning numbers, citizens voted in large margins to retain the death penalty in multiple states this year, indicating that support for the death penalty in particular cases is still acceptable to many. Whether any state protocols and procedures will change, however, depends heavily on Supreme Court decisions in the future.