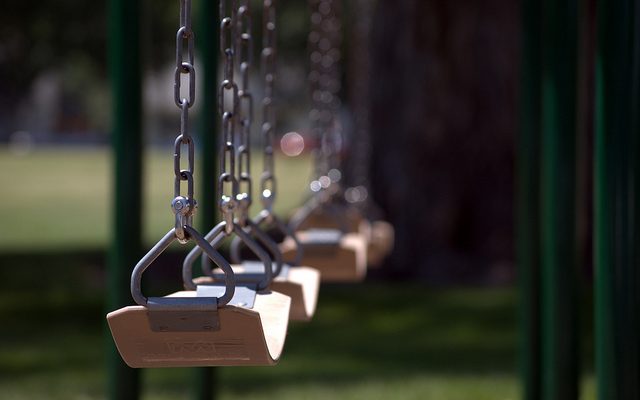 "Summer time in the school yard" courtesy of John Lustig; License: (CC BY 2.0)
Law
School Quality and Property Values: Perpetuating Housing Segregation?
By
|
For house hunters, there are many factors to consider when purchasing a new property. Natural light, open floor plans, and a big backyard may be on a potential buyer's wish list. One thing that tends to top the list, however, is the quality of schools in the surrounding neighborhood. It's commonly accepted by the real estate industry that higher quality schools translate to higher real estate values. The connection between school quality and property values is undeniable, with many studies confirming such a trend.
Fair housing advocates contend, however, that closely tying school rankings to property values has profound consequences. Many schools with lower rankings have a larger population of poor, minority students. Furthermore, the rise of online databases for house hunting, like Zillow, has allegedly increased illegal "steering" of people out of specific communities by prominently featuring school ratings online. Such advertisements and practices may be in violation of the Fair Housing Act.
---
Property Values and School Ratings
In a 2013 national study by realty brokerage company Redfin, people paid $50 more per square foot for homes in top-rated school districts. The study looked at 407,000 home sales and 11,000 elementary school districts in 57 metropolitan markets. Data was compiled from multiple listing services, as well as school characteristics and test scores from GreatSchools and Onboard Informatics.
Homes located near each other with the exact same square footage, number of bedrooms, and number of bathrooms can vary by tens of thousands to hundreds of thousands of dollars just because they are served by different schools. On the coast in California, for example, the price differential could be upwards of $300,000 to $500,000. Realtor.com recently completed a national study of homes within the boundaries of higher-rated public school districts versus homes in lower-ranked districts. The study uncovered that homes in the higher-ranked districts are 49 percent more expensive on average than the national median list price, and a whopping 77 percent more expensive than homes found within lower-ranked districts.
Real estate agents and industry advocates are quick to point out, however, that such research may not fully account for other factors that increase property values. Amenities such as a neighborhood swimming pool, "walkability," and other physical improvements and facilities can drive home prices up, not just school ratings. It may be a critical consideration for families with children, but it is not the sole factor that increases property values.
---
"Steering" and Fair Housing Considerations
"Steering" is a process that influences a potential buyer's choice of communities or neighborhoods on the basis of race, color, religion, gender, disability, familial status, or national origin. Not only is it unethical, but it limits the choices a potential buyer may have when purchasing a property. Steering was also made illegal under the Fair Housing Act.
The practice occurs when a real estate agent directs a prospective buyer interested in particular properties to equivalent homes in a specific neighborhood or community based on one of the protected characteristics. A real estate agent can "steer" clients by making positive or negative comments about a neighborhood, which can direct a buyer toward or away from a community. This can especially be an issue when it comes to prospective buyers' questions about schools. Oftentimes characterizations such as "a school with low test scores" or "declining school district" may be used as coded language to talk about race. The advocacy group National Fair Housing Alliance found in a 2006 report that discussing school quality was becoming a proxy for discussing the racial or ethnic composition of a neighborhood.
The achievement gaps between white students and black and Hispanic students are massive and well-documented; the larger the socioeconomic disparity, the larger the achievement gap. Moreover, black and Hispanic students are far more likely to grow up in poorer households, but middle-class black and Hispanic students are more likely than poor white children to attend schools with a higher percentage of poor students. Less qualified teachers, large learning gaps, and lower standardized test scores all translate into one thing–a lower school rating.
The National Association of Realtors even notes that innocent conversations regarding school quality may create an FHA issue. Touting the accolades of a school in one district, while remaining silent on another school may be alluding to a racial distinction that steers prospective buyers out of one neighborhood and into a different one. Realtors must be extremely cautious in accommodating buyers' preferences during the housing search without purposefully limiting their choices.
---
Rise of Online Databases and Redlining
In the past, fair housing laws covered statements and advertisements by real estate agencies and landlords. The rise and proliferation of the internet, however, has encouraged the growth of another form of house hunting: research in online databases. While there is a myriad of choices, some of the most popular ones are Zillow, Homes.com, and Redfin.
When a potential buyer is looking at a particular property on one of these sites, a link to a local school rating is prominently featured. With just a click of the mouse, the racial and ethnic composition of a school is unveiled, and the sites feature a color-coded system for the school rating: green, yellow, and red.
Such a system is reminiscent of "redlining," a practice where maps showed communities with minorities in a red shade, denoting where financial investments were denied and systematically withheld from borrowers. After the Great Depression, the U.S. government wanted to evaluate the riskiness of mortgages with the help of local realtors and appraisers. Neighborhoods with minority residents were consistently marked red, considered high-risk for any mortgage lender. The practice was so extreme that a single black household in a middle-class neighborhood could make the entire area too risky for mortgage loans. Without access to better mortgages, black families looking to buy homes were forced to turn to predatory lenders. Redlining is now banned, but it has left behind racism and segregation that still shapes housing today in cities large and small. 
Most of the time the school ratings are based on one or very few factors, usually aggregate standardized test scores. Test scores are consistently disparate along socioeconomic lines, and it is well established that minority students are more likely than their white counterparts to live in poverty and go to school in poorer districts. Thus, such a one-dimensional view of a school's performance, along with using a factor that is racially biased, seems to be a significant issue when displaying this information prominently on a house hunting website.
---
Modern Day "Steering?"
House hunting online has only become more popular in recent years. A joint study conducted by the National Association of Realtors and Google unveiled that 90 percent of home buyers searched online during their home buying process. Furthermore, the study found that 89 percent of new home shoppers used a mobile search engine at the onset and throughout their house hunting research. Currently, fair housing laws only affect those who sell housing, which are landlords and real estate agents. The laws do not appear to assign any sort of liability to websites, which are now being utilized across the country at a rapid rate.
Katie Curnutte, vice president of communications at Zillow, contends that these school ratings merely serve as a starting point for potential buyers to do further research and to connect with real estate agents. If the information provided is just neutral, it is difficult to argue that there is discriminatory intent. The color coding system in conjunction with readily accessible demographic data, however, could be a 21st-century form of "steering." Given the popularity of online resources, resolving these issues to help combat housing segregation is of critical importance.
---
Conclusion
The rise of web platforms for home buying may be exacerbating a persistent issue in the fight for fair housing. Many advocates consider online databases with easily accessible school rating numbers to be part of a "legal gray area," one with very little oversight. Moreover, it is apparent that housing and schools ratings are stuck in a cycle–encouraging housing patterns that maintain racial segregation, particularly through school budgets. The use of a color coding system by a website for local school districts–with green denoting "good" and red denoting "bad"–may be just as damaging as a casual conversation with a real estate agent steering people to live in certain communities.
It is no surprise that prospective homeowners have many concerns when it comes to purchasing a new property. It is one of the largest and most intimate investments a person can make. Home buyers with children in the public school system certainly have a right to be concerned about school quality. Striking a balance between honest information and activities that do not violate the FHA is imperative to ending housing discrimination and segregation. Moreover, drafting straightforward legislation to regulate house hunting websites and databases is the next step to ensuring the FHA remains applicable in the 21st century.
---
Resources
Primary
National Fair Housing Alliance: Unequal Opportunity–Perpetuating Housing Segregation in America
National Association of Realtors: The Digital House Hunt: Consumer and Market Trends in Real Estate
Additional
New York Times: Money, Race, and Success: How Your School District Compares
The Atlantic: The Concentration of Poverty in American Schools
NPR: Race, School Ratings and Real Estate: A 'Legal Gray Area'
NPR: Interactive Redlining Map Zooms In On America's History Of Discrimination
Realtor.com: Review of Housing Insights in Top Rated School Districts
National Association of Realtors: Steering, Schools, and Equal Professional Service
Washington Post: School Quality is Tied to Home Prices in New Study. But Other Factors May Affect Values