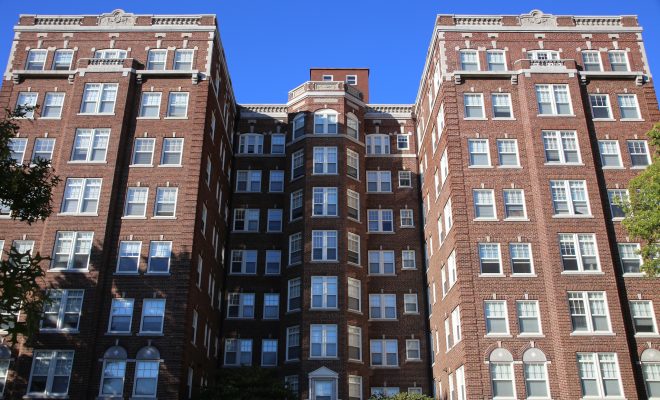 "Apartments" Courtesy of [Paul Sableman via Flickr]
Business & Economics
Equal Access?: Neighborhood Preference and Housing Lotteries
By
|
Affordable, safe housing is a huge concern for all populations. Traditionally, neighborhoods have been segregated along socioeconomic lines. However, even in modern cities, policy attempts to integrate communities through equal access housing have failed. Housing lotteries, through neighborhood preference programs, are now being employed by cities across the country to keep families in their neighborhoods.
Unfortunately, those same lotteries are meeting a pushback from the Department of Housing and Urban Development (HUD), which has stated that neighborhood preference and housing lotteries violate federal fair housing laws. In an interesting turn of events, the populations that fair housing laws are designed to protect are now being utilized to keep them out of their home neighborhoods. This comes as a surprise to many supporters of these anti-displacement programs, as the legislation was created to assist victims of segregation, not perpetuate it.
---
Federal Fair Housing Laws
In 1968, shortly after the assassination of Dr. Martin Luther King, Jr., Congress passed the Fair Housing Act (FHA) in response to concerns about racial segregation. The statute sought to address the issues created by residential segregation, while moving cities and towns away from unequal housing and economic conditions. It was initially enacted under Title VIII of the Civil Rights Act of 1968 and then ultimately codified under 42 U.S.C. §3601-3619. A 1968 Supreme Court ruling, Jones v. Alfred H. Mayer Co., held that the Civil Rights Act of 1968 prohibits racial discrimination by private and governmental housing providers. These policies established a framework for eradicating segregated housing.
Under the FHA it is unlawful to "refuse to sell or rent […] or otherwise make unavailable or deny, a dwelling to a person because of race, color, religion, sex, familial status, or national origin" or "to discriminate against any person in" making certain real-estate transactions "because of race, color, religion, sex, handicap, familial status, or national origin."  Since the passage of the FHA in 1968, many cities have become more diverse. The FHA plays an integral part in avoiding the Kerner Commission's grim prophecy that the "nation is moving toward two societies, one black, one white–separate and unequal." The Act was later amended in 1988 to create certain exemptions from liability and expanded protected characteristics, including discrimination on the basis of disability or families with children.
---
Equal Housing and Discrimination
Problems regarding fair housing and discrimination are pervasive in communities across the country. HUD estimates that there are roughly two million cases of housing discrimination annually, but the actual number may be much larger. Many cases of housing discrimination are not reported. Moreover, studies conducted by HUD show that many residents are unaware of what activities are illegal under the FHA.
Despite all of the efforts to diminish segregation and discrimination in housing access, very little progress has occurred nationally. While the country has become more diverse than ever, residential housing patterns remain stagnant. Even with the passage of the FHA and the expansion of state laws protecting residents from housing discrimination, improvements in socioeconomic and racial seclusion have made few advances.
---
What is Gentrification?
No matter where one travels, there are segregated neighborhoods all over the U.S., particularly in metropolitan areas. Gentrification, or the arrival of  wealthier people in an existing urban district, has become common practice. This causes a litany of problems for the current residents of that community, including increased rents and property values, in addition to drastic changes to the community's culture.
Researchers have been quick to note that the practice of gentrification is not inherently bad. Seeing a neighborhood with decreased crime, new investments, and increased economic activity are desirable, positive traits for any community. Conflicts occur because usually wealthier, white populations are given significant credit for "improving" neighborhoods, while simultaneously displacing poor, minority residents.
Gentrification has some common characteristics, though there is no technical definition for it. First, there is a change in demographics, leading to an increase in median income, decrease in household size, and a decline in racial minorities. Second, the real estate markets transform, increasing property values and the number of evictions. Third, there is a shift in land use, usually a decrease in industrial uses and an increase in offices, high-end retail, and restaurants. Lastly, a variety of character and cultural attributes change, such as landscaping, public behavior, noise, and nuisance.
---
Neighborhood and Community Preference
Many cities are facing serious roadblocks for making affordable housing available to low-income and middle-class residents. As property and rent increases, the ability of certain families to stay in a particular neighborhood decreases. Thousands of minority populations are being displaced by gentrification across the country. To combat this growing problem, some cities, like San Francisco, have tried to utilize neighborhood preference and housing lotteries.
Essentially, the program allows current residents to participate in a lottery for affordable housing units partially financed by the federal government. This gives those who currently live in a neighborhood a preference, a right of first refusal. Rights of first refusal are contractual rights that give a particular person or business entity the opportunity to enter into a transaction before a third party. Participants must still compete against other residents, but they have a better chance of remaining in their home neighborhood. In San Francisco, this meant setting aside 40 percent of units in subsidized developments for residents already living in the district or a half mile away. This would allows residents first dibs at living in the brand-new, partially federally-financed building.
---
Why Does Neighborhood Preference Violate Fair Housing Laws?
While neighborhood preference can be viewed as a noble program, it technically violates HUD's fair housing laws. The fact that laws designed to assist minority populations are now being used to not keep them in their home neighborhoods creates an extreme incongruity. By employing neighborhood preference, HUD states that it actually maintains segregation rather than eradicating it and limits equal access to housing.
The main issue with these programs is that they give a priority to those already living in a particular district. In these specific areas, residents tend to be low-income minorities. Allowing those residents a preference continues to segregate neighborhoods. It also allows race to be an integral factor in the process, as the effect of allowing current residents to have a preference means that black tenants are more likely to receive the new units.
HUD noted via a spokesperson that the agency takes great care when reviewing programs that have noble intentions but end up with negative consequences. However, it was also noted that there was no record of HUD ever approving a neighborhood preference program.
San Francisco is not the only city experiencing these roadblocks in assisting low-income residents. In New York, a fair housing group has filed suit alleging that the city's policy of using community preferences for affordable housing units perpetuates segregation. The pattern is national, with urban neighborhoods becoming increasingly whiter and more affluent.
---
Conclusion
While there are many positive aspects to transforming a neighborhood, the social, economic, and physical impacts of some changes may have negative consequences for current residents. Federal fair housing laws exist to eliminate segregated neighborhoods, but often come at a cost to current residents. The laws designed specifically to protect certain classes of citizens are now being utilized to push those same people out of their homes.
On September 22, 2016, HUD came back with a different answer after placing the San Francisco program under review. In a letter to the mayor, HUD decided that while the city cannot give priority to neighborhood residents for spaces in affordable housing projects, it will allow 40 percent of the units to be prioritized for residents who are at a high risk of displacement. Race will not be a factor for consideration in the selection process. This announcement immediately affects the Willie B. Kennedy senior apartment complex, which has roughly 98 units and more than 6,000 applicants. The lottery for this particular property had been delayed pending HUD's decision.
This change demonstrates HUD's willingness to acknowledge the serious consequences of displacement. It may not be the most ideal way to combat issues of equal access, but it certainly shows a sensitivity to keeping citizens in their neighborhoods. While neighborhood preference programs are out, it seems that "anti-displacement" preference programs are in.
---
Resources
Primary
U.S. Department of Housing and Urban Development: Fair Housing and Equal Opportunity
The Kerner Commission: Report of the National Advisory Commission on Civil Disorders
Legal Information Institute: Fair Housing Act
Additional
NPR: How 'Equal Access' Is Helping Drive Black Renters Out Of Their Neighborhood
CivilRights.Org: Fair Housing Laws
SF Gate: Federal Agency OKs Preferences at New SF senior Housing Complex
Investopedia: Right of First Refusal