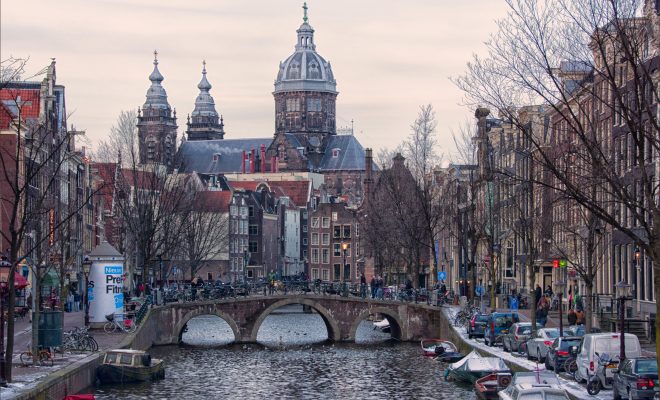 Amsterdam sunset Courtesy of Bert Kaufmann : License (CC BY-SA 2.0)
Health & Science
Could America Learn a Thing or Two From the Netherlands' Health Care?
By
|
For most countries, health care is often a costly component of national budgets. That being said, the sheer volume of federal money spent on a nation's health care system does not necessarily predict its efficacy. For example, the American health care system–with its rising premiums, drug costs, and glaring loopholes–could certainly be more efficient. The U.S. system has consistently ranked poorly among other industrialized nations, despite having the most expensive health care system in the world–17 percent of its GDP. As the White House grapples with how to handle health care under the new Trump Administration, American politicians may look to other countries for guidance.
One such country potentially worth emulating is the Netherlands. According to the global Prosperity Index, the Netherlands has one of the best health care systems in the world based on the country's basic mental and physical health, health infrastructure, and availability of preventative care. Could this country's critical health care reform and system structure be advantageous for the U.S.?
---
Netherlands Health Care Reform
In 1941, the Netherlands introduced a mandatory health insurance plan for low and middle income citizens. It provided most of the country's population with basic health insurance, while wealthier citizens purchased private plans. But as the program grew, so did spending. In an effort to protect access to health care, the government passed the Health Care Prices Act in 1982 to control physician fees and revenues. Over the following decades, the Dutch started working toward creating a system that merged competition with universal access to health care.
Then, in 2006, the Netherlands passed the Health Insurance Act of 2006. This broad health reform law was intended to improve the health care system's quality and efficiency by introducing uniform health insurance. Prior to the 2006 health insurance reform, the Netherlands health care system was comprised of four parts: long-term care insurance, supplementary private health insurance, social health insurance, and alternative private health insurance. After the reform, a new universal "private" social health insurance emerged, and long-term care and supplementary private insurance were maintained.
All people who legally live and work in the Netherlands are mandated to buy health insurance from a private insurance company. All insurers are required to accept each applicant, regardless of pre-existing conditions. Moreover, the plan is financed with individuals' annual income-based contributions. Over half of all Dutch households also receive a subsidy from the government based on income. Since the system relies solely on a flat tax related to salary, the Dutch government does not have to shell out many resources to provide individuals with subsidies.
Today, the health insurance system appears to have more transparency than before. Consumers also have unrestricted choice between all insurance companies on the market. Interestingly, the Dutch approach is not a single-payer system. Instead, it combines mandatory universal health insurance with competition amongst private health insurers, creating more of a "risk equalization" system
---
Netherlands Health Care Structure
The Dutch do not aggressively regulate health care prices; instead, they've chosen to hone in on risk selection and primary care.  By tracking a myriad of factors such as: age, sex, pharmaceutical history, and hospital use, the government is able to determine which individuals are more risky to insure and how much it will potentially cost to cover them in the future. The government then pays more money to insurance companies taking on sicker patients. In an effort to offset these costs, each citizen is required to sign up for a general practitioner who acts as a "gatekeeper" to more expensive care and services. This allows the Dutch to cut back on unnecessary–and often costly–visits to specialized doctors. Individuals who are unhappy with their care have the option to change their insurance policy each year.
Insurers are also mandated to place all profits into a shared fund. That money is then distributed to other insurance companies whose patients are sicker than anticipated. Essentially, the Dutch have made insuring only the healthy a less viable and effective business strategy for insurance companies. The government has also set aside a health care budget, and still sets the price on most services. Since physicians are paid a lump sum each year–rather than fee-for-services–there is less incentive for them to overprescribe medications.
But no health care system is completely free from flaws. Cost-related access problems–not filling prescriptions, skipping recommended tests or treatments, or not visiting a doctor because of cost issues–still plague the Netherlands. However, timely access to health care, including elective or non-emergency surgeries, is much easier to receive in the Netherlands.
In many ways, the Dutch health care system is now an efficient "managed competition." According to the United Nations' 2017 World Happiness Report, the Netherlands ranked an impressive sixth out of more than 150 countries. While many factors were considered, health care coverage and life expectancy were integral in determining the overall happiness rankings.
---
What Can the U.S. Do?
In 2008, researchers noted that implementing a Dutch-like system in the U.S. could be attractive to many American citizens in an article entitled "Universal Mandatory Health Insurance In The Netherlands: A Model For The United States?" Consumer choice, in particular, is an aspect of the Netherlands' health care overhaul that is incredibly desirable to Americans. The Affordable Care Act (ACA) may have been the U.S.' first step toward implementing a health care system similar to the Dutch (insurance policy choices for consumers, attempts to insure more of the population, and coverage regardless of pre-existing conditions), but the system still has its glaring issues.
In 2014, the Commonwealth Fund produced a report that ranked the U.S. third out of 11 wealthy nations in timelines of care and effective care overall.  The Dutch, on the other hand, can provide universal coverage with very low out-of-pocket costs, while still maintaining speedy access to services. According to the study, the U.S. also ranked last on measures of equity; Americans with low incomes are far more likely than counterparts in other countries to not visit a physician when ill. Poor rankings in equity, efficiency, healthy lives, and cost-related access problems contributed to the U.S. ultimately ranking last overall in the study for the fifth time.
While the Dutch have managed to create an institutional framework to deliver universal access to health care along with market competition and consumer choice, the researchers found that the system still struggles to provide the most high-quality care. Meanwhile, the U.S. has integrated many high-caliber delivery systems, but fails to provide universal access to basic health insurance at an affordable rate. U.S. health care still remains the most expensive in the world, and yet it manages to underperform relative to other countries.
The U.S. and the Netherlands are perhaps most divided in the regulation of insurance companies. The ACA left a significant amount of diversity in the insurance marketplace, making it nearly impossible for the program to be fully transparent and simplified with the vast amount of choices. Obamacare offers four different varieties of insurance packages, while the Dutch program offers only one–which is probably most comparable to the Obamacare silver plans. Insurers in the U.S. are able to charge older customers up to three times as much as younger ones, adding even more complexity to the American system. Other researchers note that America's "spend more, get less" model is tied to other issues–safe, affordable housing; employment prospects; reliable transportation; and consistent, well-balanced meals–that may be even more important to a population's overall health than just specific medical care.
---
Conclusion
Building a perfect health care system is downright difficult, regardless of the country or government structure. However, the efficacy and success of the Netherlands' universal system may be something the U.S. can learn from, and perhaps even integrate into its own system. While there is a lot of support for single-payer ("Medicare for all"), the Dutch system of health care isn't too far removed from what President Barack Obama attempted to implement through the ACA. With more efficiency and management of the health insurance market, it's possible the U.S. could save billions of dollars following a more Dutch-like system of health care.