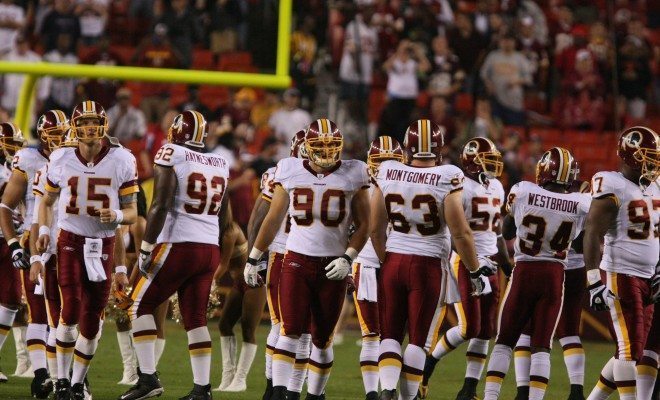 Image Courtesy of [Keith Allison via Flickr]
Entertainment & Culture
The Washington Redskins: What's Next in the Name Debate?
By
|
Midway into a new football season, there are certainly plenty of controversies surrounding the National Football League. Between the ongoing debate on concussions and player safety and the number of NFL players who are under public and legal scrutiny for their actions on and off the field, the NFL is no stranger to scandal. But one of the hottest topics for a while now has been the status of the Washington Redskins' name. Read on to learn about the controversy, and where it now stands.
---
Washington Redskins' History
Up until the 1970s, high school, collegiate, and professional sports teams across the country used mascots depicting Native American historical figures and culture to evoke values of courage, strength, and tenacity, in order to signify these values in the realm of sports. Fans became emotionally attached to these mascots and these symbols; showing their appreciation by performing rituals such as "tomahawk chops" and dressing up in makeshift Native American regalia to support their team. However, these mascots and rituals received backlash during the late 1960s and 1970s, as Native American advocacy groups brought attention to the stereotypical nature of these mascots and their negative portrayal of American Indian culture.
At the request of local tribes, many of these teams abandoned their mascots for less controversial ones, leaving a relatively small number left carrying names such as "Braves," "Indians," and the most controversial "Redskins." In addition to a handful of high school and collegiate teams, five professional sports teams retain their use of American Indian nomenclature: the Washington Redskins, the Atlanta Braves, the Chicago Blackhawks, the Cleveland Indians, and the Kansas City Chiefs. Debate has raged over the past couple decades as to whether these teams and their mascots represent racial slurs and harmful, derogatory stereotypes; or whether they are merely evoking Native American culture out of respect and honor for their courageous spirit.
A lawsuit, which has bounced back and forth between various overturned decisions, was brought against the Washington Redskins in 1992 arguing that its name used a racial slur and should be changed. More resolute than ever in the face of this opposition, the team's owner Daniel Snyder went on record in 2013 that the Redskins would "NEVER" change its name. In response, a bill was introduced to the House of Representatives in March 2013 by Representative Eni Faleomawaega of Samoa called the "Non-Disparagement of American Indians Trademark Registrations Act of 2013," a bill that would essentially cancel all trademarks on the name "Redskins" and prevent future parties from trademarking the name. While the bill does not look likely to be passed, it raises interesting questions on the nature of Native American mascots and the legality of their use.
Cancellation of the Trademark
During summer 2014, the Washington Redskins trademark was cancelled by the US patent office. It was cancelled in response to a ruling by the independent Trademark Trial and Appeal Board (TTAB). As the Patent Office put it in its media fact sheet:
The TTAB — an independent administrative tribunal within the USPTO — has determined, based on the evidence presented by the parties and on applicable law, that the Blackhorse petitioners carried their burden of  proof. By a preponderance of the evidence, the petitioners established that the term "Redskins" was disparaging of Native Americans, when used in relation to professional football services, at the times the various registrations involved in the cancellation proceeding were issued. Thus, in accordance with applicable law, the federal registrations for the "Redskins" trademarks involved in this proceeding must be cancelled.
The lawyers and administration of the Washington Redskins have said that regardless of the Patent Office's decision, they will continue to use the name, logo, and produce paraphernalia.
Media Response 
Within the last year or so, more and more TV newscasters, journalists, and media outlets have refused to use the word "Redskins." Instead, they refer to it as the Washington Football team. As of this summer, the Washington Post announced that in its editorials it will not use the name of the team. As the editorial board put it:
While we wait for the National Football League to catch up with thoughtful opinion and common decency, we have decided that, except when it is essential for clarity or effect, we will no longer use the slur ourselves. That's the standard we apply to all offensive vocabulary, and the team name unquestionably offends not only many Native Americans but many other Americans, too.
---
Who wants to keep the name as is?
Advocates of Native American mascots argue that they represent a respectful portrayal of the culture that highlights positive attributes and offers opportunities for cultural education and understanding. Throughout the debate, teams have maintained that their use of American Indian imagery is done with the best intentions of portraying values such as strength, courage, and pride. These portrayals, advocates argue, honor Native Americans and their ancestors, and serve as a respectful tribute to these proud nations.
While many Native American groups have been vocal in their opposition, a recent poll suggested that as much as 90 percent of Native Americans do not find these mascots offensive or harmful. If a majority of American Indians themselves do not have a problem with these mascots, advocates argue, then the mascots are not entirely the offensive, stereotypical caricatures that opponents have portrayed them to be. Additionally, many advocates argue that these mascots provide opportunities for cultural education that benefit Native and non-Native Americans alike.
Many teams, especially at colleges, work closely with local tribes to provide some form of educational tools for fans and visitors to gain an accurate representation of the Native Americans that their mascots portray. Many tribes are opposed to bans on the use of culturally sensitive mascots because these bans would scuttle potential opportunities such as these to create educational bridges to Native American culture and to promote a harmonious inter-cultural working relationship. To this end, some sports teams using American Indian mascots have received the support of local tribes in the interest of maintaining a respectful portrayal of Native American culture. Florida State University receives the support of the Florida Seminole tribe, which has provided input into decisions regarding the University's mascot and sports ceremonies. In return for their support, the tribe receives numerous scholarships and reduced tuition for its youth seeking higher education. Advocates argue that this relationship is a vision of the positive effects that could result from the continued use of Native American mascots.
---
Who wants to change the name?
Opponents argue that cultural references such as the term "Redskins" are inherently derogatory and harmful to the way Native and non-Native Americans view American Indian culture. Merriam Webster states the term "Redskin" is "an offensive term and should be avoided;" Native Americans often equate it to racial slurs used against African Americans and Jewish individuals. Additionally, mascots such as the Cleveland Indians' "Chief Wahoo" are considered racist caricatures that are equally offensive and should be changed in favor of less controversial mascots.
The recent uproar over comments by the NBA's Donald Sterling has empowered arguments by opponents seeking to root out racial negativity in professional sports. Opponents argue that these mascots promote racial stereotypes that produce harmful psychological and societal effects on Native Americans. The American Psychological Association recently announced its support for the removal of Native American mascots after the publication of numerous reports revealed links between these mascots and a decrease in self-esteem of Native American youth. A 2004 paper published by Dr. Stephanie Fryberg, a cultural and psychological scholar and a registered member of the Tulalip Tribes in Washington State, uses empirical evidence to argue that these Native American mascots have a negative psychological effect on American Indians and a positive psychological effect on European Americans. Dr. Fryberg indicates that these mascots harm the self-confidence and sense of cultural identity of these youth, which could potentially contribute to lower achievement later in life.
Cancelling the trademark on the term "Redskins," opponents argue, could provide a legal push for the Redskins team to finally change its name and bring professional sports into the standards of equality and anti-discrimination that the federal government expects. Opponents of Native American mascots argue that their concern is not only the way these mascots influence outsiders' views, but also how Native Americans view themselves.
---
Conclusion
The Redskins' battle to keep its name is really starting to look like a losing one. Although the argument has waged on for years, as the the trademark is now null and void, and members of the media rebel against the name, we may be at a turning point. Public pressure is on — it's up to Dan Snyder to respond.
---
Resources
Primary
U.S. Congress: HR 1278 Non-Disparagement of Native American Persons or Peoples in Trademark Registration Act of 2013
Additional
CNN: Native American Mascots: Pride or Prejudice?
USA Today: 50 Senators Sign Letter Urging Redskins to Change Team Name
ESPN: Time to Rethink Native American Imagery
University of Colorado Denver: Do American Indian Mascots = American Indian People?
Think Progress: Native American Group: Fight Against 'Redskins' About More Than Just the Name
ESPN: Tribe Supports Native American Mascots
The New York Times: Amid Rising Discord Over Indian Images, FSU Has Harmony
CBS DC: How Many Native Americans Think "Redskins" is a Slur?
Oregon Live: Two Tribes Call State's Native American Mascot Ban Disappointing
Washington Post: Lawmakers Offer Bill to Ban 'Redskins' Trademark
USA Today: Bill in Congress Challenges Redskins Trademark
HeraldNet: The Debate: Indian Names, Mascots For Sports Teams