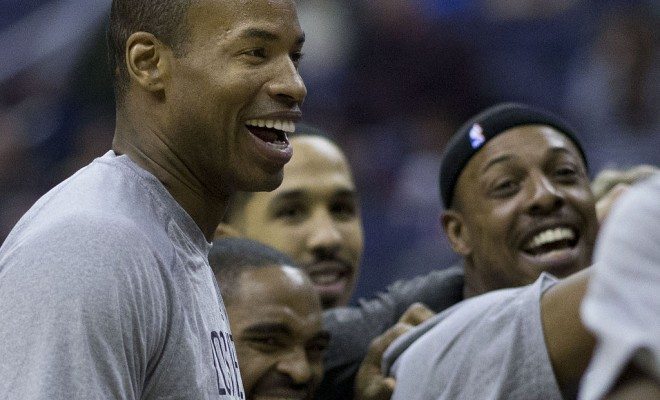 Image courtesy of [Keith Allison via Wikimedia Commons]
Entertainment & Culture
LGBTQ Pro Sports: Obstacles and Victories
By
|
Even though only 19 percent of Americans surveyed by the Public Religion Research Institute said they would oppose a lesbian or gay athlete signing onto a professional sports team, there are still many obstacles that exist to LGBTQ players being out in pro sports.
Women have been coming out publicly in professional sports for years, but men in the big leagues have faced a great deal of obstacles keeping their positions on teams.
As more and more professional athletes are coming out, what are the legal rights and difficulties of LGBTQ athletes in professional sports?
---
Out Athletes in Pro Sports
Not only have queer women been coming out publicly in professional sports for quite some time, several have been actively outspoken against homophobic laws. Speaking out against Minnesota's 2012 attempt to ban gay marriage in the state, WNBA star and Olympic gold medalist Seimone Augustus told the Associated Press:
I felt like it was the perfect time for me, being on a platform where I can make a change with my voice and my situation… Maybe inspire someone else to come out and be comfortable with themselves. Or maybe someone else's parents will see my parents saying that it's OK to be with your child and love your child unconditionally regardless of your sexual preference.
This outspokenness accompanies the activism of fellow out WNBA star Brittney Griner against the constraints placed on her at Baptist school Baylor University.  Griner has commented candidly on the hypocrisy of homophobia in sports:
The more I think about it, the more I feel like the people who run the school want it both ways: they want to keep the policy, so they can keep selling themselves as a Christian university, but they are more than happy to benefit from the success of their gay athletes. That is, as long as those gay athletes don't talk about being gay.
After releasing
an article in
Sports Illustrated
that he opened with the lines, "I'm a 34-year-old NBA center. I'm black. And I'm gay," NBA veteran Jason Collins
only played 22 games professionally
. Of the pressures and homophobic microaggressions faced by gay athletes in professional sports like Collins, former NFL star Wade Davis–who came out as gay after retiring from the game–
argues
:
We've got a culture that is OK with casual homophobia and sexist language… What Jason Collins' presence does–now people have to be held accountable. Because what people said before was, 'Well, he said that, but he wasn't talking to anyone, and no one's gay here, so no one's offended by it.' Now that Collins is in existence, people realize there are more Jasons out there, more Michael Sams out there, that when you say something homophobic, you're actually affecting someone who you truly believe exists now.
Despite this knowledge, Michael Sam–the Dallas Cowboys draftee who was the first openly gay player selected in an NFL draft–halted his career before it even began, after spending seven weeks with the team and never appearing on the its active roster.
---
Rights and Responsibilities
Advocates of LGBT rights in professional sports have argued that it is the responsibility of professional sports leagues to proactively protect players–and coaches and staff–from discrimination.
In Sam's case, however, Dr. John Fitzgerald Gates, National Diversity Expert, Principal, and Chief Strategist of Criticality Management Consulting and Former Associate Dean of Harvard College, wrote the following about NFL Commissioner Roger Goodell:
(He) did nothing to assure that Sam would be treated with the respect and fairness accorded other players, or to protect him against being fired because he is gay. According to Goodell, in the NFL: 'We do things the right way. We will give them that education and training. I hope that will solve the problem.' But Goodell's deduction is flawed, for if education and training solved discrimination we surely would have educated and trained our way beyond it by now. As with racial and gender bias, laws must be constructed and enforced to ensure equal protection to LGBT professional athletes. Goodell welcomed Sam onto the field of play without providing him the protection from discrimination that other players have, thereby leaving him uniquely and unfairly vulnerable. Goodell codified the NFL's right to discriminate when he should have had the courage, like President Obama, to ban it.
It is worth noting that the NFL does, in fact, have provisions in place to protect players from discrimination and harassment based on their sexual orientation. Indeed, when the MLB spoke out against homophobia in the major leagues, it was following the precedent of the NFL, stating that:
Major League Baseball and its 30 Clubs stand united behind the principles of respect, inclusion and acceptance. Those values are fundamental to our game's diverse players, employees and fans. We welcome individuals of different sexual orientations, races, religions, genders and national origins. MLB has a zero-tolerance policy for harassment or discrimination based on sexual orientation, as reflected by our collective bargaining agreement with the MLB Players Association. Accordingly, MLB will neither support nor tolerate any words, attitudes or actions that imperil the inclusive communities that we have strived to foster within our game.
Though the NFL receives a great deal of flack for sexism, despite the openness with which it has created policies to protect LGB players, Major League Baseball has an extremely homophobic history:
From Oakland to New York, Kansas City to Philadelphia, and Boston, there were fans who reacted negatively to the inclusion of the link to the [pro-LGBT] Spirit Day page.  Two MLB teams, the Cincinnati Reds and the Washington Nationals, did not include the link.  One, the Colorado Rockies, did not participate at all.

The Atlanta Braves had previously run into trouble back in 2011, when pitching coach Roger McDowell hurled anti-gay slurs and verbally threatened a family sitting in the stands during a late April game in San Francisco.  More than ten years ago, former Atlanta pitcher, John Rocker, became the poster boy for hate, by publicly spewing anti-gay, anti-Semitic, and anti, just about any other non white Christian group that one can think of, on and off the field.

Major league baseball has come a long way towards policing itself, and encouraging fans to join the movement towards tolerance and acceptance. Back in 1988, umpire  Dave Pallone revealed that he was gay too, then MLB Commissioner, Bart Giamatti, leading to Pallone's firing at the insistence of MLB owners.
This, as well as the experiences of Jason Collins and Michael Sam, very clearly demonstrate the ways that policies do not always, or even often, actually protect players from discrimination.
Significantly, these league policies do not explicitly protect transgender players in professional sports. Though transgender athletes have a rich and successful history in professional sports, including Reneé Richards and Lana Lawless, professional sports create tremendous obstacles for these athletes. These obstacles are present both physically and psychologically, as transgender athletes face exclusion, a lack of institutional protection, and violence.
Gender-segregated professional sports do not protect against discrimination based on gender identity they way they protect sexual orientation. This leaves transgender athletes exposed without institutional protection from the vitriol, anger, and violence that trans athletes face from the organizations and individuals they compete with.
Despite this lack of legal protection for transgender athletes, many trans athletes and coaches are carving their own places at all levels of sports, from elementary schools to professional sports.
---
So where do sports stand?
Though there are protections for gay, lesbian, and bisexual athletes in professional sports, LGB athletes still have a hard time maintaining their positions in the big leagues once they come out. On the other hand, professional sports do not protect transgender athletes from either institutional or interpersonal discrimination; therefore, transgender athletes often face even more obstacles than LGB athletes, though many persevere in pro sports against all odds.
---
Resources
Public Religion Research Institute: Ahead of Super Bowl, Nearly Three-in-Ten Americans Support Lifetime Ban for Football Players Who Commit Domestic Violence
Sports Illustrated: Why NBA Center Jason Collins is Coming Out Now
Huffington Post: The Moment is NOW for Professional Sports to Ban LGBT Discrimination
Huffington Post: Michael Sam: The Practical and Legal Implications of a Gay Professional Athlete
CBS News: NFL Agrees to Do More to Protect Gay Players
Daily Mail: Basketball Star Brittney Griner Opens up About Being a Lesbian at Baylor University and How She was Told to Keep 'Her Business' to Herself
Jurist: How Four Major Sports Leagues Influence LGBT Rights
Think Progress: The Benchwarming Journeymen Who Changed American Sports Forever
Think Progress: Dallas Cowboys Cut Michael Sam from Practice Squad