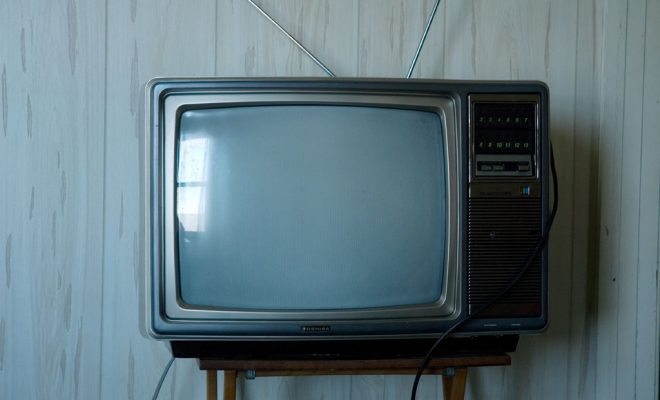 Image courtesy of [dailyinvention via Flickr]
Entertainment & Culture
Comedy or Cable: Where Do Americans Get Their News?
By
|
With the end of the Colbert Report, so ended an era. Facebook and Twitter were full of people lamenting the end of Stephen Colbert and his late night character, saying things like, "Where am I going to get the news now?" and "Who can I trust to tell the truth once he's gone?" Surely, it's a good mix of people who understood the characters Colbert played and those who honestly felt like his show was reality. Where exactly are Americans getting their news, and what impact does it have?
When it comes to politics, Americans watch CNN, MSNBC, and Fox News more often than they watch traditional or local news. But what does it mean for the future of comedy news, news in general, and the way we react to it?
---
Where do we get our news?
Even at a time when television viewing numbers are falling due to an increase in streaming sites and a general lack of traditional watchers, most Americans get their news from television or television-backed news sites.  Pew Research Center analyzed Nielson data and its findings showed a lot about the television landscape, but even more about the people who watched it. These are the findings:
Almost three out of four U.S. adults (71 percent) watch local television news and 65 percent view network newscasts over the course of a month, according to Nielsen data from February 2013. While 38 percent of adults watch some cable news during the month, cable viewers—particularly the most engaged viewers—spend far more time with that platform than broadcast viewers do with local or network news.
While it is interesting to note how many people watch the news, it is more poignant to look at what news people watch, as simply watching news doesn't mean too much in the age of bias and deep-pocketed politicians. Take a look at that study for a more in-depth view of what exactly people are watching.
---
Cable
Fox News
Fox News has been getting a great deal of negative publicity in the last few years, even more so than before with the growing popularity of internet memes and altered videos. As such, Fox News attracted an average of 264,000 primetime viewers in that key 25-54-year-old demographic, a number so low that the network hasn't seen it since 2001. One of the biggest draws to the station is Bill O'Reilly, host of The O'Reilly Factor as well as an author, syndicated columnist, and political commentator. His audience remains at over 2.1 million viewers per episode, but once again, the number skews toward the older crowd.  Still, the Daily Kos points out that, "every Fox program in primetime dropped by double-digits, with Bill O'Reilly taking the deepest dive. Sean Hannity posted some of his lowest numbers ever in his new 10:00 pm time slot." Things are not looking good for the company unless it can swing in some newer, fresher hosts and programming.
According to the Daily Mail, the average viewers at MSNBC and CNN are 60, and the average is 62-64 for the broadcast networks; however, the average viewer of Fox News is not quite the rich, white, Rush-Limbaugh loving man that the liberal bias would have many believe. In Frank Rich's New York Magazine article, he paints a clearer picture of the typical Fox News viewer:
The million or so viewers who remain fiercely loyal to the network are not, for the most part, and as some liberals still imagine, naïve swing voters who stumble onto Fox News under the delusion it's a bona fide news channel and then are brainwashed by Ailes's talking points into becoming climate-change deniers. They arrive at the channel as proud, self-selected citizens of Fox Nation and are unlikely to defect from the channel or its politics until death do them part.
So what does watching Fox News say about you? You lean conservative, you are probably older, and you are typically from a middle-to-upper class household. Still, the station has an audience–maybe not entirely from that coveted advertising swath, but it has one, which is more than some other stations can boast.
CNN
If Fox News is drowning, CNN is already dead in the water when it comes to that key demographic, with only 99,000 viewers in the 25-54 sector in May 2014, according to Politico. Anderson Cooper 360 is still the top program on CNN with an average of 452,000 total viewers, and 145,000 in the key range.
The average CNN viewer, however, isn't the type of person who will tune in for nightly news broadcasts or scheduled programming. Instead, it is becoming the go-to for hot topics and current events that interest people, such as the recent social justice protests, Ferguson special reports, Ebola, weather emergencies, and presidential addresses.
Still, the station has been doing some reshaping lately to help its numbers and push forward into the next era of broadcast. Brian Stetler explained:
Now, there is some overall shrinking going on. But the better word for what's happening in media today is "reshaping." Through layoffs, through cuts, through new investments, "reshaping" for the digital future that really feels more like the digital present. It's already here. None of this context makes it any easier to say goodbye to our colleagues. In fact, it may make it even harder, because the fact of media, THE fact of media in 2014, is that reshaping of all kinds is going to continue.
So the viewership of CNN is changing, but it's typical audience remains the same. Mostly liberal, younger but not too young, and transient people who don't often sit and watch the news on a nightly basis. Still, take a walk around your local mall, sit at the dentist, or walk through an airport, and it is the station you are most likely to see.
MSNBC
MSNBC is one of the newer news channels, founded in 1996, and dedicated to broadcasting news programs 24 hours a day. It is owned by NBC Universal (82 percent) and Microsoft (18 percent), and its sister channels range from CNBC to The Weather Channel. What you see on MSNBC, however, is very different from what you see on the other stations.
One of the more famous programs, The Rachel Maddow Show, is seeing some pretty low ratings this season. The push now is to bring in younger viewers to round out the audience that is growing older fairly quickly. Still, it is considered the go-to network for those who consider themselves politically progressive.
MSNBC is constantly changing, more so than many of the other news stations. It works with viewers, though stays pretty close to its ideals, which many critics say lean too left. Some say that the network is setting itself up as the antithesis of Fox. Most recently, the network has taken a bit of a tumble in the ratings. According to the Huffington Post, MSNBC was down across the board, including declines in the key viewing demographic of nearly 20 percent, and president Phil Griffin vowed to make changes in 2015.
Still, shows like Morning Joe and Hardball with Chris Matthews finished ahead of their time slot competitors on CNN.
---
News Competitions
Another interesting revelation from Pew:
In one finding that may seem counterintuitive in an era of profound political polarization, significant portions of the Fox News and MSNBC audiences spend time watching both channels. More than a third (34%) of those who watch the liberal MSNBC in their homes also tune in to the conservative Fox News Channel. The reverse is true for roughly a quarter (28%) of Fox News viewers. Even larger proportions of Fox News and MSNBC viewers, roughly half, also spend time watching CNN, which tends to be more ideologically balanced in prime time.
So what does this viewing mean? Here are just a few more statistics from that study to keep in mind as we delve deeper into the individual stations:
"More than one-quarter (28 percent) of the people who watch Fox News also tune in to MSNBC. An even higher number (34 percent) of MSNBC viewers turn on Fox News."
"There is even more crossover viewing when it comes to CNN. Slightly more than half (54 percent) of MSNBC viewers watch CNN, while 44 percent of Fox News viewers tune in to CNN. Healthy segments of the CNN audience also watch Fox News (39 percent) and MSNBC (38 percent)."
"Overall, five percent of the adult American population watches both MSNBC and Fox News. That is slightly lower than the percentage that watches both CNN and Fox (8 percent) or CNN and MSNBC (also 8 percent)."
"Despite some crossover, there are also viewers who watch only one of the three cable channels: Fox News Channel narrowly has the largest singularly dedicated audience. About one-quarter of American adults (24 percent) watch only Fox News, 23 percent watch only CNN and 15 percent watch only MSNBC."
What about local news?
Local news, whether it is for a region or a smaller community, has also taken the backseat when it comes to key viewers. Airtime is a big factor in these problems–local news is often shown when people are coming home from work or sitting down to eat dinner. Fewer people are tuning into these broadcasts–even entertainment ones–choosing instead to watch reruns of other popular shows that air at the same time. Local news, as a rule, reports more on local activities and not just big political events, so those who are tuning in to see that information will go to bigger channels.
---
News Through Comedy: The Daily Show and Beyond
It may seem obvious that a "replacement" news source for Stephen Colbert would come from his "rival" and the person who preceded his time slot. In fact, he needs no introduction, as Jon Stewart is one of the most trusted faces in media, and his program, The Daily Show, is where Stephen Colbert got his start in the genre. His style takes a bit of getting used to, but give him a second chance before leaving Comedy Central. His ratings are higher than most of the other news outlets, and he does it all with a little bit of humor that "real" news stations cannot get away with. According to the Daily Mail, his show averages 2.3 million viewers per episode, putting him far ahead of others news outlets in not only viewers, but also in that 25-54 range. In fact, The Daily Show is consistently ranked the top late-night news show among the key demographic.
In 2012, a study even found that people who watch The Daily Show are more informed than people who watch Fox News. This could be because the face of The Daily Show isn't the only person who reports on the show–there are a bevy of people who do humorous investigations. The Daily Show viewers tend also to be more educated, younger, and far more liberal than the audiences of other news sources.
There are other similar shows that have been picking up momentum lately. Most notably, Last Week with John Oliver on HBO has been breaking boundaries and bringing in more and more viewers. Of course, Oliver was a correspondent on The Daily Show, so his segments sometimes emulate Stewart's, somewhat like Stephen Colbert's did. In fact, Matthew Jacobs of the Huffington Post named Oliver's program as 2014's best television show, stating: "The year's most surprising contribution to television is a show that bucked conventional formats, left us buzzing and paved the way for a burgeoning dynasty." Gawker's Jordan Sargent claimed Last Week Tonight is "the new Daily Show," while simultaneously criticizing The Daily Show for abandoning those "who have moved on from caring about Fox [News] and Republicans."
So what can take the place of Stephen Colbert? Not much. When Stephen signed off, he wasn't just leaving Comedy Central and satirical news behind, he was leaving behind a character that informed us while making us laugh. Time will only tell; so few thought that Jay Leno could be replaced, but his successor, Jimmy Fallon, has hit his stride to great success.
---
Conclusion
To get a well-rounded view of any political or social topic, it pays to do the research, find the facts from a variety of sources, and make your own decisions. Don't shy away from Fox News, but also tune in to The Daily Show. The most important thing is that we consume news and current events through some medium. Sure, we have to understand the biases and we have to contemplate the "spin" on each story; however, it's important to tune into news on television, as it is often the best way for us to visually learn about any given topic. How we receive our news has changed drastically, but now you can get it at the drop of a hat from many different sources.
---
Resources
Primary
Pew: How Americans Get TV at Home
Additional
New York Magazine: Stop Beating a Dead Fox
Daily Kos: Fox News Suffers Worst Ratings In Thirteen Years – And That's Not Their Big Problem
CNN: Reshaping at Major Companies
The Wire: Fox Viewership is Getting Even Older
Politico: May Cable Ratings Spare No One
Media Bistro: October 2014 Ratings
Daily Mail: The average age of Fox News Viewers is 68 and a Majority of Them are Politically Conservative and White
Editor's Note: This post has been revised to credit select information to Pew.