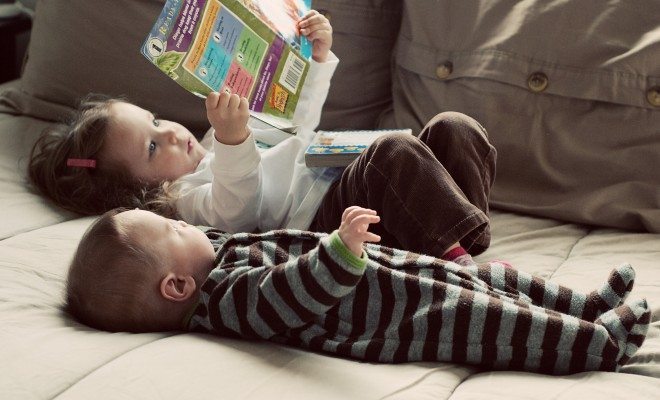 Image courtesy of [ThomasLife via Flickr]
Education
Graduating From "No Child Left Behind"
By
|
This holiday season is bringing much more than gifts and cheer for children as the Every Student Succeeds Act (ESSA), a graduated, more sophisticated, and polished version of No Child Left Behind (NCLB), was passed by the House of Representatives. The much-needed update was passed by a 359-64 majority in the House and will be voted on by the Senate in the coming week. The overwhelming bipartisan support for the bill reinforces the likelihood that it will ultimately be signed into law by President Barack Obama.
The overhaul and revision of NCLB, which resulted in the creation of ESSA, comes as a welcomed and advocated-for change to remove the federal grip over the requirements and implementation of public education and move it toward a state-based ideology that narrows the focus and tailors implementation to resources and needs within a specified state. Additionally, ESSA seeks to evolve past the sole focus on standardized testing and opens up consideration for other factors such as student/teacher engagements, success in advanced coursework, and career readiness. The main goal is a holistic approach to standardize primary education through a variety of measurable and functional factors through a more tailored, state-focused lens.  Read on to learn more about the evolution of measurable standards within primary education, what ESSA holds for future generations, and the potential impact of the pending legislation.
---
The Evolution of Standardized Primary Education
Education is a cornerstone in a progressive, self-sustaining society. It provides for the social and economic advancement, as well as the stability of people that allows for growth, development, creativity, and forward movement and innovation. Education is the bedrock of a society and its importance has been highlighted throughout the history of the United States in a variety of ways as evidenced by its evolution in law and implementation.
In 1965, President Lyndon B. Johnson sought to mend the "achievement gap" in the United States by implementing the Elementary and Secondary Education Act (ESEA). ESEA allocated a substantial amount of federal funding into bridging the gap in the educational disparity based on race and poverty–a disparity highlighting that minorities, low-income students, immigrant students, and those from rural/neglected areas were not receiving the same level of quality education and therefore were not achieving at the same levels or percentage rates as students outside of those statistical and categorical confines. While ESEA shifted focus onto a federally controlled education policy and allowed the government involvement in implementation through funding, it also provided "Title I" designation to schools with over 40 percent of students designated low-income through federal standards. Such a designation provided schools, mainly elementary schools, with federal-based funding to make education more accessible to low-income families and to increase resources available to schools. The Act gave young students a pathway out of institutionalized poverty through encouraged and standardized academic advancement, which was monitored through testing benchmarks and requirements.
ESEA underwent several reauthorizations, none more prominent and controversial than the No Child Left Behind Act of 2001 (NCLB), which was signed into law by President George W. Bush on January 8, 2002. NCLB was authored and instituted out of concern that the United States was losing academic advantage on an international scale and applied testing standards and progress tracking to all students, not just the low-income students identified by ESEA. While NCLB sought to bring academic progress and responsibility as applied to all students, it carved out specific standards and a focus on students with special needs, those learning English as a second language, and those below the poverty line, as well as minorities, as these groups of children in primary schools tended to test lower than their classmates. The law provided required benchmarks for academic achievement, testing students from the third grade through high school. It also marked the 2013-2014 school year as the goal year to have all schools testing at a "proficient level," marked by results and scores defined by each individual state. It is important to note that by the end of the 2015 school year, no school had gotten all 100 percent of its students above the required proficient level. Additionally, teachers were required to have certain qualifications and schools were required to reach specific testing goals and provide yearly progress reports that would subject them to serious sanctions if the goals set were not met.
While NCLB was a positive step and evolution from the outdated versions of ESEA, it was laced with great controversy and consequently, great criticism. One of the major criticisms of NCLB was the heavy focus on standardized testing in math and reading, which ultimately resulted in less investment on subjects such as social studies that were not empirically tested and measured, as well as an increase in cheating in order to meet required results. The desire to increase educational standards ironically did the opposite in order to meet them. The focus on test scores also created an "educational marketplace" out of federal funding, forcing schools to compete in a survival-of-the-fittest atmosphere, rather than a collegiate and collective one. Another criticism of the law was that remedies for the low performing students–free tutoring and the opportunity to transfer to a better performing school–were completely underutilized by the students and facilities they were available to. When given the free choice and the transportation to get a better education, families opted to keep their children in what was familiar, even if what was familiar was not performing at an acceptable level. Finally, NCLB was criticized as being underfunded. Although annual funding for Title I was supposed to rise to $25 billion, it had only reached $14.5 billion by 2015 highlighting the fact that federal funding never reached the lofty goals it had set for the law as well.
In 2011, in recognizing the failure of NCLB, President Obama instituted waivers that allowed states struggling to meet the standards outlined by the law to set their own standards in an effort to adequately prepare students for higher education and the workforce. The need for reform in education policy was crystal clear. It was up to Congress to take action.
---
Every Student Succeeds Act: What is in Store
Last week, the House of Representatives got the ball rolling in Congress on education policy and the support for the Every Student Succeeds Act (ESSA) was overwhelming. While the Senate will be voting on the bill within the week, the support strongly suggests that it will be signed into law following the vote.
ESSA aims to address the concerns, criticisms, failures, and restrictions highlighted by NCLB by primarily honing in on a state-centered emphasis, which would allow for more flexibility in the implementation and assessment of academic achievement. Rather than just analyzing test scores and graduation rates, ESSA will take a more holistic approach to assess educational success by looking at additional factors such as "student and teacher engagements, success in advanced coursework, and school climate and safety," as well as performance on college prep and Advanced Placement (AP) courses, career readiness, and specialized certificates.
However, the shift back to a more state-based system of control and implementation will not be without federal regulation. States will still have to test students and report findings in order to be held accountable for the way the programs are being instituted, absorbed, and utilized, still tracking positive academic achievement benchmarks. ESSA still provides safeguards by integrating the availability of waivers for schools performing below desired levels and grant programs that will offer schools more resources to meet goals if they qualify. The bill initiates additional programs that focus on over-testing research, the importance of effective and quality early childhood education practices, and the equal distribution of funding within districts.
While ESSA is certainly a more polished and advanced version of its predecessor, it is subject to its own criticisms. The main critique this early in its life is the fact that it is silent in terms of upgrading, updating, and elevating the status quo for the profession of teaching. Although authors of the bill did not utilize this opportunity to address the modernization of teaching, qualification requirements, and experience of the individuals working within its confines–teachers, the bill successfully sets out to update a largely outdated system that has failed the children and teachers in the United States.
---
Conclusion: A Welcomed Change That's Long Overdue
No Child Left Behind had officially expired in 2007. It is now December 2015. Surprisingly, despite its eight-year expiration, NCLB had maintained its grip on implementation control as no alternative methods and bills had been proposed and implemented with success in Congress. In an effort to circumvent the failing aspects of NCLB and loosen the regulatory grip over state implementation, most states were working under waivers granted by President Obama, providing them with the necessary flexibility to implement more successful educational policy options for their specific circumstances. States have had temporary and remote control over educational policy following NCLB's expiration.
And while critics are emphatic that ESSA's authors dropped the ball in addressing a refocused lens on increasing and updating teaching standards as well as standardized education, the bill did take big steps in initiating additional programs to reform education policy, elevated expectations and implementation of a revitalized policy, and works to ensure fair and equally distributed system of federal funding. Additionally, the bill provides the opportunity for volunteer partnerships, but prohibits any state to be influenced, provided incentives, or coerced into accepting and adopting Common Core principles. While criticisms will exist on both political sides, particularly within the idea that the federal government is simply punting the education problem to the states to fix, the overwhelming bipartisan support for the Every Student Succeeds Act shows the importance of quality education in this country for all students alike.
The steps taken to eliminate NCLB and reinvent the bill in a new form is a commendable and welcomed progression in education policy.
---
Resources
Primary
House of Representatives: Every Student Succeeds Act
107th Congress: No Child Left Behind
Additional
 U.S. News: Leaving Behind No Child Left Behind
LAWS: Elementary and Secondary Education Act
 Education Week: No Child Left Behind: An Overview
National Public Radio (NPR): Former 'No Child Left Behind' Advocate Turns Critic
 CBS DFW: A Major Overhaul of No Child Left Behind is in the Works