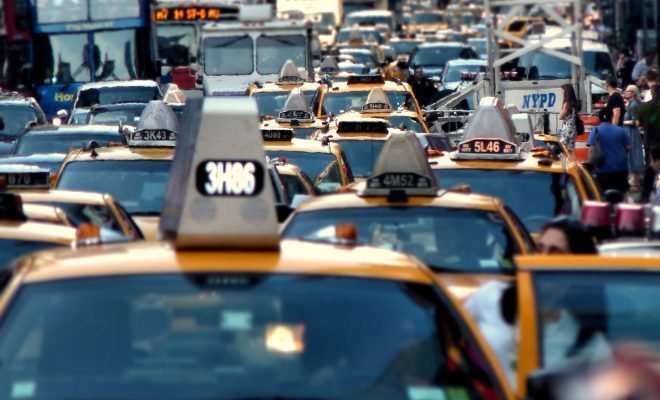 Image courtesy of [joiseyshowaa via Flickr]
Business & Economics
Uber: Not Your Typical Taxi
By
|
The days of hailing down a cab may become a distant memory for those with a smart phone in their hand. Uber has reinvented the ridesharing industry with its user-friendly application. Created in San Francisco in 2009, Uber now connects customers with available drivers in cities all around the world.
Although generally loved by customers, Uber has faced many obstacles since its launch, including competition and government intervention. It has been criticized for disregarding regulations and carrying poor or no insurance on its drivers. Read on for an examination of the policy and incidents that have shaped Uber into the company it is today.
---
What is Uber?
Quick and inexpensive transportation can be challenging to find when you live in a city. That's where Uber comes in. When a customer opens up the application, she is greeted with a map displaying the cars for hire in the vicinity and the estimated wait time for pick up. Uber is especially attractive because the same quality of service transitions from day to night. Business people can order a car on the way to a meeting just as easily as someone can use it as a designated driver after a night out.
The process of ordering a car is incredibly simple:
Download the app and enter your payment information
Set pickup location
Choose the type of car you want to ride in
Tap request and track the reserved car's location
The services provided by Uber are vast. Originally the company offered black cars (UberBLACK), which are luxury vehicles including Escalade SUVs, Lincoln Town Cars, and Mercedes. Now with the implementation of the low-cost option, UberX, the company is able to attract a wider breadth of the market.
UberX drivers use their own cars, carry insurance and a valid driver's license, and pass a background and DMV check. UberBlack drivers must also have the commercial licenses required by the city in which they operate.
---
Does Uber Have a Competitor? Possibly.
Uber shares many similarities with the ridesharing company Lyft. Founded in San Francisco, Lyft operates in 60 cities in 2014. While Uber and Lyft provide almost identical services, Lyft has been met with great opposition in New York City. Under the Taxi and Limousine Commission (TLC), Manhattan has stringent taxi regulations by which Uber abided. Lyft has not yielded to city and state regulations such as ensuring that all drivers are commercially licensed and that their vehicles are registered with the TLC. The attorney general's office has filed suit and accused Lyft of eight violations, including using vehicles that are not registered with the TLC and hiring drivers who have not obtained the correct insurance and licensing.
In an interview with Buzzfeed, New York State Attorney General Eric Schneiderman declared in reference to Lyft evading the regulation:
"They're allowed to try and we're allowed to stop them."
Lyft had planned on launching its peer-to-peer model, but because of the state's officials and the TLC it postponed the launch. The company has agreed to work with the TLC to ensure that its cars and drivers are fully licensed.
---
Regulations
Are Drivers Insured?
The legality of Uber differs from city to city as each jurisdiction has different regulations pertaining to public transportation services. While taxi drivers have been subjected to these guidelines for years, Uber has been accused of bypassing many rules that govern taxi services.  Insurance of the Uber drivers has been a source of concern from legislators and the general public. To clear up any ambiguity, Uber announced that "all ridesharing transportation partners are covered by best-in-class commercial insurance coverage in the event of an accident."
The insurance policies for UberX are:
$1 million of liability coverage per incident
$1 million of uninsured/underinsured motorist bodily injury coverage per incident
$50,000 of contingent comprehensive and collision insurance
No fault coverage in certain states
$50,000/$100,000/$25,000 of contingent coverage between trips
The other Uber services (UberSUV, UberBLACK, and uberTAXI) are "provided by commercially licensed and insured partners and drivers."
Price Caps
One of the best cases made by Uber opponents is the company's history of hiking up prices during times of high demand — a practice that sets apart Uber from traditional taxis. While taxis have a fixed fare, the price of Uber depends on the demand. Schneiderman criticized Uber for "charging as much as eight times its base rate during storms." To avoid this manipulation, Uber and the Attorney General reached an agreement that during emergencies there will be a limit to peak pricing in New York. This agreement was the beginning of Uber's new policy of limiting surge pricing nationwide during emergencies. In addition to limiting price increases, when an emergency causes a fare to be elevated the company plans on donating 20 percent of profits to the American Red Cross.
---
Negative Responses
Death of a Child
Tragedy struck a San Francisco family when a six-year-old girl was killed after being hit by an Uber driver. At the time of the accident the driver did not have a passenger in his car nor was he on the way to pick someone up, which is why Uber claims it should not be held accountable. The parents of the deceased have brought wrongful death suits against both Uber and the driver.
Alleged Abduction
After becoming intoxicated while partying at nightclubs in Los Angeles, a woman was put into an Uber by a valet. Instead of driving the woman home, the Uber driver allegedly kidnapped her and brought her to a hotel with the intent to sexually assault her. When the woman awoke, she found the driver shirtless lying next to her in bed and immediately left to call the police. Uber spokesperson Lane Kasselman stated after learning of the event that "the facts are unknown at this stage and it's certainly unclear that this is an Uber-related incident, as the driver in question was not logged in, connected to or operating on the platform at the time… Nothing is more important to Uber than the safety of our riders."   Even if Uber is not accountable for this crime, the incident tarnishes the brand.
Protests in Europe
America is not the only place where Uber is meeting resistance. Protests against the ridesharing company have gone across the Atlantic to European nations. In London, more than 10,000 cabdrivers participated in an hour-long protest. London has especially stringent regulations on its cab drivers. The process to get a license is rigorous and quite demanding: cab drivers must have knowledge of the London streets and be able take alternative routes without consulting a map. Because they have this extensive knowledge, they have an intimate understanding of the city and are regarded as experts.
When Uber arrived in London with drivers who bypassed the intense training that London-based drivers are subjected to, it should almost be expected that cab drivers would halt their services in protest. Mario Dalmedo, a cab driver in London, said:
"There's room for everyone, but you have to obey the law."
In addition to losing their jobs, drivers are concerned about how Uber is not following the rules and fails to pay the same level of taxes.
Uber maintains that it is providing competition in a market that has not been introduced to new services in a long time.
Virginia: Cease and Desist
In early 2014 the state of Virginia levied more than $35,000 in fines against Uber and Lyft for not having the proper permits in Northern Virginia. Following those charges, Richard D. Holcomb, commissioner of the Virginia Department of Motor Vehicles, sent Uber and Lyft cease and desist letters. Uber and Lyft have applied for brokers' licenses to operate in Virginia since receiving the letter. Also, both companies have applied for temporary authority that would allow them to continue operations until they receive licenses.
Kaitlin Durkosh, Uber spokeswoman, stated that the company has been working "in good faith with the DMV to create a regulatory framework for ridesharing."
---
Conclusion
Since its inception, Uber has been faced with many regulatory challenges; however, its accessibility and innovation has transformed the startup into a legitimate threat to the taxicab industry. With strong customer loyalty and growing financial backing, Uber appears to be sticking around for the long haul.
---
Resources
Primary
Uber: Eliminating Ridesharing Insurance Ambiguity
Uber: Insurance For UberX With Ridesharing
Additional
Forbes: Lyft Pips Uber by Launching 24 Cities in One Day
Slate: Why Uber and Lyft Are Not Interchangeable Services in New York
BuzzFeed: New York Attorney General, Aide Slam Lyft Co-Founder
The New York Times: Uber Reaches Deal With New York on Surge Pricing in Emergencies
Bloomberg: Uber Faces Challenges in NY With Lyft Debut, Price Caps
Washington Post: Competition from UberX, Lyft has D.C. Taxis Crying Foul
Business Insider: Virginia Commonwealth DMV Orders Uber and Lyft to Cease and Desist
Washington Post: Uber and Lyft Working on Becoming Legal in Virginia
NBC: Uber Driver Arrested on Kidnap With Sexual Intent Charge
The New York Times: Traffic Snarls in Europe as Taxi Drivers Protest Against Uber