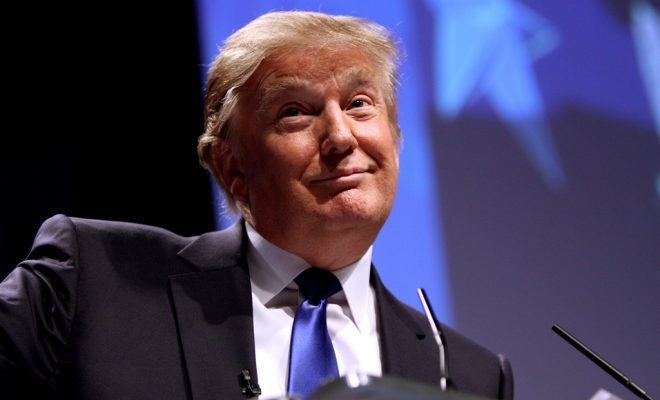 "Donald Trump" courtesy of [Gage Skidmore via Flickr]
Elections
Trump Responds to "Very Rude" Statements Made by Sadiq Khan and David Cameron
By
|
Last week's verbal battle between London's new mayor, Sadiq Khan, and Republican candidate Donald Trump is not over. Trump has now replied in an interview with British ITV, and said that Khan's comments that he is ignorant were "very rude" and that he "will remember them." Trump pointed out that Khan doesn't know him and has never met him, and that he doesn't really care about him or what he thinks. He also suggested an IQ test battle (which Khan declined).
Khan's comments about Trump being ignorant came after several outbursts from the Republican about Islam and a possible ban on Muslims entering the U.S. After Trump's comments, British politicians debated a ban on Trump entering their country, after a petition that was signed by over half a million people. However, the discussion in Parliament was seen more as an opportunity to discuss opinions about Trump and will probably not lead to an actual prohibition on a visit from the American. It did, however, lead to a statement from British Prime Minister David Cameron saying Trump's suggestion to ban Muslims was "divisive, stupid and wrong."
Donald Trump tells @piersmorgan: I may not have a 'very good relationship' with David Cameron if I become presidenthttps://t.co/Rw3Wc1ojec

— ITV News (@itvnews) May 16, 2016
In this morning's interview Trump said that he and Cameron are "not going to have a very good relationship" if he's elected President. In regard to Cameron's comments, he said that he is not divisive at all, but that "unlike our president now, I'm a unifier." He also said that Britain leaving the European Union wouldn't matter to him and would probably not hurt Britain's economy at all–totally contrary to what President Obama said about the issue in April. Obama said that Britain would end up in the "back of the queue," since when the U.S. is negotiating trade deals it is primarily focusing on doing so with the bigger block that is the EU.
Britain's possible exit from the EU, generally called "Brexit," will be decided in a referendum on June 23. The supporters of Brexit think that the EU is holding Britain back when it comes to trade and economics, and are critical of the many rules and membership fees that the EU is charging. Another point of disagreement is the free movement principle within the EU that allows people from other countries to come and work in Britain.
In the end, Trump called Britain a great ally, and said that the nation would definitely not be at the back of the queue with him, despite his quibbling with the British officials.