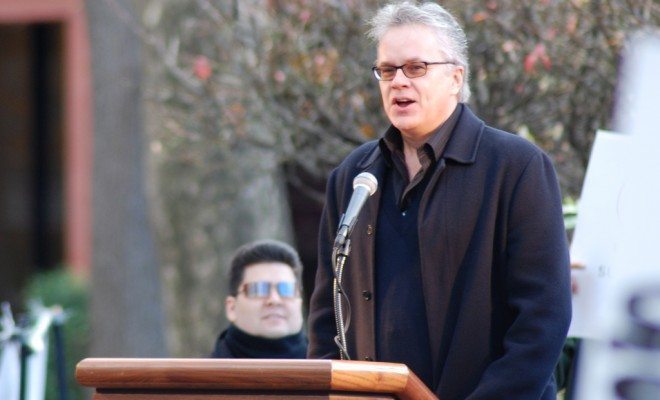 Image courtesy of [John Edwards via Flickr]
Elections
Tim Robbins And The First Lady of Guam Are In a Tizzy
By
|
There's a new celebrity feud, and it's more fiery than Amber Rose, Azealia Banks, Meek Mill, and Iggy Azalea combined. That's right, the drama queens involved in a serious beef right now are…Tim Robbins and the former First Lady of Guam? Yes, you read that right.
What set off the political powder keg? Tim Robbins, an actor and Bernie Sanders supporter, argued that Hillary Clinton's primary win in South Carolina was about as significant as winning Guam. South Carolinians haven't taken too kindly to his comment, arguing that their votes matter as much as any others.
@Americaputz @TimRobbins1 His point was literally that the South doesn't and shouldn't matter. I don't see his interpretation.

— Alex Katz (@Alex__Katz) April 4, 2016
Dismissing the primary votes of South Carolinians isn't very kind, but this comment cuts especially deep for the disenfranchised voters of Guam. Because Guam is a territory of the United States, its citizens can vote in the primary, but are not permitted to vote in the general election. They can and do serve in the military, but aren't able to vote in November. Guam has no votes in the electoral college–and while they'll often conduct a straw poll, it has no real effect on the general election. This means that their primary votes are their only chance to voice an opinion about who should govern them for the next four years.
Guam's twelve Democratic delegates and nine Republican delegates aren't huge counts, but they still count toward the majority each nominee will need. In a race with the potential to be extremely close, no one should sneer at collecting a dozen delegates. Further, it's short-sighted to claim that Clinton's 39-delegate take from South Carolina doesn't matter–Sanders only has three wins with more than 39 delegates, making Clinton's large wins serious stumbling blocks.
Madeleine Bordallo isn't just Guam's former First Lady; she's also the territory's only Congressional delegate. Defending her home, she stated, "I am deeply disappointed by remarks made today by Tim Robbins at a campaign rally for Sen. Bernie Sanders that used the inability of the people of Guam to vote for president as a political punch line."
Robbins responded to Delegate Madeleine Bordallo with a tweet:
No disrespect to voters of SC or Guam. Was making a point about MSM anointing HRC after SC primary. No surprise ABC took it out of context.

— Tim Robbins (@TimRobbins1) April 4, 2016
For those without a pocket political-Twitter-to-English dictionary, MSM is "mainstream media." In his semi-apology, Robbins attempts to make amends with angered southerners and incensed Guamanians. Although he is trying his best to get out of his comment, this may prove harder to escape than the Shawshank State Penitentiary.