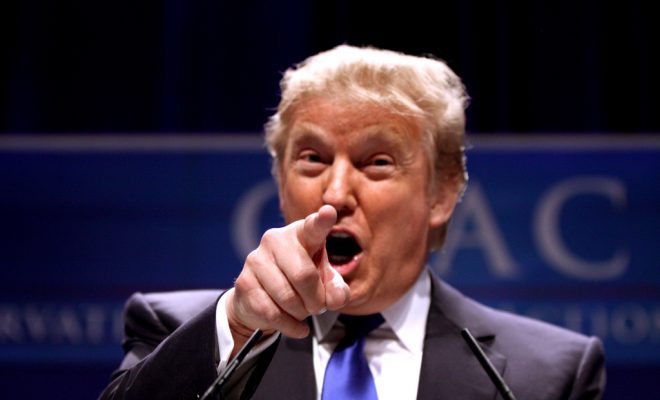 "Donald Trump" Courtesy of [Gage Skidmore via Flickr]
Elections
Republican Party Leaders Acknowledge They're Backing a Racist
By
|
As Donald Trump continues his rise in the presidential election–from a businessman joking about running for president to the man who will almost certainly be the Republican Party nominee–several Republican leaders have had to decide whether or not they are going to suck it up and support him. While some Republicans have refused to support Trump or have withdrawn their endorsements because of his repeatedly racist rhetoric, many leaders have given him their political blessing as it has become apparent that he is all they have left.
In the beginning, there was obvious hesitation to support trump. Around a month ago, Paul Ryan, the Speaker of the House and highest ranking GOP official, was nowhere near willing to commit to the Donald Trump bandwagon. Ryan had slammed Trump for his plan to ban Muslims from entering the country, pointing out the plan's unconstitutionality and inherent lack of conservatism. And when Trump refused to disavow David Duke in February, Ryan responded by saying,
If a person wants to be the nominee of the Republican Party, there can be no evasion and no games. They must reject any group or cause that is built on bigotry. This party does not prey on people's prejudices.
It seems that Ryan and others have decided to weaken the Republican Party stance on bigotry, however, as several party leaders have now readily accepted Trump as their nominee, brushing off his inappropriate behavior and rhetoric as accidental.
A recent example of this hypocrisy? This week Trump has been under fire for inherently racist comments against U.S. District Judge Gonzalo Curiel. In an attack add, Hillary Clinton's campaign capitalized on Trump's statement and some Republican Party members' decision to speak out against him.
The video shows clips of Trump's racist interview claims that Judge Curiel could not fairly judge his case because of his Mexican heritage. His statements are then followed by different clips of prominent Republicans disapproving of his racist claims.
Paul Ryan admitted that Trump's statements were textbook examples of racism and that he regretted the comments. Mitch McConnell criticized Trump's statements as stupid inappropriate. Newt Gingrich labeled the comments inexcusable and Trump an amateur. But, while these Republican leaders are disavowing Trump's remarks on TV or in the news, the sad thing is they and the rest of the party are continuing to support him nonetheless. Party leaders have repeatedly acknowledged Trump's blatant bigotry, inappropriate rhetoric, and repeated racism, but they still stand behind him and continue pushing for him to be our next President.
At best, Republican support of Donald Trump is some kind of misguided attempt to hold the party together. At worst, the support is grounded in a firm belief in Trump's plan to destroy all racial diversity and cultural variety in America. GOP leaders need to wake up and realize that the remarks that Donald Trump keeps making on air and in interviews, time and time again, aren't just silly mistakes–they are who he is. And, then, if party leaders really want to put the force of their party behind the bigoted monster Trump has become (or has always been), they need to accept the consequences that decision will have for their future as a political party and our future as Americans.