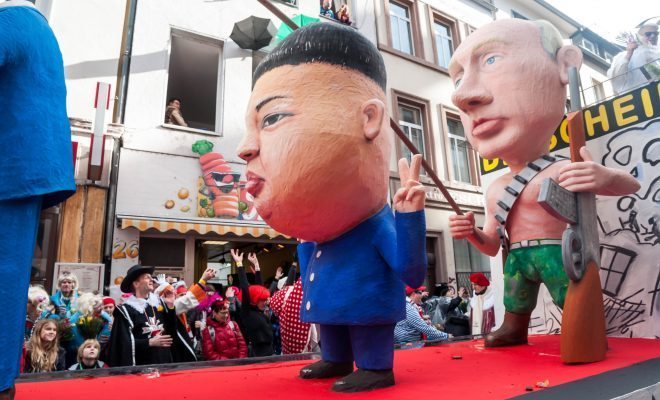 Image courtesy of [Marco Verch via Flickr]
Elections
North Korean State Media Praises Trump: Who's Next?
By
|
First it was Dennis Rodman who won North Korea's admiration and now it's a U.S. presidential candidate. Republican candidate (and presumptive nominee) Donald Trump has a strange list of endorsements, from a KKK leader, to Russian President Vladimir Putin, and now a North Korean state-run media outlet.
A DPRK Today editorial published Tuesday complimented the businessman, calling him a "wise politician" and a "far-sighted candidate" who will be instrumental in reuniting the Korean Peninsula.
Trump, "the Dennis Rodman of American politics," gets a critical North Korean endorsement. Should I laugh or cry? https://t.co/6d1RzNI4gR

— Sean Watson (@seanwatson24) June 1, 2016
The editorial referenced foreign policy proposals Trump discussed during a speech regarding U.S. troops in South Korea. Trump floated the idea of withdrawing troops from Japan and South Korea if those nations do not provide more compensation to pay for the costs of housing and feeding U.S. troops.
The North Korean editorial welcomed this idea. "Yes do it, now … Who knew that the slogan 'Yankee Go Home' would come true like this?" said Han Yong Mook, who described himself as a Chinese North Korean scholar, in the editorial. "The day when the 'Yankee Go Home' slogan becomes real would be the day of Korean Unification."
#Trump2016 endorsements growing!
• GOP Base
• KKK & white supremacist orgs
• Putin
• N. Korean dictatorhttps://t.co/9yvvz7yDtG

— TheAverageBlackMan™ (@TheAvgBlackMan) June 1, 2016
The editorial also urged Americans not to vote for Hillary Clinton. Han discussed the idea of Seoul cutting off payments to the U.S. in order to urge troops to move out of the country. "The president that U.S. citizens must vote for is not that dull Hillary–who claimed to adapt the Iranian model to resolve nuclear issues on the Korean Peninsula–but Trump, who spoke of holding direct conversation with North Korea," Han said.
Some have seen the back and forth between the two as propaganda, and just a stunt to help Trump gain more traction.
"He's the Dennis Rodman of American politics — quirky, flamboyant, risk-taking. At the moment he's also an outsider," John Feffer, director of Foreign Policy In Focus, told NK News. "But Pyongyang is hoping that either he'll be elected (and follows through on his pledges) or that his pronouncements will change the political game in the United States and influence how the Democratic party and mainstream Republicans view Korean issues."
In an interview with Reuters in May, Trump suggested that if elected president, he would be willing to negotiate directly with the North Korean dictator. However, the North Korean leader declined the invitation.
"It's for utilization of the presidential election, that's all. A kind of a propaganda or advertisement,"So Se Pyong, North Korea's ambassador to the United Nations in Geneva, told Reuters. "This is useless, just a gesture for the presidential election."
It is time we all start accepting the real possibility of Dennis Rodman as Trump's Sec. of State https://t.co/ixpJGbkY5R

— Josh McDaniel (@jmcdanielnews) June 1, 2016
Maybe next we will be hearing from Bashar al-Assad or Fidel Castro for a Trump endorsement, because it really feels like anything can happen at this point.