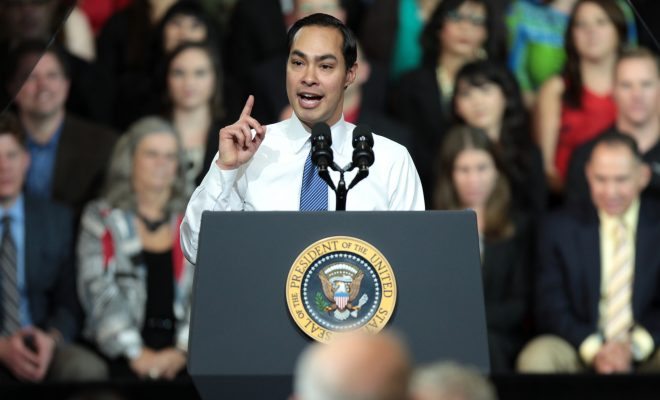 "Julian Castro" Courtesy of [Gage Skidmore via Flickr]
Elections
Get to Know Clinton's Likely VPs
By
|
When you're a presidential nominee, unless your name is John McCain, you'll need to thoroughly vet all of the people you're considering as a running mate. Much of that is done internally, such as peeking into their personal lives for any skeletons in the closet and negotiating the differences between political opinions. A large part of this process, however, is assessing whether they have the political x-factor needed to energize voters and charm the party. The list of potentials is long, so let's just take a look at some of the 'auditions' that potential picks have done on national television, and learn a little more about them.
What does he do? Democratic Senator from Virginia.
What has he done? Mayor of Richmond, Lieutenant Governor of Virginia.
The argument for him: It's difficult to think of an argument against Tim Kaine. Perhaps he's not a hot young thing, but he's got the perfect pedigree for the job, and his cautious style and strong resume help him fit the ideal Hillary mold–not a firebrand, but a policy wonk willing to show a little heart. He also has the benefit of already being vetted by Obama.
Likelihood? Since the beginning of "veepstakes" speculation, Tim Kaine has been a front-and-center choice. While he is most likely still the front runner, if Hillary is looking to add a "secret ingredient" to her campaign, she might look elsewhere.