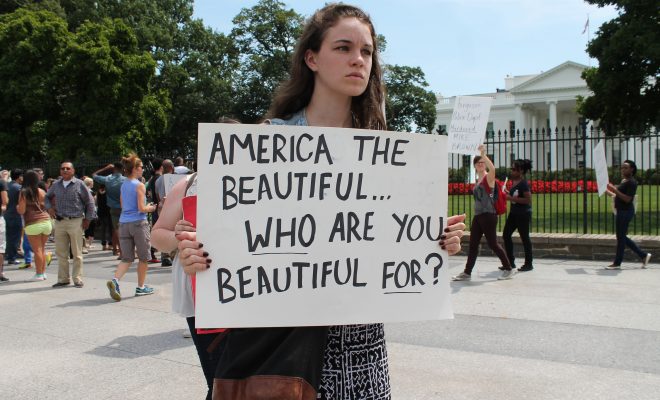 Image courtesy of Elvert Barnes; License: (CC BY-SA 2.0)
Elections
College Campuses React to the 2016 Election with Protests and Anger
By
|
All across the country, students on college campuses protested the election results, which declared Donald Trump the next President of the United States.
Young voters (18-29 years old) voted 55 percent to 37 percent in favor of Democratic Candidate Hillary Clinton. But for voters 65 and over, Trump held the majority of the votes.
With numbers like those it is easy to see how many college students could be unhappy with the way the election went. Students around the country, including many on the West Coast (likely due to the time difference), poured into the streets crying, shouting, and marching against the president-elect.
Some students headed to the bars, while others headed to the streets.
Students could be heard screaming "F— Donald Trump," as mobs marched arm in arm through campuses, trying to make some sort of sense out of what had happened. Here are a few examples of protests from college campuses around the country:
University of California, Santa Barbara:
UCSB and SBCC students marching to Storke Tower in a peaceful protest in regards to the election results. 11-9-2016/2:04 AM. #NotMyPresident pic.twitter.com/G3sF40bnQh

— Saitama (@heisenchapo) November 9, 2016
University of California, Berkeley:
"The people, United, will never be divided." UC Berkeley anti-Trump protest at Telegraph and William Street, Oakland. #berkvote pic.twitter.com/4nKvcsLJHG

— Maya Eliahou (@MayaEliahou) November 9, 2016
University of California, Los Angeles:
Sorry that these are getting repetitive. This is a huge, growing group of students. #UCLA pic.twitter.com/dxfOp8QerY

— Tanner Walters (@tannerbwalters) November 9, 2016
These are all different UC's reacting to the Presidential Election.The revolution has started. #ucsc #ucla #usb #ucd pic.twitter.com/Au4SPFN2DJ

— Wuendy (@whendcalm7) November 9, 2016
Berkeley High School, Berkeley, California:
BERKELEY HIGH SCHOOL WALKOUT #NotMyPresident #TrumpPresident pic.twitter.com/6HAv7jVAH4

— B (@BerenabasG) November 9, 2016
University of Pittsburgh:
UPitt riots part 2 pic.twitter.com/55s46LWf0K

— reilly (@reidaddy) November 9, 2016
Students at UPitt could be heard chanting, "No KKK no fascist USA! No Trump!" and "Whose streets?" "OUR streets!" Along with "Not my president!"
University of Oregon:
Students from the University of Oregon marched through Eugene to protest America's new president #LifeAsAJStudent pic.twitter.com/kQU97Sdv2i

— phillip (@philllup) November 9, 2016
Students in Washington D.C. went to The White House to protest.
People in Obama and Clinton shirts link arms outside the White House. #ElectionNight pic.twitter.com/fBx6b7eYKB

— The GW Hatchet (@gwhatchet) November 9, 2016
Anti-Trump protestors outside the White House. #ElectionNight pic.twitter.com/vTokvFL6Qt

— The Hoya (@thehoya) November 9, 2016
At different universities, it has been reported that professors have cancelled exams and assignments Wednesday, after students expressed their grief over the outcome of the 2016 election.