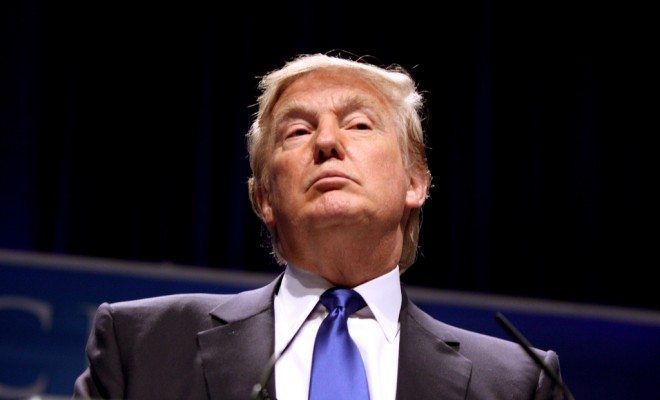 "Donald Trump" courtesy of [Gage Skidmore Via Flickr]
Elections
The Boston Globe Hates Trump, Trump Hates The Globe
By
|
Remember Helga from Hey Arnold!? The blonde-haired tyrannical bully who constantly picked on Arnold? She used to tease him endlessly, calling him names in front of his friends. Meanwhile, she had his photo in her locket, and a shrine of all things Arnold hidden in her room.
That's a pretty good comparison to Donald Trump's relationship with the media. He constantly derails the media for "bias" and "lying," all the while feeding off of the coverage they give him. The latest clash in Trump's war on free press (it's like the war on Christmas, but real) concerns a satirical front page published by the Boston Globe. The page is from a future issue, dated April 9th, 2017, featuring the headline "DEPORTATIONS TO BEGIN." The accompanying article makes mention of Attorney General Chris Christie, and a White House press blacklist including Megyn Kelly. The fake stories were accompanied by a scathing op-ed from the editorial board.
Trump refused to take the incendiary publication lying down, responding in typical stream-of-consciousness fashion:
How about that stupid Boston Globe, it's worthless, sold for a dollar. Did you see that story? The whole front page — they made up a story, they pretended Trump is the president, and they made up the whole front page, it's a make-believe story, which is really no different from the whole paper — I mean, the whole thing is made up. And I think they're having a big backlash on that one.
Doubling down on the Globe's decision, Kathleen Kingsbury, deputy managing editor of the editorial page, said "we delivered copies of the editorial to his campaign because we wanted to make sure he saw what we wrote."
According to the New York Times' fantastic analysis of Donald Trump's Twitter presence, Trump has insulted just about every news outlet under the sun, from Fox News and the Wall Street Journal to CNN and Huffington Post. He'll skewer mainstream media, swatting down Vanity Fair, Univision, and The View with derisive tweets. Almost no large news corporation is saved from Trump's ire.
And yet the press still loves to cover him. CBS CEO Les Moonves (which is a man's name and title as well as a tongue-twister), told The Hollywood Reporter, "The money's rolling in and this is fun. I've never seen anything like this, and this going to be a very good year for us. Sorry. It's a terrible thing to say. But, bring it on, Donald. Keep going."
And how could The Donald not love the attention? The New York Times estimated that the news media had given Trump the equivalent of $1.9 billion in free publicity. I doubt that Trump actually has a shrine in one of his many homes with effigies of Megyn Kelly and Anderson Cooper lit by luxury candles, but I'm pretty sure that he secretly appreciates the hateful words being said about him–after all, the Trump family motto is: There's No Such Thing As Bad Press.