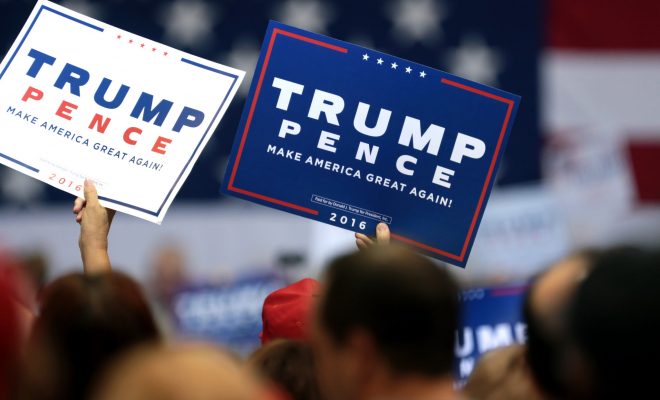 "Donald Trump signs" courtesy of [Gage Skidmore via Flickr]
Elections
Do #BlackVotesMatter to Donald Trump?
By
|
As Donald Trump continues to poll poorly among minority voters, many within the Republican Party are getting nervous as the electorate becomes more diverse each year. On Monday morning, the hashtag #BlackVotesMatter started trending on Twitter, as the general election gets closer and Trump still hasn't done much to win over black voters.
The fact is, very few black Americans support Donald Trump. According to a FiveThirtyEight analysis, Trump is actually polling in fourth place among black voters, behind Hillary Clinton, Gary Johnson, and Jill Stein. In an average of several recent polls, Trump's support among black voters sits at about 2 percent.
Trump's numbers are worse than almost every Republican presidential nominee since 1948, in surveys that are taken after the party conventions and before Election Day. The only Republican nominee to poll worse than Trump was Barry Goldwater in 1964, who voted against the Civil Rights Act in the same year as the election. For a closer look at the parallels between Trump and Goldwater you should check out Sean Simon's analysis.
With black voters expected to make up between 10 to 15 percent of the electorate in November, the GOP is urging Trump to change his tactics and appeal to a broader group of Americans. But as the New York Times reports, Trump has done very little to reach out to black voters, preferring to campaign with a mix of large rallies and media interviews.
In a recent visit to Detroit–the city with the 10th largest black population in the country–to talk economics last week, he went straight from his private plane to the Detroit Economic Club, where he talked to a mainly white audience. So far, Trump has decided against traditional community stops along the campaign trail and as the New York Times points out, he has yet to hold an event geared toward important black constituencies.
His director of African-American outreach, Omarosa Manigault, told the New York Times that she was "extremely concerned" about Trump's standing among black voters. Manigault also said she is researching opportunities for him to meet key figures in the African-American community to improve his perception. "He's alienated a number of minority voters, and that's reflected in his low numbers," said Tara Wall, a communications consultant who has helped with black outreach on previous Republican presidential campaigns.
But the question posed by many on social media is how black votes can matter to the Republicans when their nominee has openly criticized the Black Lives Matter movement as a threat to police officers. Trump also has a questionable record on race himself.
Yo, say, GOP, if Black votes matter, drop your racist Presidential candidate and the KKK vibe at his rallies & your convention. Start there.

— Jeffrey Wright (@jfreewright) August 15, 2016
However, many were also unhappy with both parties' records on race.
Black ppl should not fall for the "Black Votes Matter" crap. When both parties are dominated by white supremacy

— Cliff Po (@Pharaoh_Po) August 15, 2016