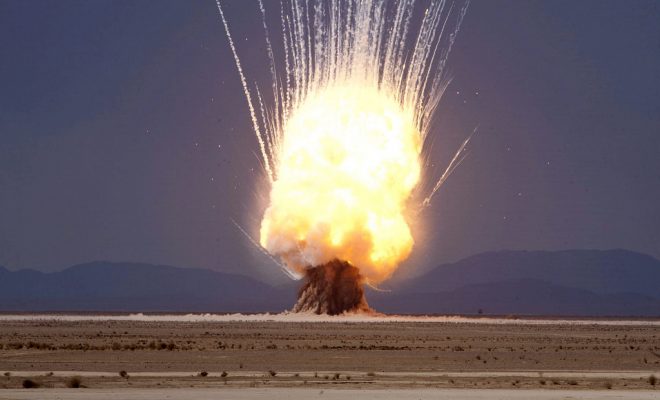 Image courtesy of DVIDSHUB; license: (CC BY 2.0)
World
U.S. Drops One of the Largest Non-Nuclear Bombs in the World on ISIS Target
By
|
On Thursday, the United States dropped the largest non-nuclear bomb ever used in wartime on an ISIS target in Afghanistan, says a Pentagon spokesman. The GBU-43/B, or Massive Ordnance Air Bomb, is often referred to as the "Mother of All Bombs," likely due to its acronym. The name seems fitting considering it weighs about 21,600 pounds. The bomb's target was a ISIS cave and tunnel complex in the Achin district of the Nangarhar province in the northeastern part of the country.
According to U.S. officials, the bomb was developed during the Iraq war but this is the first time it has ever been used on the battlefield. It was dropped from an airplane around 7 p.m. local time. The bomb is designed to explode in the air above its target and the overpressure crushes tunnels below it and everything in them. This could make it very difficult to determine if there was any civilian casualties.
Just dropped a MOAB on ISIS in Afghanistan. Massive Ordnance Air Blast is a concussive bomb … the father of all bombs (nonnuclear). pic.twitter.com/fW5UE1r2QA

— Saman Arbabi (@SamanArbabi) April 13, 2017
The bomb focused on the underground tunnels that ISIS fighters use to move around freely in the area.
"The strike was designed to minimize the risk to Afghan and U.S. forces conducting clearing operations in the area while maximizing the destruction" to the militants, said a statement from Pentagon.
The bombing comes just five days after Army Staff Sgt. Mark R. De Alencar, a 37-year-old Green Beret from Maryland, was killed in combat with ISIS in the same province. He was the first American service member killed in combat this year in Afghanistan. President Donald Trump said on the campaign trail that he would "bomb the s**t" out of ISIS, and Thursday's strike seems to have done exactly that. But many people were confused about why an 11-ton bomb was needed.
Was use strategically necessary? Most efficient and effective option? Did it accomplish objective? Was there collateral harm?

— Susan Hennessey (@Susan_Hennessey) April 13, 2017
Another U.S. airstrike Thursday targeting ISIS killed 18 Syrian rebel fighters allied with the United States. The strike marks the third time in just a month that U.S. forces have accidentally hit allies or civilians. The Pentagon is already investigating two earlier airstrikes that hit a mosque complex in Syria and a building in Mosul that both killed several civilians.
Now many people are questioning what the White House's policy for the Middle East really is, and whether President Trump just wants to show off his powers and "play war."