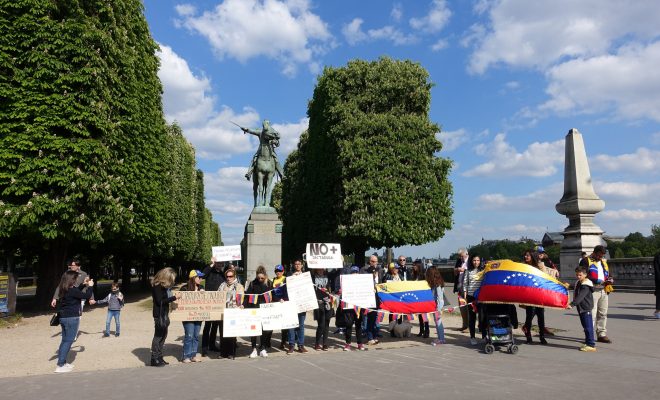 Image Courtesy of Guilhem Vellut; License: (CC BY 2.0)
World
Unrest in Venezuela Rages on After Military Kills Teenage Violinist
By
|
Venezuela has been plagued by political unrest and protests since April. Last month, a prominent opposition politician who often joined members of the public in the protests, Wilmer Azuaje, disappeared without a trace. And also last month, an 18-year-old violist named Armando Cañizales was shot and killed by government forces for participating in a demonstration. Both became symbols of the resistance and protesters have only become more determined to bring about change.
But so far, the military has been firm in its support of the sitting president, Nicolás Maduro, whom members of the opposition say has turned into a dictator. However, last week the leader of the National Defense Council, Gen. Alexis López Ramírez, resigned from his position, and on Tuesday he announced why. While López Ramírez expressed his general appreciation of Maduro, he also said he disagreed with the president's plans to create a constituent assembly.
Maduro has said he wants to create a citizens' assembly to rewrite the constitution. The opposition has criticized the move as a way to create more power for Maduro without having to consult the opposition-controlled National Assembly first. Maduro claims the assembly would bring peace to the country. López Ramírez's resignation further increased the unrest, and many wondered whether the military could stop its support of Maduro.
Protesters set fire to Venezuela's Supreme Court as anti-government clashes rage on after two months https://t.co/aqK0Hg7Plk pic.twitter.com/E42NisYgis

— Daily Mail Online (@MailOnline) June 13, 2017
Last week, Venezuela's chief prosecutor Luisa Ortega Diaz challenged Maduro's efforts at creating a constituent assembly. On Monday, the country's Supreme Court dismissed her request, after which protesters set the Supreme Court building on fire. Ortega Diaz said that after she turned against Maduro, she and her family have received multiple threats. She also said agents had followed her and state officials have verbally attacked her.
So far, 70 people have died in the protests. The increasing violence of the protests has caused people that have received benefits from the government to turn their backs on it. After Cañizales, the violinist, was killed last month, the country's classical musicians took to the streets.
Classical musicians in Venezuela have generally stayed out of politics. Most of them belong to a state-financed musical program that has offered training for hundreds of thousands of kids from working-class families. "In its 42 years, El Sistema somehow managed to keep an impartial position," said Ollantay Velásquez, the director of Cañizales's orchestra, referring to the program. "It has stayed that way until today."
Classical music in Venezuela had long been neutral to politics — until a young musician was killed in protests https://t.co/iBQ2C1yAZf pic.twitter.com/Oi0VQfAo6u

— New York Times World (@nytimesworld) June 12, 2017
Azuaje, the politician who disappeared, was allegedly last seen being shoved into a National Guard plane in the middle of the night in early May. "He's disappeared. They kidnapped him. There is complete silence," his mother Carmen Cordero said, adding that he has been a thorn in the side of the government for a long time. He allegedly encouraged people to keep protesting, which led Maduro supporters to call him a promoter of violence.
Names of those who were killed during protests in Venezuela https://t.co/D4SbFgw91w pic.twitter.com/B2uMyVkIJh via @MariaGMonagas

— Liveuamap (@Liveuamap) June 12, 2017
Many Venezuelan officials and former politicians have chosen to move abroad, but recently they have faced increasing public shaming. Last month in Miami, former minister Eugenio Vasquez was having breakfast at a bakery when angry Venezuelans caught sight of him. With shouts of "rat" and "thief," the people drove him out of the bakery. In Switzerland, a woman ran into Ambassador Cesar Mendez at a grocery store, and shouted "corrupt" and "thieves."
Similar cases have been reported from New York, Madrid, and Sydney, where the daughter of the Caracas Mayor Jorge Rodriguez, Lucia, was harassed by a woman shouting "Thanks to your father, people are dying!" Lucia Rodriguez is currently in Sydney on a student visa. A petition to the Australian government to revoke her visa–and other children of Venezuelan officials–has almost 30,000 signatures.
Maduro has condemned the treatment of officials and their families abroad, and even compared it to Nazi Germany's treatment of Jews. But, as Javier Fungairino from the Miami bakery pointed out, they only use words. "I never laid a finger on him. I simply raised my voice," he said. "They hate when people complain. They think they're so powerful that they're not used to that kind of treatment."