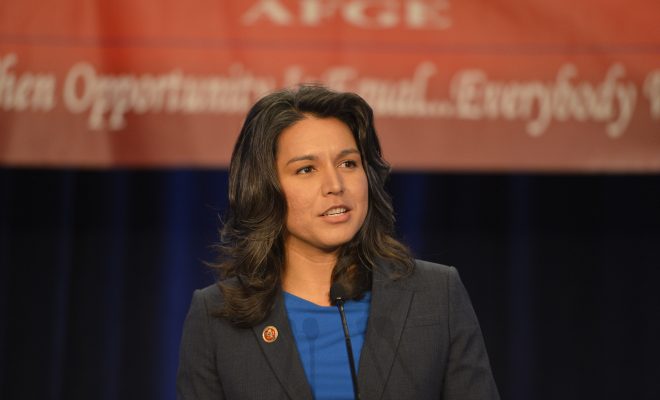 Image Courtesy of AFGE; License: (CC BY 2.0)
World
Why Did Rep. Tulsi Gabbard Meet with Syrian President Bashar al-Assad?
By
|
Rep. Tulsi Gabbard (D-HI) ruffled some feathers in Washington on Wednesday when she announced that during a recent "fact-finding mission" to Syria, she met with President Bashar al-Assad. In an appearance on CNN's "The Lead" and in an essay on Medium, Gabbard defended her trip against criticism for engaging with Assad, a tyrannical leader whose six-year civil war has killed hundreds of thousands and displaced millions.
"In order for any peace agreement, in order for any possible viable peace agreement to occur, there has to be a conversation with him," Gabbard, 35, told CNN's Jake Tapper on Wednesday. "The Syrian people will determine his outcome and what happens with their government and their future."
The House Ethics Committee approved Gabbard's trip, she said, which included stops in Aleppo and Damascus in Syria, as well as Beirut, Lebanon. She also said her trip was not funded by taxpayer money, but by the Arab American Community Center for Economic and Social Services, or AACCESS. During the weeklong trip, Gabbard met with many of the actors involved in the conflict: refugees, opposition leaders, business owners, students and, of course, Assad.
"I think we should be ready to meet with anyone if there's a chance it can help bring about an end to this war, which is causing the Syrian people so much suffering," Gabbard wrote in her account of her trip. She added that her visit showed her that U.S. policy in Syria "does not serve America's interest, and it certainly isn't in the interest of the Syrian people."
In her first-person account, Gabbard concluded that there is no difference between the brutal jihadist groups like Islamic State or al-Qaeda and "moderate" rebel groups that the U.S. has helped in the fight. "This is a war between terrorists under the command of groups like ISIS and al-Qaeda and the Syrian government," Gabbard said, adding that the people she met with wish the U.S. and other countries would "stop supporting those who are destroying Syria and her people."
Gabbard's meeting with Assad was condemned by a number of people, including former independent presidential candidate Evan McMullin:
Part of Moscow's effort to undermine democracy in Europe and the US is to support the extreme left and right. @tulsigabbard @realDonaldTrump

— Evan McMullin (@Evan_McMullin) January 26, 2017
Josh Rogin, a political analyst with The Washington Post, saw Gabbard's trip as a propaganda effort by the Assad regime:
.@TulsiGabbard says the Syrians she spoke to all support Assad. Maybe because her trip was arranged by the regime? #facepalm

— Josh Rogin (@joshrogin) January 25, 2017
Whatever the response to her trip, Gabbard said she comes back to D.C. "with even greater resolve to end our illegal war to overthrow the Syrian government." Calling on Congress and the Trump Administration to end U.S. support for some Syrian rebel groups, Gabbard added: "We must end our war to overthrow the Syrian government and focus our attention on defeating al-Qaeda and ISIS."