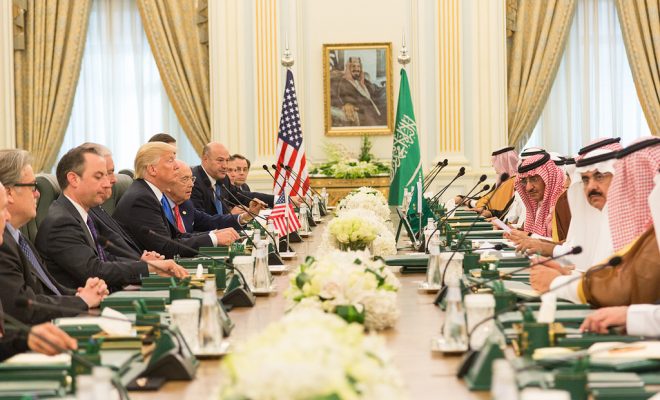 Image Courtesy of The White House; License: public domain
World
Trump Embraces Saudi Arabia and Rebukes Iran
By
|
Saudi Arabia gave President Donald Trump the royal treatment over the weekend, lavishing him with pomp and applause during the first stop in his inaugural overseas trip as president. In a 30-minute speech, Trump gave the Kingdom precisely what it wanted–a strong rebuke of Iran, Saudi Arabia's enemy and its greatest threat to regional hegemony. Trump signaled a tighter embrace of Saudi Arabia and a more forceful rejection of Iran than his predecessor, President Barack Obama.
Iran provides terrorists "safe harbor, financial backing, and the social standing needed for recruitment," Trump said, adding it's "a regime that is responsible for so much instability in the region." Trump piled on:
From Lebanon to Iraq to Yemen, Iran funds arms and trains terrorists, militias and other extremist groups that spread destruction and chaos across the region…It is a government that speaks openly of mass murder, vowing the destruction of Israel, death to America, and ruin for many leaders and nations in this very room.
By calling out Iran while delivering a message of "friendship and hope" to Saudi Arabia and leaders from other Gulf Arab nations like Bahrain, Qatar, Jordan, and the U.A.E., whose leaders were also in attendance on Sunday, Trump is pivoting to a more traditional U.S. approach to the region than Obama's.
Obama angered Saudi Arabia and other Gulf nations with a variety of decisions–or non-decisions–that they saw as deferring to Iran. For one, he negotiated the nuclear accord with Iran; the Trump Administration recently admitted to Iran's compliance with the controversial agreement. Additionally, Obama's inaction in the conflict in Syria–he never took direct military action against President Bashar al-Assad, and instead provided support to various rebel factions–upset the Saudis as well.
The Trump Administration, after the Syrian government dropped chemical bombs on its citizens in March, launched 59 cruise missiles at a government air strip. Since then, however, Trump has largely followed the Obama playbook by supporting proxy forces in the fight against the Islamic State. Still, the decisive action heartened the Saudi monarchy, which virulently opposes Iran and its various proxy projects, like its support for militias in Bahrain, Yemen, and Iraq, and its support of Assad in Syria.
Trump was unreserved in his warm embrace for Saudi Arabia, saying the U.S. "is eager to form closer bonds of friendship, security, culture, and commerce" with the Kingdom. He announced that Saudi Arabia's King Salman and other high-ranking officials pledged billions of dollars in investments for Saudi Arabia and the U.S. The U.S. recently provided the Saudis with over $100 billion worth of arms and other defense equipment.
He also used the speech to highlight two initiatives aimed at combating terrorism–the Global Center for Combating Extremist Ideology, and the Terrorist Financing Targeting Center. Both will be built in Riyadh. "Today we begin a new chapter that will bring lasting benefits to our citizens," Trump said.
In contrast to the traditional, largely bi-partisan U.S. approach to countries like Saudi Arabia, where personal freedom is heavily policed and human rights are consistently trampled upon, Trump made no mention of improving human rights in the country. In fact, he explicitly rejected calling out potential partners in how they choose to govern their countries.
"We are not here to lecture—we are not here to tell other people how to live, what to do, who to be, or how to worship. Instead, we are here to offer partnership — based on shared interests and values — to pursue a better future for us all," he said.
A safe, secure, and prosperous Middle East, Trump insisted, must be shaped with the help of Iran, which held a presidential election on Friday. Iranians re-elected Hassan Rouhani to a second term, rejecting the hard-line Islamic cleric Ebrahim Raisi. Still, in his speech on Sunday, Trump pointed to Iran as the primary font for extremist ideologies in the region, ignoring Saudi Arabia's own agenda that critics say abets terrorism.
"Until the Iranian regime is willing to be a partner for peace, all nations of conscience must work together to isolate Iran, deny it funding for terrorism, and pray for the day when the Iranian people have the just and righteous government they deserve," Trump said.