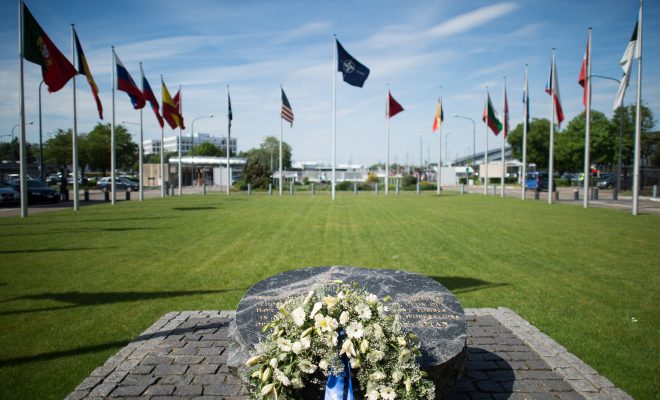 Image Courtesy of Chairman of the Joint Chiefs of Staff; License: (CC BY 2.0)
World
In Speech at NATO HQ, Trump Implores Members to Pay More for Defense
By
|
During a speech in Brussels on Thursday, President Donald Trump spoke to a cluster of European heads of state. He implored them to pay their fair share in defense spending for the NATO alliance, while simultaneously refusing to commit to support in case of an attack. The speech baffled America's European allies, and potentially pleased Russia's militarily-adventurous President Vladimir Putin.
"Members of the alliance must finally contribute their fair share and meet their financial obligations," Trump told the leaders of the 28-member defense bloc, including the newly-elected French President Emmanuel Macron. "Twenty-three of the 28 member nations are still not paying what they should be paying and what they are supposed to be paying for their defense. This is not fair to the people and taxpayers of the United States."
Trump, it turns out, was correct: According to NATO figures, only five countries meet the benchmark for defense spending, which is set at two percent of each member nation's respective GDP. The U.S., Britain, Estonia, Greece, and Poland are the only five NATO members that meet the mark. The rest, including Europe's economic engines, France and Germany, do not.
Speaking at the opening of NATO's new billion-dollar headquarters in Brussels, Trump barely mentioned Article 5, the treaty's tenet of collective defense. Russia annexed Crimea in 2014, and fomented a pro-Russia separatist movement in eastern Ukraine that same year. So, Trump's refusal to explicitly endorse Article 5 could worry NATO members, especially the Baltic States, which border Russia and were occupied by the Soviet Union during the Cold War.
The last–and only–time the 68-year-old alliance triggered Article 50 was after the September 11 terrorist attacks in 2001, when NATO forces joined the war in Afghanistan. While Trump–who called NATO "obsolete" as a candidate but nominally embraced it as president–did not reaffirm the U.S. commitment to Article 5, Secretary of State Rex Tillerson did.
Asked on Wednesday about Trump's commitment to Article 5, Tillerson said, "of course we support Article 5." Sean Spicer, the White House press secretary, said all the fuss about Trump's failure to back Article 5 was "silly because by being here at such a ceremony, we all understand that by being part of NATO we treat the obligations and commitments." He added: "By having to reaffirm something by the very nature of being here and speaking at a ceremony about it is almost laughable."