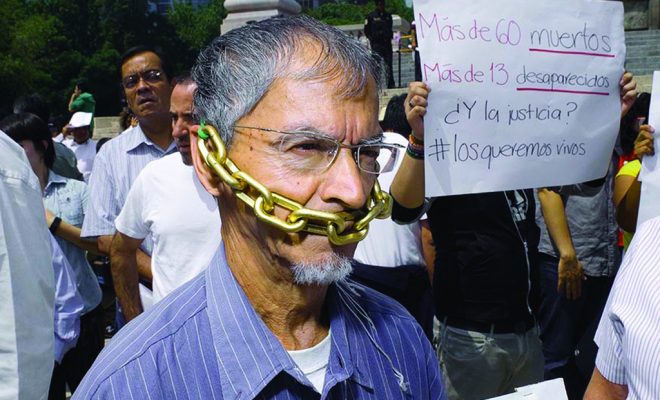 "Journalists Protest against rising violence during march in Mexico" Courtesy of Knight Foundation : License (CC BY-SA 2.0)
World
Who is Responsible for Anti-Media Violence in Mexico?
By
|
On March 2, Cecilio Pineda Brito, a nationally known crime reporter, was shot dead by two men on a motorcycle. On March 19, Ricardo Monlui Cabrera, the editorial director of the Córdoba's Él Politico newspaper and president of his local journalism association, fell victim to similar motorcycle drive-by. Miroslava Breach Velducea, a correspondent for the national newspaper La Jornada, was shot and killed four days later. Last Friday, reporter Maximino Rodriguez Palacio was shot dead in La Paz, Mexico, marking the fourth fatal attack on a journalist in only six weeks.
The recent spate of attacks is shocking but not surprising. Human rights and freedom of the press advocates, both domestic and international, have long been calling for a response to anti-media violence in Mexico.
Freedom House's 2016 Freedom of the Press Index named Mexico "one of the world's most dangerous places for journalists and media workers," citing numerous violent attacks in 2015. Conditions have only been intensifying.
According to a report by Article 19–a non-profit devoted to protecting freedom of expression–suppressive and/or violent attacks on journalists have been on the rise since 2010. The report found 426 acts of aggression against journalists and 11 homicides in 2016. While 2016 was the bloodiest year for journalists under President Enrique Peña Nieto and the worst since 2000, 2017 may surpass it.
Despite these statistics, Peña Nieto's government seems unconcerned with attacks on journalists. Article 19 reports that the Mexican Special Prosecutor's Office on Crimes Against Freedom of Expression–known in Mexico as FEADLE, its Spanish acronym–only investigated 118 cases of the 426 acts of aggression against journalists and that 99.75 percent of attacks go unresolved.
Although criminal organizations often take most of the blame for any kind of violence in Mexico, there is a slew of evidence implicating the government in the anti-media violence. In 2016, "State agents" supposedly perpetrated 53 percent of the 426 acts of aggression identified by Article 19–criminal organizations are believed to have perpetrated 4 percent of the attacks.
Last month, Gilberto Israel Navarro Basaldúa, a journalist from the city of Guanajuato, reported that an employee of the municipal government's economic council had swerved his car and hit Navarro off his motorcycle. Although employees of state and municipal governments are believed to have carried out the majority acts of aggression, Article 19 found 56 examples in which federal officials allegedly attacked the press.
It is clear that the Mexican government is unwilling to protect its media. Peña Nieto has blamed local governments for obstructing investigations but Article 19 found that his government had consistently refused to use its authority to take control of the process. The fact that state workers from all levels of government are believed to be responsible for the majority of acts of aggression against the media perhaps explains why the government is unwilling to investigate and prosecute anti-media crimes.
Historically victimized by criminal organizations and now increasingly victimized by government officials, the Mexican journalists have no place to turn. Freedom of the press has long been under threat in Mexico, but it appears the government is intent on undermining the expressive freedom in its entirety.