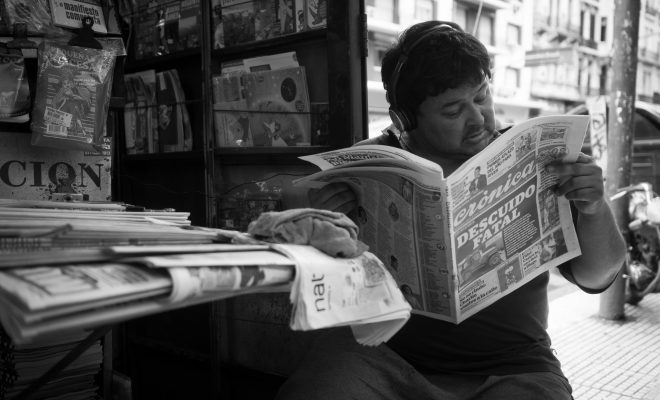 Image courtesy of Nicolas Alejandro; license: (CC BY 2.0)
World
World Press Freedom Day: Worst Outlook for Freedom of the Press in 13 Years
By
|
Wednesday is World Press Freedom Day. A free press is vital for a functioning democracy, and how free the press is often indicates the freedom of a country's citizens. But new numbers from Freedom House show that 2016 was the worst year for press freedom in 13 years, both in the U.S. and internationally.
Freedom House, an independent democracy watchdog, conducts its analysis based on the political, economic, and legal climate for journalists in each country. The countries are then rated from 0-100–the closer to zero, the better. This year, the U.S. went up two points to 23, which is its worst score in a decade. Reporters Without Borders also makes an annual ranking, and on its list the U.S. ended up in 43rd, in between Burkina Faso and Comoros.
#WorldPressFreedomDay | Journalists Under Threat in Both Democracies and Dictatorships https://t.co/oS4ppXgMyA map via @rsf_inter pic.twitter.com/cGyn9w4Bj0

— Human Rights Watch (@hrw) May 3, 2017
Only 13 percent of countries have a completely free press. The criteria for ranking as free are, according to Freedom House, a media environment with extensive political coverage, guaranteed safety for journalists, minimal state intrusion in the media, and no legal or economic pressures on reporters.
President Donald Trump is mentioned as a partial cause of the decline in U.S. press freedom. He has frequently criticized the media for its coverage and often calls mainstream media "fake news." Back in March, he tweeted that he might push to change the libel laws. And on April 30, White House Chief of Staff Reince Priebus said the administration had "looked at" changing them. Priebus added that the media needs "to be more responsible with how they report the news."
The failing @nytimes has disgraced the media world. Gotten me wrong for two solid years. Change libel laws? https://t.co/QIqLgvYLLi

— Donald J. Trump (@realDonaldTrump) March 30, 2017
Who's at the Bottom of the List?
Around the world there are countless examples of journalists who are detained because of what they report. The lowest-ranking countries are dictatorships in Africa, the Middle East, and Asia. But due to violence from drug cartels and organized crime, Mexico is also deemed one of the worst countries to be a journalist. Independent nonprofit organization Committee to Protect Journalists has documented more than 50 killings of journalists in Mexico since 2010.
The CPJ's report on Mexico shows that convictions for murders of journalists are very rare, and when they do happen, authorities often fail to prove a clear link to journalism. Instead they often frame it as a regular crime, making it hard to keep data accurate and confront the actual problem. Corruption in the government and police force is also a huge problem.
"As Mexican journalists, we feel alone." Miguel Ángel Dìaz, who was under threat for his work as a journalist. #WPFhttps://t.co/NMugf62xN5pic.twitter.com/oPwat4x38c

— CPJ (@pressfreedom) May 2, 2017
What's Happening in the U.S.?
But even in the U.S., reporters are sometimes detained for doing their jobs. In February, freelance reporter Jenni Monet was arrested for covering the protests at the Dakota Access Pipeline near Standing Rock. Despite following police instructions to stay behind police lines, she was detained for 30 hours. She was later charged with rioting and trespassing.
"It didn't matter that I was complying with their instructions and it didn't matter that they knew I was a member of the press. I was handcuffed and held in a chain link enclosure with 18 other women for hours," she said. Amnesty International is calling for the charges to be dropped, citing the critical role of reporters in holding governments accountable for human rights abuses.
On #WorldPressFreedomDay, we need YOU to get loud to demand charges be dropped against #DAPL journalist Jenni Monet https://t.co/hbgEqSE9mPpic.twitter.com/1V9vkp4mlW

— AmnestyInternational (@amnestyusa) May 3, 2017
A Spotlight on Turkey
In Turkey, at least 156 media outlets have been shut down and at least 2,500 journalists have been fired since last summer's failed coup. More than 120 journalists have been jailed, facing terrorism-related charges, because of what they have written or drawn. One newspaper editor and his brother who appeared on a TV panel discussion about the coup were accused of 'sending subliminal messages' to the people behind the coup. Both were arrested, as was the TV show's presenter.
Since the coup, President Erdogan has cracked down on all kinds of dissent. Last weekend, almost 4,000 people were fired from public offices and the government blocked Wikipedia. Now more than 250,000 people have signed an online petition urging the Turkish government to release all the jailed journalists. Many have tweeted photos of themselves using the hashtag #FreeTurkeyMedia, including Chinese artist Ai Weiwei and the Al Jazeera journalists who were imprisoned in Egypt for more than 400 days in 2013.
♫ Ai Weiwei's done it,
Mandela's statue's done it,
Even the #FreeAJStaff've done it,
Let's do it,
Let's post a #FreeTurkeyMedia selfie. ♫ pic.twitter.com/aRHrR0e4E8

— FreeTurkeyMedia (@FreeTurkeyMedia) April 24, 2017