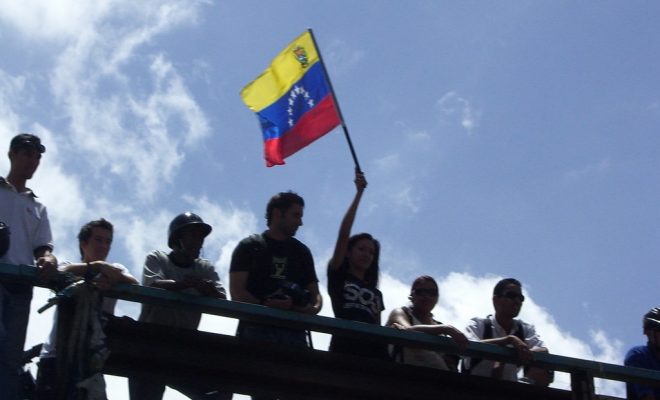 "Flag Aloft" Courtesy of Andrés E. Azpúrua : License (CC BY-ND 2.0)
World
Political Turmoil in Venezuela: What's Next?
By
|
During his four years as president, Nicolás Maduro has faced an ever-growing political opposition and has become the focal point of near constant anti-government protests. On March 29, Venezuela's pro-government Supreme Court ruled to dissolve the majority-opposition legislature and absorb its powers. Though the high court softened its decision after an intense backlash, anti-government protesters continue to flock to the streets of Caracas and cities across Venezuela in opposition to what they are calling a coup d'état. Although the opposition is growing louder, larger, and more determined, Maduro is intent on keeping power at all costs. The current conditions have been long in the making and it is unclear what lies ahead.
Hugo Chávez and Oil
By most estimates, Venezuela has the largest discovered crude oil reserves in the world. For decades, the Venezuelan economy has depended on the exports of this single commodity. When Hugo Chávez rose to power in 1998, world oil prices were high and the economy was booming. Chávez used the profits generated by Venezuela's nationalized oil industry to build a country with his socialist vision. Under his rule, social spending increased and many felt that Chávez more than lived up to his promises of a socialist society. Chávez famously launched an initiative in 2011 to provide over one million houses to families in need.
In spite of his promise to defy capitalism and imperialism, Chávez's undiversified and commodity-based economy was always at the mercy of international markets. After hitting an all time high in July 2008, oil prices crashed in January 2009, putting the Venezuelan economy under immense pressure. However, although Chávez's approval rating did suffer slightly, he retained popular support and his mandate was rarely in doubt. In tough times, Chávez's cult of personality guaranteed him a certain amount of unconditional support and there was no one who could mount a realistic challenge against him.
Maduro's Rise
Nicolás Maduro took over the United Socialist Party (PSUV) upon Chávez's death in March 2013 and won a special election the following month. Maduro's surprisingly narrow victory suggested he would never have the kind of support that his predecessor had enjoyed. Venezuela's economy had been flagging long before Maduro took over; soaring inflation rates and a dependency on imported consumer goods had resulted in widespread shortages. However, without Chávez at the helm, Venezuelans appeared far less willing to turn a blind eye. Though Maduro promised to continue the Chávez legacy, he would never be able replace the revolutionary figure.
In January 2014, anti-government demonstrations gained traction after a violent government response to initial demonstrations caused matters to escalate. In May 2014, oil prices crashed and the situation went from bad to worse. Already struggling in the polls, Maduro's approval rating plummeted below 25 percent. Protests continued to rage, and in March 2015, the National Assembly finally granted him permission to rule by decree.
Political Resistance
In spite of Maduro's move to expand his power, the political resistance continued to mount. In December 2015, the opposition Democratic Unity Roundtable Party (MUD) took control of the National Assembly for the first time in more than 16 years of PSUV rule. MUD controlled 112 (67 percent) of the legislature's 167 seats–a supermajority that granted deputies expanded powers over Maduro's executive branch.
While Maduro initially accepted the results, the loyalist Supreme Court ruled to block three newly elected MUD lawmakers from taking office, citing electoral irregularities. The ruling, which was handed down a week before the deputies were set to meet for their first session, was seen by opposition politicians as a blatant attempt to dismantle the supermajority. The MUD-controlled National Assembly ignored the ruling and swore the deputies in. It was this act of defiance that compelled the court to dissolve the National Assembly and hand control of the country back to Maduro and the PSUV on March 29.
While the ruling effectively restored Maduro's control over Venezuela's three branches of government, it in no way restored his control over the country. On the day of the ruling, protestors amassed outside the court. In response to the outcry, the Supreme Court revised the contentious decision last Saturday. While it seems the Supreme Court will no longer take over the legislature's power to enact legislation, the ruling was not reversed. The legislature has still been ruled to be in contempt of the court and may not be allowed to pass new laws. Unsurprisingly, this revision has done little to quell the opposition. Protests continue to rage and have since turned violent.
While there are signs that Maduro could lose the faith of some high-ranking PSUV members and face a challenge from inside the party, it seems unlikely the party will turn on him just yet. Maduro is intent on expanding his powers, while an ever-increasing number of Venezuelans are adamantly opposed to his leadership.
Maduro would almost certainly lose a free and fair election–scheduled for October 2018–but any number of things could happen before then. Long-standing tensions have reached a point where some fear a civil war may be imminent.
Under Chávez, the PSUV dominated every aspect of Venezuelan politics. While critics often called Chávez a dictator and decried his authoritarian style, the popular support for the socialist leader was undeniable. Maduro, the heir to Chávez's throne, does not enjoy this level of popularity. Maduro is simply incapable of filling the seat Chávez left behind. Many of the systemic issues that plague Venezuela pre-date Maduro's presidency, but his approach to the role has only aggravated an already disgruntled, disenfranchised, and disenchanted public.