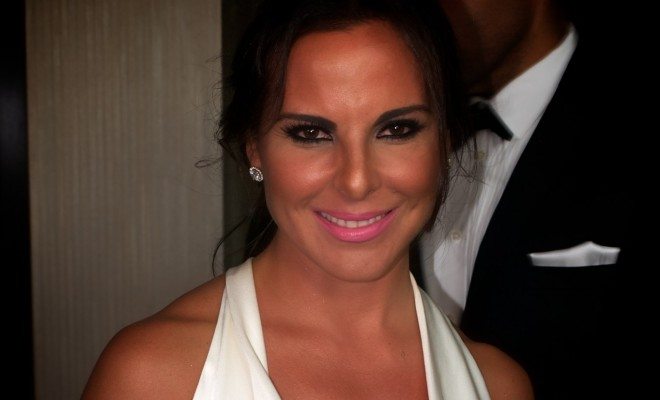 "Kate del Castillo" courtesy of [Richard Sandoval via Flickr]
World
The Odd Couple: Kate del Castillo and El Chapo
By
|
Kate del Castillo has had a successful career in Mexican film and television, but she has made headlines this week not for her acting ability but for revelations about her role in brokering a meeting between notorious cartel leader Joaquín Archivaldo Guzmán Loera, also known as El Chapo, and Sean Penn.
Let's back up a little bit. In January, Penn interviewed Guzman for Rolling Stone, publishing an article which has come under fire both from del Castillo (who argues that Penn misrepresented what he would be writing when he described the article to her) and from law enforcement (who assert that once Penn had knowledge of Guzman's whereabouts, he should have immediately contacted the police). Penn himself has admitted that the article failed to initiate a meaningful discussion of the war on drugs and the political situation within Mexico.
Del Castillo has published an essay in Spanish that describes how she came to be contacted by Guzman's lawyers, who thought she could be a value add to a biopic film describing his life. The actress has become a household name in Mexico thanks to her role as the scheming mastermind behind a major drug cartel on the popular telenovela "Reina del Sur," and it is that role that partially inspired Guzman's interest in her. His representation also cited her presence on Twitter, in which she had directly addressed Guzman, asking him to consider alternatives to drug trafficking, prostitution and murder.
The Mexican newspaper Milenio secured a string of leaked texts between del Castillo and Guzman, dated from the period during which she was arranging the meet between him and Penn, which suggest a friendly relationship between the actress and the criminal. Guzman's attitude towards del Castillo has alleged to be one of romantic interest, which further muddies the waters regarding the relationship between the two. Del Castillo wrote in her essay that nothing romantic happened between the two of them, but that hasn't stopped a flood of thousands of memes and social media posts mocking the tone of her texts with Guzman. The actress was placed under investigation by authorities almost immediately after the Penn article was published and is currently being cooperative with law enforcement.
But Del Castillo's interaction with Guzman raises interesting questions about the nature of celebrity, and where we draw the line between being qualified to deal with  fearsome characters on television and being able to handle a high-stakes criminal in person. Del Castillo's essay illustrates how terrified she was meeting Guzman in person, despite the fact that her texts prior to that meeting emphasize how excited she was to be meeting with him. Del Castillo may play a calculating, cold-blooded crime boss on television but that doesn't mean she has the skills for negotiating a crisis scenario in real life.
Del Castillo's organization of the meeting with Penn may have contributed to the later capture of Guzman (as without the meeting, he could have remained in hiding indefinitely) but her actions should not be considered intelligent–and should not be duplicated by other public figures who think that they can pacify major criminals by simply impressing them with their celebrity. As Del Castillo's description of meeting El Chapo face to face demonstrates, dangerous cartel leaders cannot be taken lightly, no matter how much they like a given person's Twitter account. Her actions must be considered a bizarre cautionary tale, not a template for how celebrities, or anyone else, should act if they are contacted by fugitives.