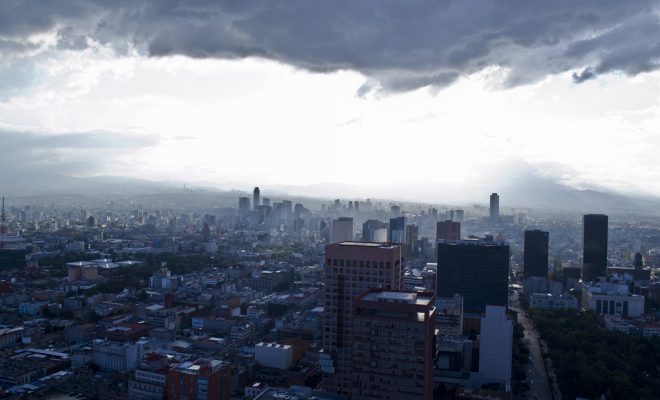 "Mexico City" courtesy of Kasper Christensen; license: (CC BY-SA 2.0)
World
Attack on Female Politician in Mexico Leads to Misogynistic Hashtag
By
|
A few weeks ago, Mexican senator and former Olympic athlete Ana Gabriela Guevara was severely beaten by a group of men. She was riding her motorcycle in Mexico City when a car rammed into her, seemingly on purpose. Four men got out of the car and started to beat her. She said they hit her in the ribs and the head and insulted her for being a female motorcyclist. Guevara was beaten so badly that she had to be hospitalized. She later posted a photo of herself with a black eye, thanking everyone who had supported her and said that she had recently left the operating room after having surgery.
Agradezco la atenciones de tod@s quienes han estado pendientes de mí y mi salud, eh salido de quirófano bien a recuperar la cirugía pic.twitter.com/byhwCs19Hz

— AnaGuevara (@AnaGGuevara) December 13, 2016
Violence against women is a major problem in Mexico, including murder, abduction, and sexual violence. A few days after the incident, Guevara held a press conference, denouncing the act as "cowardly" and "vile." To make matters even worse, one of the attackers was a police officer. But after her press conference and news of the incident spread, things took an unexpected and deeply depressing turn–a series of misogynistic hashtags on Twitter.
"If she broke your heart, break her face."

A Mexican woman senator was attacked by men, and the internet reacted in an unusual way. pic.twitter.com/SXR2Iqal4Y

— AJ+ (@ajplus) January 1, 2017
Some people started using the hashtag #GolpearMujeresEsFelicidad, which means #BeatingWomenIsHappiness, on Twitter.
#GolpearMujeresEsFelicidad
Esas mujeres que se ofenden de este hashtag cuando en su foto de perfil usan el filtro de perra, osea confunden

— Jorgeto LH (@Armandeto) December 13, 2016
"Women offended by this hashtag when they use the b***h filter in their profile picture are confusing."
#GolpearMujeresEsFelicidad
No creo que alguna mujer lea esto, digo, ellas deben estar en la cocina preparando sándwiches para sus hombres.

— Anthony Sugar (@anthonymkultra) December 13, 2016
"I don't think women will read, I mean, they must be in the kitchen making sandwiches for their husbands."
A similar one, #SiNoTeGolpeaNoTeAma—which means "If he doesn't beat you, he doesn't love you"—also started trending.
#SiNoTeGolpeaNoTeAma Me encanta cuando grita y llora.

— Qk (@CucarachaHolk) December 16, 2016
"I love it when she screams and cries."
After a few weeks of these hashtags trending in Mexico, people started firing back and condemning their use.
#golpearmujeresesfelicidad or #beatingwomenishappiness is one of the most disgusting hashtags I've seen on social media. https://t.co/XE9jemeMEy

— Jorge Valdivia (@VeryValdivia) January 2, 2017
A Mexican woman senator was attacked by men, and the internet responded with #BeatingWomenIsHappiness. And this is how a man like Trump wins

— Greytdog (@Greytdog) January 2, 2017
According to local media, police are investigating the attack and have confirmed the main suspect is a police officer, who was either off-duty or inactive at the time. His identity has not been made public. The Attorney General has requested to see surveillance footage that could be helpful in learning more about the sequence of events. In the meantime, people are showing their support for the former World Champion track and field athlete. Hopefully the case will help bring attention to the issue of violence against women, and the misogynistic hashtag responses that can follow.